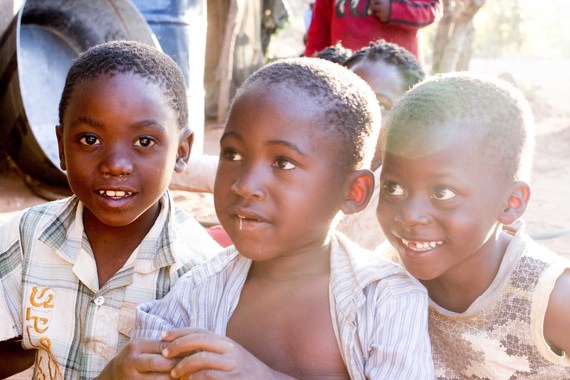 While driving back from Neshaya Secondary School in Makwa, Zimbabwe, I sat, staring out into the African sky at the rural homesteads that were loosely arranged throughout the land, built from logs, mud and thatch. Goats, donkeys and cows roamed free, unbound by barbed wire or land divides. And as we passed local residents walking along the road, they each turned and waved.
Two of the nurses from the local village sat behind me, softly conversing in Shona, one of the 16 native languages of Zimbabwe. As my thoughts drifted in and out of the lives that I imagined for the people who inhabited the rural landscape of Mwunda, one of the nurses broke from her native language and said something that rattled me out of my daydream.
"You know, life can be different."
With just four little words, she left my head spinning throughout the remainder of the two-hour trek back to Victoria Falls. Even with the challenge of monumental obstacles and institutionalized barriers to change, the people of this country remain hopeful for a better day.
Political And Economic Unrest
Victoria Falls, Zimbabwe and the rural villages that surround it are filled with a happy, even joyful people, in spite of an over 85 percent unemployment rate, a struggle for food and immense poverty. For over a decade, the African country has dealt with a government forever in a state of flux under the Mugabe-led regime. As a result of his tyrannical rule and threatening foreign reputation, the European Union placed economic sanctions in 2002 on the otherwise peaceful country, throwing the Zimbabwe currency rate into a dramatic and constant rise and fall.
"Before the sanctions, a Coca-Cola cost 50 cents," Said Jane (not her real name) from Harare, the capital city of Zimbabwe. "And the next day, it cost 200 million Zimbabwean dollars. You would be standing in line at the bank and while you were waiting, the rate would change. All of our money was gone."
Jane, along with several other Zimbabweans whom I spoke to, likened living in their country to living under communist rule. Jane, who works in the tobacco industry, has had four farms taken from her since the political tension under the Mugabe administration began. Although she was born in Zimbabwe, her mother was originally from the United Kingdom and, therefore, Caucasian. Under Mugabe's rule, entitled public officials found it just to simply take away many people's land because they ruled it 'Zimbabwean land' that they never rightfully owned.
After learning about the various struggles Jane faced, I asked her why she hadn't moved to a country with a more stable political and economic climate.
To which she replied, "I have moved to South Africa a couple of times in the past but I always return. Zimbabwe is my home and there is something about it that gets under your skin. The sun shines brighter here."
In 2008, after four years of dealing with economic chaos, the country switched to the U.S. dollar, effectively putting a halt to the rate fluctuation. But solving the currency crisis did nothing to ameliorate the lack of employment opportunities due to international financial sanctions and a stagnant public system.
I met with a council member from Victoria Falls to learn more about the hardships that his community faced. Before we met, I was taken aback by the size and quality of his home that appeared to be under construction. It was gated, with a grass lawn and a design similar to the suburban homes I was accustomed to in the U.S. In other words, a far cry from the loose configurations of concrete and tattered wood that most of the homes were comprised of.
He welcomed me and asked that I please excuse the construction, to which I responded with a remark of how beautiful it was and a question of how long he had left before it was finished.
He just laughed and said, "I have been building this home for the last 14 years. When I have the money, then it will be finished."
We sat in his office, the front room with no windows and unfinished concrete floors, and he explained that there are three classes of people that reside in Victoria Falls.
The landowners are people that can afford to purchase a home. These are the few, the wealthy, and the people who hold the power in the town or village they reside in. Then there are people who can afford to rent their homes. The residences range from one room, concrete row houses to one- to two-bedroom homes. Most homes do not have electricity.
Then there are the caretakers, an overly pleasant name that describes the most dismal living arrangements. Caretakers are people who cannot afford to rent a home and, therefore, live on a property that is either in construction or abandoned by its owner. Often, these homes have no roofs, no windows, and sometimes, no running water. These people do what they can to make money - odd jobs here and there - but with an unemployment rate of over 85 percent, the dream of gainful employment seems impossible along with any change in their station in life.
A Generation In Peril
The people of Zimbabwe face an over 20 percent HIV infection rate, and during the height of the economic crisis in 2008, the country saw an increase in tuberculosis infection rates by 35 percent. TB rates did drop by 2010, but rates rise each year during the dry season when food is the least available. There are approximately 180,000 orphans living with HIV and 890,000 who have been orphaned by AIDS-related deaths.
There is an estimated 1.2 million orphans or vulnerable children, a child with one parent living with a life-threatening disease, living in Zimbabwe. Many of these children cannot afford to stay in school because the fees are just too expensive. On January 1, 2004, UNICEF pulled the funding from the Basic Education Assistance Module (BEAM), which paid for the education of over 700,000 Zimbabwean children.
One of the children who have been affected by the cut in BEAM funding is Gabriel. He is a young, eager and intelligent 10-year-old boy who, along with his younger brother and sister, is being raised by his grandmother. His parents both passed away from AIDS-related complications and his grandmother is unable to work, leaving Gabriel with no one to pay for his schooling, forcing him to drop out.
When asked what he wanted more than anything, he said, "I would like soap to wash my school uniform and money to pay my school fees."
Pictured: Gabriel with his grandmother and three sisters.
Many other children in Zimbabwe have been forced to cut their education short, furthering the case for poverty, a stagnant community and a breeding ground for further HIV infection.
Hope Rises
Gabriel's story is just one of the many that seem to define the youth population in Zimbabwe. Many others reside in orphanages throughout the country, such as the Rose of Charity, located in the town of Chinotimba. Sima Moyo, the orphanage mother, began Rose in 2007 when she opened her house to feed the kids in her community who were going hungry on the streets. Eight years later, she now operates a fully functioning orphanage made possible by the international donations of supporters who have learned about her work. Everyday, Sima and her volunteers tend to the every need of over 70 orphans in Victoria Falls; feeding, clothing, bathing and offering educational support. Her team also feeds countless more who are hungry in her village. Although a child may not be orphaned, he or she is always welcome at Rose for a hearty meal and a safe place to play with other children.
The spirit of women like Sima and the people of Zimbabwe have inspired others to keep the positive momentum going. Co-founder and head medical physician at World Health Clinicians, Dr. Gary Blick, has been tirelessly working with his team to establish Beat AIDS Project Zimbabwe (BAPZ), a private volunteer organization that is working with the Ministry of Health to bring groundbreaking services to Victoria Falls, Zimbabwe. The BAPZ clinic will be a full-service clinic and will bring viral load testing for the first time ever to Victoria Falls and the surrounding rural areas.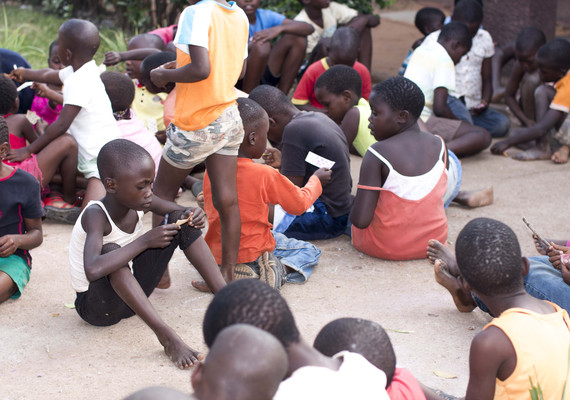 Pictured: The children of Rose of Charity playing a game of bingo after school.
In addition to the clinic's medical services, BAPZ will soon be implementing the BAPZ Guardian Angel Program, where people from around the world will be able to sponsor an orphan or a vulnerable child's education and follow their progress as they grow through their education. This will replace the void that has been left since UNICEF ceased the BEAM program, allowing many children who have dropped out to return to school and finish their education.
BAPZ will also house vital programs dedicated to giving the people of Victoria Falls the essential skills necessary to improving the quality economic livelihood of the community, such as farming vegetables that are currently imported and, therefore, too expensive for most of the people in the area.
In February of 2014, the European Union began lifting sanctions on Zimbabwe. With more organizations like BAPZ working with the government to improve the economic and social conditions of the country, there are plans to further lift the EU sanctions in November. There are no plans, however, to lift the restrictions placed on Mugabe, but farm and political sanctions will be lifted, allowing Zimbabwe to re-enter the international arena and, once again, show other nations just what this vibrant country can offer.
Amidst the extreme poverty and often suffocating regime, the people of Zimbabwe have always remained a peaceful and united front, supporting each other in times of struggle instead of fighting each other over the sparse bounty. The testament to what is great about this country may not be visible in measures of economic success, but there is much to learn in in its towns and villages. In Zimbabwe, people remain resilient and find much beauty and joy in their lives, in spite of their hardships. They are a prideful, kind and considerate nation whose cloak of poverty leads many to make snap judgments on the contrary. But, if one looks deeper into the lives of Zimbabweans while they are out on their luxury safaris or gazing at Victoria Falls, they will find that this country has a robust strength and a rich soul that can weather any storm.
After visiting Zimbabwe, I must say that Jane was right. I can't explain why, but the sun really does shine brighter here.