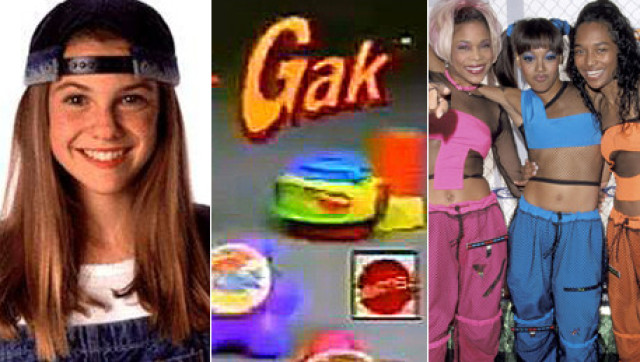 We've all had the experience of sitting down with our parents as they told us stories beginning with, "When I was your age," while they flipped through photo albums from "the good old days" and showed us several mildly disturbing photos of them in neon stirrups and Jelly shoes. Fortunately -- at least, hopefully -- they said things like, "What was I thinking?" or "I can't believe I wore that" as they shook their heads in disgust at the trends they once thought looked good. There will always be fashion staples that stand the test of time, like good ol' blue jeans and the LBD (little black dress), but some trends just shouldn't leave the photo albums.
Over the past couple years, there has been a large influx of '90s culture making a reappearance; I don't mean just fashion trends, but music and movies and television shows as well. This has largely been the result of '90s-born young adults pushing for the resurgence of their childhood, mostly via social media. On July 25, 2011, a programming block premiered on TeenNick called The 90s Are All That, running from 12:00 a.m. to 4:00 a.m. every night, showing reruns of cartoons from the 1990s, like Rugrats, Hey Arnold!, Rocko's Modern Life, The Ren & Stimpy Show, and The Angry Beavers.
As far as fashion, this past December, Urban Outfitters -- a store that sells a lot of '90s fashion pieces like Doc Marten combat boots and plaid button-up shirts -- gave away holiday-themed Lisa Frank stickers with every purchase. I, much like most of my peers, have no problem with '90s culture's recent resurrection. I can now watch the TV shows I used to when I was a kid, I've covered my laptop with the familiar characters on Lisa Frank stickers, and velvet has made a comeback into my wardrobe.
I don't mean to question this blessing, but I can't help but wonder -- why have the '90s made such a recent return? Older adults usually reminisce about 1980s and 1970s and maybe even 1960s culture to make them feel young again, right? But here we are, the oldest of us "90s kids" not a year over 23, so why have we dug up the '90s from the dead so soon after its passing? We still have our youth, so what's the deal? I could think of only one reason: it's to feel connected to our peers. We do so much interacting through a laptop or a smartphone, and though we have several social media sites like Facebook and Twitter, we're not doing as much real interaction as teenagers in the '90s did. We grew up watching DJ Tanner and Clarissa Darling as teenagers on television, but did they have Tumblr or Reddit or StumbleUpon? No, all they had was a corded telephone to twist around their fingers.
I'm glad that so many aspects of '90s culture are coming back, but I'm not too ecstatic about a certain denim trend. One word: overalls. Like I said, every decade has and will have its own trends, but that doesn't mean that all of them should last. Maybe we'd all be better off if the denim straps stayed in the world of Cory Matthews and Topanga Lawrence.