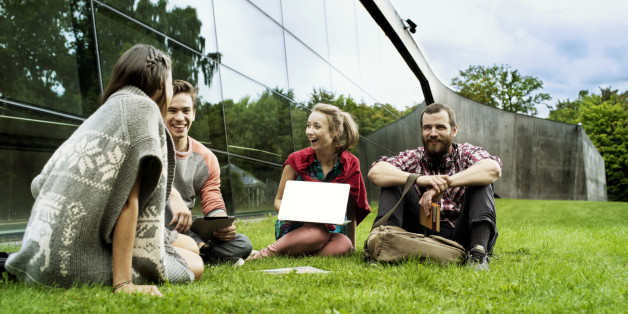 At the end of each school year, there is a certain bittersweet feeling in the air among students. The hard work is done, the bags are packed and chances are that your parents are more excited to see you than you think.
Some of us cannot wait to get home. The study load was unbearable or you might have had the roommate that was sent straight from Hell. Our bodies crave the sun while our minds crave some relaxation.
Truth be told, there are some college students who refuse to accept life outside of campus. There is just too much fun to be had, throw in a little FOMO (fear of missing out) and now we've got ourselves some summer school attendees.
I have compiled a list of pros and cons with regards to staying on a college campus over the summer based on the opinions of college students from both sides.
The Pros:
1. There are more opportunities to meet new people that you might not have had with 40,000-plus people on campus during the school year.
2. The campus communities are beautiful during the summer. With blooming gardens, beautifully crafted buildings and new places to explore, the setting could not be more ideal.
3. You have no parental guidance. I think this one speaks for itself.
4. You have the ability to take classes that may not fit perfectly into your schedule otherwise. A lot of students take advantage of this because one or two classes surely will not ruin summer plans.
5. There are plenty of events -- depending on the campus -- that go on during the summer, whether that be concerts, sports leagues, Greek reunions or everything in between.
6. Your home friends can come to visit for a little vacation! Feel free to take them to your favorite bars, the best place for a good burger and the prettiest spot to sit outside.
7. Apartments and houses can run super cheap to rent over the summer. For some students who can't find subleases for the summer, they will lower the price significantly to at least make some cash.
8. You can find a fun job on campus or even an internship with university related groups. Whether it be filing paperwork for a few hours each day or working in the beer garden, chances are you'll enjoy the experience because that money can be saved up and used for exactly what you need... whatever that may be.
9. Amenities like a pool, access to a gym and meal plans can be a fun and accommodating addition to your summer plans on campus.
10. You can still take naps without your parents bugging you to get up and be a productive human.
The Cons:
1. Obviously being away from home friends and family members all year long would be a challenge for most people. You might have to miss some birthday parties, get-togethers and bonding time if you choose to stay at school.
2. The campus community is more dangerous during the summer with less people and nicer weather. Being at home with your parents is the hands-down safer route.
3. There are a lot less people around town than during the school year. One might say that college campuses in the summer can be sort of like ghost towns.
4. Let's not forget our pets! While they may seem insignificant to some, others have grown up with their pets at their sides during the good times and the bad.
5. Rent. Rent. Rent. You have to pay rent.
6. A lot of college kids go home and hit the beaches in their local communities or big cities. Some relaxation at the waterfront is at least what I look forward to when coming home for the summer.
7. If you had a job in high school or over the summers at home, you could probably go back and work there again. There is no guarantee away at school that you will find something stable.
8. I think we can all agree that nothing is more comforting than the bed at home, in the house you grew up in with fluffy pillows and your "scent" to top it all off.
9.  Home cooked meals. Ain't nothin' better.
Whichever plans you choose to make this summer and wherever it may be that you choose to reside, one thing remains constant across the board: college kids will always make the best with what they got. It's all fun and games, that is, until school resumes again in the fall. See you then!