I was in the back seat of a cab trying to beat my Brick Breaker score last week when an email popped up on my BlackBerry from Kannie Yu LaPack, publicity director for Lifetime Television. "Would you be interested in lunch with the 3 finalists?" she wrote. I tried to come up with a more professional response than "Fuck yes!" and typed something about how I would love to. A few days later she sent me the details: the lunch would be at Sea Grill on W. 49th Street, and the finalists (accompanied by a Lifetime publicist) would meet me there. "I'm not the only press, am I?" I wrote, to which Kannie responded "You sure ARE." Gulp.
The morning of the interview I was dismayed to find that I had nothing clean in my closet except for a pair of black jeans and an Old Navy tee-shirt (which, at least, is better than the free shirt I got from Pop Chips proclaiming "Snackers do it between meals"). I hoped against hope that the finalists would not judge my garments as harshly as I have judged theirs for the past twelve weeks.
When I got to Sea Grill at the appointed time, I suddenly blanked on the name of the publicist who was meeting me there, so I probably gave the hostess the impression that English was not my first language. "Um, I'm meeting a group?" I asked, though it was not a question. "The... um... Project Runway?"
"Yes, they're already here," she said, and led me around a corner to a round table where Seth Aaron, Emilio, Mila and the publicist--Jennie, which I totally should have memorized using the Tommie Tutone song, damn!--were waiting.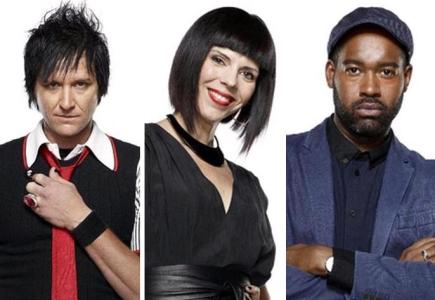 My lunch dates.
Now, I am under 5'3" but the finalists all seemed huge to me, larger than life. They're all big people--Mila is at least 5'10" (without heels) and Seth Aaron and Emilio both clear six feet. I felt a little bit like Alice sitting down to the Mad Hatter's tea party after having shrunk down to the size of a crumpet. I shook all of their hands, placed my Olympus Digital Recorder near the bread basket (SPOILER ALERT: The recording part does not end well) and jumped right in.
So, how does it feel knowing that soon everyone will know the winner? Do your immediate families know?
Mila: I think it's understood that some of our immediate family know.
Seth: I mean, they live in your household.
Emilio: The families know.
Mila: I'm relieved, quite frankly [that the winner will be announced this week]. I'm ready to start the next chapter of the whole experience and use it as a springboard.
Have you guys been watching the show?
Seth: Of course.
Mila: Yes.
Emilio: I don't watch a lot. I just can't.
Do you feel that it plays out each week the way it actually happened?
Seth: Yes.
Mila: I don't always...
Seth: Yeah, I mean, there's some editing in there but it still, it's like, pretty straightforward.
Emilio: The ones I've seen, it's pretty much straightforward, but for me it just brings me back to that moment... and we were under a lot of stress, going crazy...
Seth: And it was hot.
Emilio: It was so hot in there. 98 degrees.
When did the season film?
Seth: End of May...
Emilio: June to July.
Seth: It was really humid here, and just... the air conditioners can't be on because of the noise. So the workroom was 98 degrees. It was hot.
Emilio: And we were angry. Well, I was angry (laughs). I was angry.
Mila: No, you weren't angry.
Emilio: I wasn't angry, I was just more focused. How's that?
How long did you have between filming the regular season and Bryant Park?
Emilio: We ended in the middle of July, and then the show was...
Seth: February 12.
Emilio: Right, but we didn't get the go-ahead to start the collection until like September or October.
Seth: They gave us the check [$9,000 that each designer gets to fund their final collection] at the same time. So it came to our doors in September. They give you a certain amount of time to work on your collection, all of us equal, so they FedEx the checks so that we all get it on the same day, same time. And then you have a fixed amount of time to do it. Tim comes towards the end.
Emilio: For me, Tim came in December.
Seth: I think there's a month left.
Emilio: Right, he came when I had about four weeks.
Mila: Yeah.
And then he comes and tells you to do everything different!
Emilio: I know. And I'm like, I can't! I'm not, I'm not. But by that point I'd bought all my fabrics. And [I had] my colors and I designed a print based on those colors, so I was like, you know what? This is what it is. I'm just gonna make it work.
Seth: Exactly.
A lot of my readers want to know, when you have a one-day challenge, is it really only one day?
Seth: Yes, it's a day long.
Mila: And then we have a little time the next morning to get everything together for the runway.
Seth: Two to three hours.
Emilio: We start at 8:15 am, right? We got into the room at around 9.
Mila: Yeah, on a work day [as opposed to a runway day], it was like 9. But then we have sketch time and Mood time...
Seth: So you get about 10, 12 hours to actually sew.
What about the part when Heidi comes onto the runway and introduces the challenge? Does that happen early in the morning?
Mila: That happens--check it out--that happens at the end of a runway day.
Emilio: So you have to change your clothing.
Mila: The catch-phrase is "Wakey, wakey, everybody!"
Emilio: And we're all like [groans].
Mila: You just feel beat up at that point. Or your emotions have been on such a roller coaster. For better or for worse.
Emilio: Then we have model selections also.
I've been bad about watching Models of the Runway. Have you guys watched it?
Mila: Yeah, there's some good--there's a little dish on the models.
Emilio: I watched it more than our show I think.
Seth: I watch that one always because there's all the behind the scenes stuff. And you get to hear what they actually say about your clothes.
[It is here, friends, that I accidentally deleted the remaining HOUR of interview trying to fast-forward through the high-pitched squeal that is my own voice on tape. Things got grim. I wailed. I actually cried. I contemplated banging my head against my desk and ultimately decided against it. My husband attempted to recover the file using software; it did not work. I curled up on the bed for a moment and cursed the makers of the Olympus Digital Recorder for putting the Erase button so close to all of the other buttons. Then I realized that I didn't have to post the exact transcript of the interview, that I could just recap. And then I wrote a long paragraph about my thought process, which you are currently reading. Sorry. It's over now.]
Anyway, I am a dumbass and erased my interview. But here are the parts you'd be most interested in:
EMILIO IS NOT AN ASSHOLE
Well, not at this lunch anyway. He was totally friendly and good-humored. Mila was the warmest of the bunch, and Seth Aaron was, unexpectedly, the most reserved.
THE PROJRUN CONTESTANTS LIVE LIKE O.J. JURORS
No TV, no newspapers, no going anywhere without a chaperone (or, of course, the cameras). Mila told a story of one visit to Mood when they all had to wait in the van until a mother and her small child stopped staring and went away. This level of lock-down seems kind of intense, and the most shocking part about it is that...
THE ELIMINATED CONTESTANTS DON'T GET TO GO HOME
Nope, they have to go everywhere with the group, even though they've already been eliminated! "They had to get up with us and go to Parsons every day," Mila told me. Apparently they spent time sewing and, I would imagine, mooning the remaining contestants.
CURFEWS ARE STRICTLY ENFORCED
Not only are the contestants confined to the Atlas apartments at night, but they can't visit one another's apartments. And while I thought all of the women lived together and all of the men lived together, in reality there are only four people to each apartment, so there are four total, with two for the ladies and two for the gents.
MILA AND JAY SHUNNED EACH OTHER FROM DAY ONE
There was no incident or confrontation, Mila says, but she and Jay just had tension from the get-go. "We never spoke to each other," she says, "Except for the team challenge." Emilio and Seth seemed surprised that things were so tense, claiming that they never knew.
EMILIO DISMISSES RUMORS OF TENSION WITH TIM
When I asked Emilio if he and Tim hated each other, he said that Tim "challenged" him but that there was no truth to the rumors of mutual hatred. I asked him why we never got to see him opening the door for Tim during the home visits, though, and he conceded that the greeting was not particularly warm. Seth then warned him to watch out for Papa Gunn when he gets on the tramp. Kidding. I wish!
EMILIO'S NICKNAME AMONG THE CAST IS "OLD MAN JENKINS"
Because, at 43, he was the oldest contestant (and if he wins will definitely be the oldest winner).
LATE AT NIGHT WHILE SEWING, THE CONTESTANTS WOULD AD-LIB A CALL-IN RADIO SHOW
I wish I had the transcript to this part of the conversation, because it was a detailed inside joke that involved aliases, weird voices, and, apparently, a LOT of slap-happy sleep deprivation.
TALKING SHIT WAS STRONGLY ENCOURAGED
The contestants had to do talking-head interviews every day, not just when they felt like it. As one might expect, the questions were leading. Emilio said the producers would always ask, "Who do you think is in trouble?"
TIM GUNN WAS LOCKED IN A ROOM ALL DAY AND FORCED TO MENTOR ON DEMAND
Actually, this isn't true. Or is it? There was some debate about whether Tim was available for private mentoring sessions--Seth Aaron claimed that a producer told him that Tim spent all day in a room adjacent to the work room at Parson's in case any of the contestants needed to speak with him, but Mila and Emilio had no idea. No one, to their knowledge, got one-on-one time with Tim apart from during the critiques we see on the show (with the notable exception of Maya when she decided to leave the competition during episode 11).
MAKING GOOD USE OF THE BLUEFLY.COM ACCESSORIES WALL IS EASIER SAID THAN DONE
Apparently the accessories never really changed, so designers kept using the same belts and bags and shoes throughout the season. They had to call dibs on stuff and sometimes argue over who got to use what since the supply was so limited.
HEIDI, MICHAEL, AND NINA DON'T INTERACT WITH THE CONTESTANTS OFF THE RUNWAY
This I think has been revealed before, but when the cameras aren't rolling, the judges have no contact with the cast.
THERE IS AN UNSEEN AUDIENCE AT THE RUNWAY SHOWS
Apparently at the end of the runway, out of the camera's view, sits a group of a dozen or more Lifetime producers and executives who all wear headsets and chat with one another. Tim Gunn also watches the runway shows off-camera.
EMILIO CAN'T VISIT HARDWARE STORES ANYMORE
Mila says that the hardware challenge was her favorite, but Emilo is, understandably, kind of scarred. "I can't even pass by that place anymore," he says of Scheman & Grant, the place where he decided to buy only washers and cord, which resulted in a truly spectacular fail of a bathing suit that made his model look like Madison from Splash in an all-nude Vegas revue of The Little Mermaid.
ANNA LYNETTE IS HALF JAPANESE
"That's why she was so quiet," Seth Aaron explained. He was being totally serious.
SETH AARON LIKES HIS STEAK BLOODY
Well, that's how he ordered it, anyway. Emilio also got steak (cooked a bit more) and Mila had a salad and crab cakes, plus a glass of Chardonnay. "You're one of our last interviews, but they told us we can drink for this one!" she said when we sat down. A girl after my own heart... (I had a salad and a spicy tuna roll, in case you care. Remind me to tell you sometime about how awkward it is to eat during an interview. If you ever get the chance to have breakfast with Kevin Bacon, do not get the huevos rancheros. I'm just saying. You have been warned.)
My sincere apologies, again, for erasing the transcript of the interview. I hope this answered most of your questions... if you have any more, leave them in the comments and I'll do my best to answer them. See you on Friday for the final finale recap. Whoever wins, I can at least say I got to watch them eat while I babbled at them and spilled on myself. Also, I did end up beating my Brick Breaker score, so I'll always have that.
Don't forget to check out my blog, The Sassy Curmudgeon, and become a fan on Facebook.