Missed my previous Fashion Week diaries? Find them here.
You'll notice that while this post is titled "Crashing Fashion Week: The Final Day," Fashion Week is not actually over. That's because I didn't get invited to any shows past Tuesday. You'd think that after getting my chin featured so prominently in Fashion Week Daily I'd get a personal male model escort to the front row at Narcisco Rodriguez, but sadly, it was not to be. Instead I got to spend my final day as a fabulous person freezing my tuchus off in the New York Public library and stealing another HuffPost editor's identity.
12:00 PM
I arrive at the New York Public Library (for non-New Yorkers, this is the main library with the lions, perhaps better known as the one that was haunted at the beginning of Ghostbusters). As I climb the icy steps with the other fashionistas, I hear one of them scoff "This show is a joke; anyone can get in." (Um, not Lindsay Lohan apparently. This, by the way is a variation on the bitching I heard at the Project Runway finale; fashion peeps hate to be invited to anything not exclusive. They usually either deride the show they're at as unworthy or fall all over themselves talking about how hot a ticket it is. I say, just shut up and be glad you have a seat and a goody bag. Gawd.)
Could you guess from that last line that for the second time this week, I am given standing room? I wouldn't normally mind except that it is fucking chilly in here--the runway is literally set up right in the main lobby (aka "Astor Hall"), mere steps from the doors, which have been left open to let all of the fashionably late people in. I don't even bother taking off my coat or Muppet gloves, and pass the time playing Brick Breaker on my BlackBerry in between scanning the crowd for famous faces. The one person I recognize is Andrea Linett, the creative director of Lucky magazine but more importantly (to me, anyway), a former Sassy editor. Oh, Sassy, how I miss you!
The Jill Stuart runway is curved, and snakes off beyond my field of vision. It basically forms a right angle, so there are two photographer pits, one at the elbow of the runway and one at the end. Around 12:30 the photographers at the elbow start going apeshit and their flashes go off with the intensity of Daniel Farraday's hydrogen bomb on Lost. "Anna Lynne!" they are shouting. "Anna Lynne!" I regret to inform you that I know who this is: Anna Lynne McCord, from the new version of 90210 that I refuse to watch because it is SACRILEGE. Do not even talk to me about the new Melrose Place. DO NOT EVEN. It still hurts.
Anyway, I never see Anna Lynne or Mena Suvari or any of the other people I hear the photographers clamoring for (Here is a helpful gallery of all the VIPs I was unable to see... you'll notice a certain noted fashion photographer was after me YET AGAIN. Oh, Nigel, please, stop. It's getting embarrassing...) but I do beat my record in Brick Breaker, which is something.
The show itself is full of Amazonian models wearing over-the-knee boots with cute minidresses and knitwear. They must be freezing, but Jill has been good enough to provide them all with plenty of nipple coverage.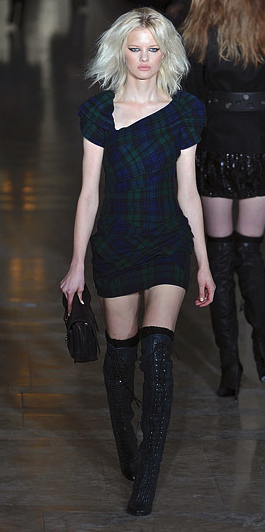 If they had walked to the Ghostbusters theme it would have been awesome. I should totally consult on fashion show soundtracks.
3:00 PM
I have to run errands between Jill Stuart and Monique Lhuillier and so am accidentally fashionably late to the second. When I arrive at check-in they don't have my name, so I drop Anya Strzemien's name. I explain that Anya is the style editor here at HuffPost, and that it is her seat I'm taking. The clipboard girl sourly hands me a card with Anya's seat number and I dart into the tent.
No sooner do I locate my seat in the third row than I notice it's currently being filled by someone else's ass. "Excuse me, but I think you're in my seat," I say to a twentysomething girl, flashing my seating card. She looks confused and shows me her seating card, with the same seat written on it. I take the empty seat next to her, hoping that no one with a clipboard yells at me. After a minute or two I overhear her say "HuffPost" to the girl she's with. "Do you work at the Huffington Post?" I ask. She nods. Her name is Hilary Moss and she's a part-time editorial staffer. "Are you taking Anya Strzemien's seat?" I ask. She says yes. I introduce myself and explain the situation. "Wow," Hilary says. "I guess they're not really paying attention to who they let in." (Note: I'm in no way condoning crashing fashion shows--regardless of the title and subject matter of this blog--but there you have it. Security at these things is as lax as Nadya Suleman's pelvic floor.) Anyway, as luck would have it no one tries to claim my seat and Hilary and I chat away as actresses Sophia Bush and Melissa George are seated directly in front of us. We try to look engaged in conversation, because nothing would be more embarrassing than showing up on Patrick McMullan's site staring transfixed at the back of a One Tree Hill star's head*.
*Melissa George is slightly higher-end, having guest-starred on Alias, In Treatment, and Grey's Anatomy
Monique Lhuillier's show is full of lush, gorgeous dresses that were no doubt made with the red carpet in mind. I realize that I have watched way too many episodes of The Rachel Zoe Project when I find myself mumbling "That is perfect for Annie [Hathaway]! I die!" as a red show-stopper comes down the runway.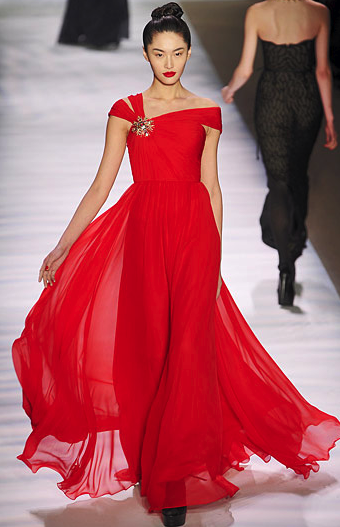 Seriously, though, Rachel, you know I'm right.
After the show I say goodbye to Hilary and make my way out of Bryant Park for the last time (I'm scheduled to see the Bebe Kardashian show the next morning but sickness--no doubt caused by my diet of adrenaline, Zone bars, and coffee as well as my inappropriate blizzard attire--forces me to cancel). Just as I burst through the doors that lead back onto 6th Avenue, I find myself face to face with Russell Simmons. He's much taller than I expected, probably because I'm used to seeing him standing next to Kimora. "What show did you just get out of?" he asks me. ME. Russell Simmons is talking to ME. I am so excited by this that I forget that I don't really know how to pronounce "Lhuillier." So I stare blankly at Russell Simmons until he gives up and asks somebody else.
Way to go out with a bang, self. I can't take me anywhere.
DAY FOUR TOTALS:
Celeb sightings: 3
Swag gifts: 0
Identity thefts: 1
Awkward confrontations with hip-hop moguls: 1
FINAL TALLIES (DAYS 1--4):
Celeb sightings: 39
Swag gifts: 5
Project Runway contestant sightings: 18
Fashion editor sightings: 3
Appearances in Fashion Week Daily: 1
Pseudo-dates with noted fashion photographer Nigel Barker: 2
Awkward backstage interviews: 3
Identity thefts: 1
Awkward confrontations with hip-hop moguls: 1
Transformative life experiences involving Alexis Colby Carrington Dexter Rowan: 1
Blogging about it all for The Huffington Post: Priceless
Thanks for reading, everybody! Maybe they'll let me back next year. And hey, if you like these misadventures, check out my blog, The Sassy Curmudgeon.