Hello, old friends. You look fabulous. Have you lost weight? Gosh, it seems like just yesterday we watched "Meana" Irina Shabayeva walk off with the most underwhelming victory in ProjRun history as Althea blinked and Carol Hannah surreptitiously vomited into her purse. I guess it feels that way because it was actually less than a month ago. Well, I hope you're recovered (and sufficiently tipsy on eggnog) because get ready for this: Season 7 premieres January 14. It's a Christmas miracle! This obviously calls for a song.
Now, just so you know, I am going to do my best to remove the chip on my shoulder and give this season a shot. For one thing, Season 7 returns to NYC, which means Nina and MK are back on their rightful thrones and Tim can stop staining his pink shirts with flop sweat and wearing flip flops. Also, Heidi is probably pregnant again during this cycle (she gave birth to her fourth child last month), which has been a good omen in the past (see also: Seasons 3 & 4). Finally, let's not forget that seven is traditionally a lucky number for everybody except Gwyneth Paltrow, whose head ended up in a box that one time. I realize that Season 7 filmed before Season 6 even aired, which means that the producers did not get our angry memos, but Jesus' birthday is upon us, y'all, and tis the season to keep hope alive.
As I did last season, I have studied the photos and videos Lifetime has up on its site. There is a ridiculous amount online if you want to watch it, but I already did, so you don't have to (which, BTW, includes not having to watch that grating, saccharine Zooey Deschanel cotton commercial five bajillion times, so you are welcome). FYI my "first impressions" were recorded before I watched any video, so are solely bitchy judgments based on the photos/basic biographical info you see below.
Now go put on something more comfortable, because it's time to get friendly: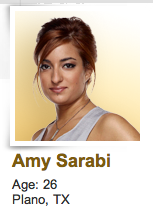 Profession: Fashion designer; permalancer at Men's Active Old Navy
Favorite designer: Christian Wijnants right now.
First impression: Iranian last name?! But not wearing felt yarmulke. Must not stereotype an entire people based on Shirin...
Threat level on the patented Una LaMarche Smack-O-Meter: Low. She seems laid-back in a Texas meets California kind of way (she kind of reminds me of Allison Kelly from Season 3). Also: she does her audition tape from a cocoon of balloon animals without ever explaining why, which is kind of amazing.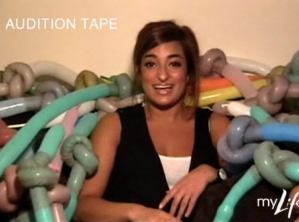 Style: Structured pieces with cool accessory details that kind of look like vaginal sea creatures.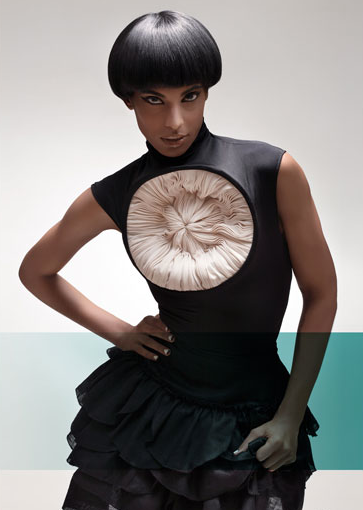 Unrelated: how did she get Prince to model for her?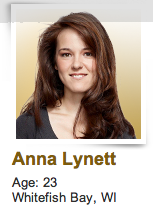 Profession: Printmaker and designer
Favorite Designer: Marc Jacobs, Lanvin and Band of Outsiders
First impression: Mary Stuart Louise Parker Posey
Smack-O-Meter rating: Low. I have to say that, actually, because she's deaf.
Nope, just kidding, she can talk, but eve though the audio is fine, for some reason her audition video has subtitles. But seriously, this girl is cool. She out-Allison Kellys Amy. She's a RISD grad who majored in printmaking and just learned how to sew. Her last name is pronounced like "Tammy Wynette."
Style: Refined, relatively minimalistic feminine pieces, sometimes with embroidery that calls on her printmaking roots.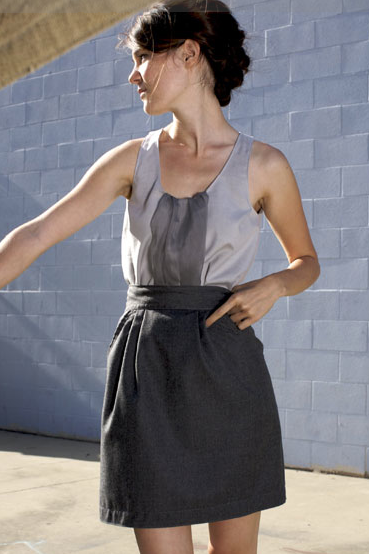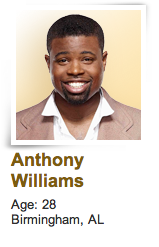 Profession: Freelance designer
Favorite Designer: Zuhair Murad
First impression: Like Shanice sang, I love his smile. Like I loved Qristyl's smile, though, and look how that ended up.
Smack-O-Meter rating: Guarded. He's from Birmingham, AL and grew up in the projects (now he lives in a "luxury ghetto"), so he wants to be an inspiration to people. That's not the annoying part. It's more that he's verrrry Southern flamboyance. His top notes are sweet but I detect a faint undertone of bitch. Prove me wrong, boy!
Style: Opulent, colorful gowns. The judges were reminded of Oscar de la Renta and Carolina Herrera, but didn't see a lot of Anthony's own personality. I wonder if he was chosen based more on his telegenic character... his clothes are purdy, though.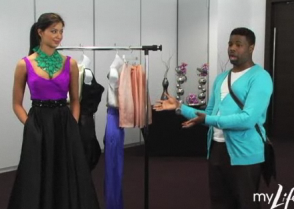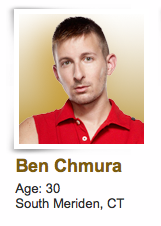 Profession: Designer
Favorite Designer: Nicolas Ghesquiere and Marc Jacobs
First impression: Um, I thought established designers weren't allowed on the show... Todd Oldham.
Smack-O-Meter rating: While watching his audition tape, Severe. Check it: homeboy has a pretend tea party with blindfolded guests...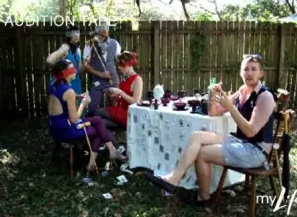 And is wearing loafers without socks.
But... after watching his home tour and casting session, the threat level has dropped to Guarded. Ben is a nice, articulate Southern hipster with cool robot lamps and a collection of dresses named after venomous snakes. What's not to like?
Style: Structured dresses with an edge; flirty separates.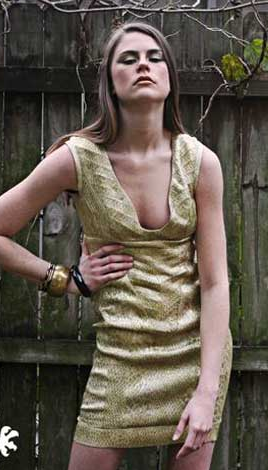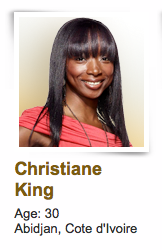 Profession:Fashion designer
Favorite Designer: I love Marchesa and Balenciaga.
First impression: Oooh... shiny hair!
Smack-O-Meter rating: Elevated. In her audition tape she lists five reasons she should be on ProjRun, which include "Tim Gunn wants me" (you wish, bitch! Oh, did I just type that out loud?) and "I will bring the drama."
Style: TBD. The video on the Lifetime site is down. Boo! But the photos reveal some, um, interesting pieces: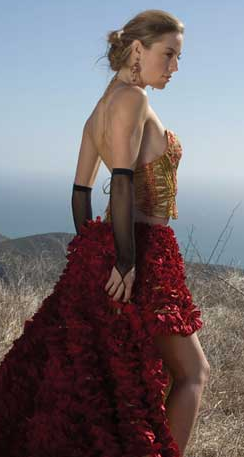 (That feathered thing? Has a train.)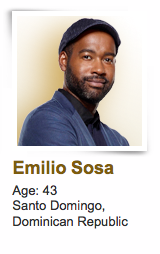 Profession:Costume designer
Favorite Designer: Charles James
First impression: The Legend of Bagger Vance
Smack-O-Meter rating: Guarded. His audition video is all silent, with drawings like this one: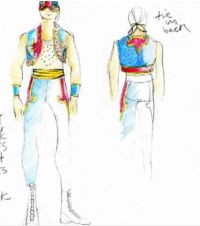 That is either the gayest hoodlum I have ever seen, or Rainbow Brite and Spiderman have spawned.
Then, in his home tour, Emilio is sweet and reserved and has a cute lisp. But in his casting session he comes off as cocky.
Style: All over the map. Beading, hand-painting, tailoring, with some African influences.
These he showed at the casting...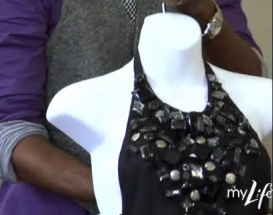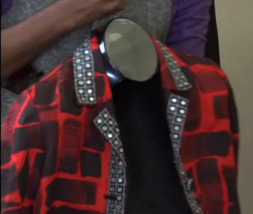 And this is part of his portfolio...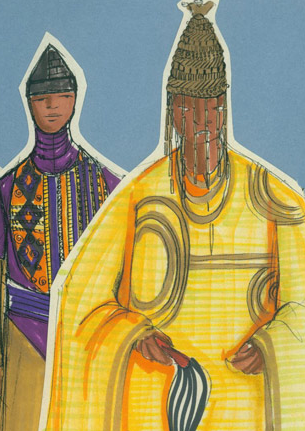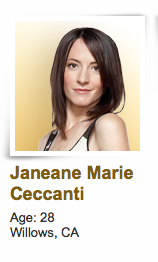 Profession: Designer and owner, Janeane Marie
Favorite Designer: Riccardo Tisci for Givenchy
First impression: Between the sculpted eyebrows, the blowout, and the double first name, she seems like trouble.
Smack-O-Meter rating: Elevated. Oh my, she is SO not the Italian princess I imagined. She's Ari Fish reincarnated. Awkward. Oregonian. Basing a collection on moon people. Omigah. I don't think she's quite as bad as that designer who spit on stuff, but... wow.
Oh! Here is painting she did of a fish whispering a secret to a kitten: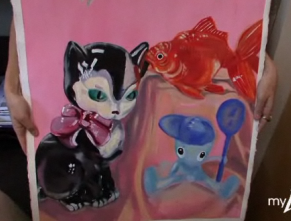 If you buy it for me I will be your best friend.
But you know what? She's sweet. She reminds me of Miss Pillsbury on Glee, kind of.
Style: Simple but structured pieces...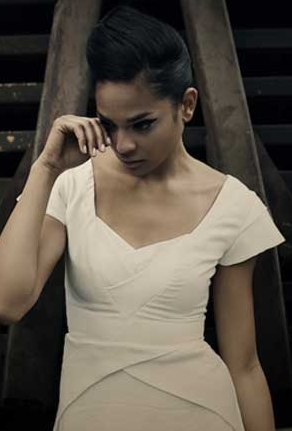 ... that make models cry.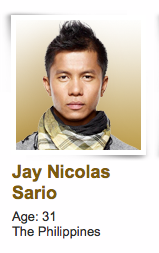 Profession: Visual merchandiser and lead stylist for Gap Inc. in the kids' division
Favorite Designer: Alexander McQueen
First impression: Okay, for real, does EVERYONE have to have two first names? Because Carol Hannah and Ra'mon-Lawrence really tried my typing patience last season.
Smack-O-Meter rating: High. He has some Christian Siriano-level sass, but his audition video shows him talking to mannequins...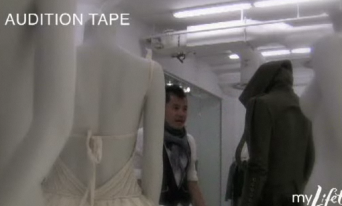 ...who subsequently turn into models and scare him shitless.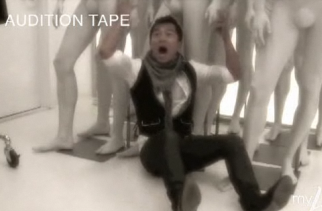 But the threat level drops to Guarded during the home visit, in which we learn of his boyfriend Ronaldo and their collection of Audrey Hepburn books.
Style: Really interesting pieces, like a military-style jacket with ruffles and pants with a tiny ass diamond patch (both below).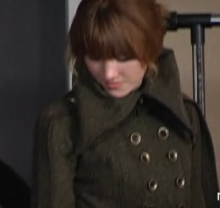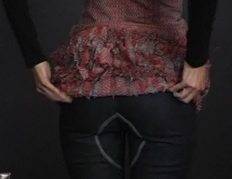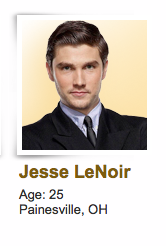 Profession: Actor and fashion designer for House of Kilroy
Favorite Designer: Thom Browne and Tom Ford
First impression: Patrick Bateman, Private Detective. Jesse LeNoir, are you serious? I LOVE YOU.
Smack-O-Meter rating: Confused... I mean, Guarded. His audition video is gimmicky but ends up being cute. But he starts out in bed with a man and then introduces us to his fiancee. And then he grows a creepy pube mustache for the casting.
Style: Also confused. He showed a beautiful coat that the judges loved, but the rest of his stuff they felt was costumey and unsophisticated.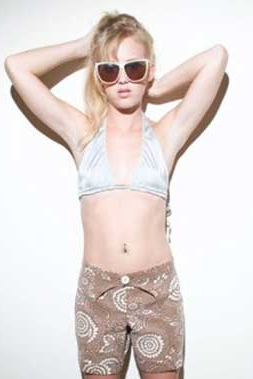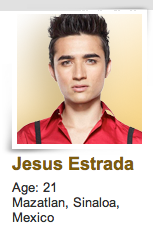 Profession: Freelance designer
Favorite Designer: Alexander McQueen, Dolce and Gabbana
First impression: Well, I can't pass judgment, it's Jesus. But I will say that I didn't expect him to have Luke Perry hair.
Smack-O-Meter rating: Guarded. He's cute and sassy, but he will have you know that he is kind of a big deal in Mexico and also in San Diego, presumably because of this dress he made out of corn husks: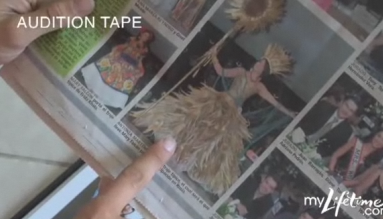 That is his mom modeling it, by the way. Apparently they are really close and every Saturday they wake up early to go to swap meets for fabric. Awww. And she's his model at casting! Dammit, it's so cute I think I have to drop the Smack-O-Meter threat level to Low.
Style: Grandiose gowns and, apparently jackets with seal fur. ("It's illegal!" Tim cries during casting, making anxious jazz hands.)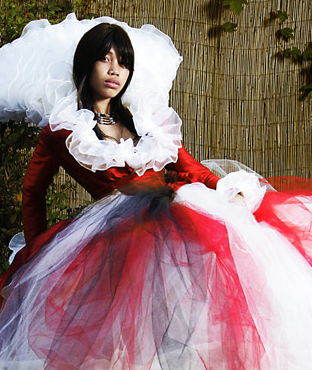 "Who's been painting my roses red?"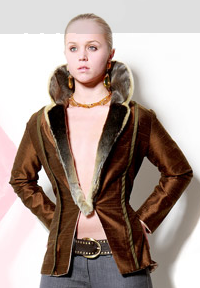 "Who's been clubbing my baby seals?"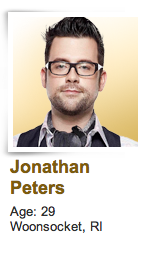 Profession: Technically, unemployed, but I prefer "independent freelance womenswear designer"
Favorite Designer: So many. Herrera, Mouret...
First impression: The secret love child of Ted Allen and Carson Kressley.
Smack-O-Meter rating: Severe. His audition tape begins with him yodeling and milking a goat: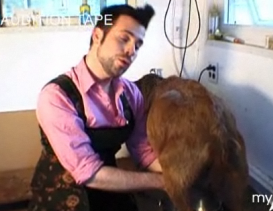 And hoeing a field in a boater hat. "I'll do anything to ho myself out!" he cries. Okay, fine, he gets bonus points for that, but the threat level is not budging. You know who he kind of reminds me of? Suede. Ugh.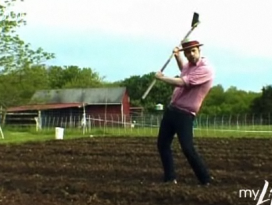 Style: Some cool jackets that I could not pay attention to because of this lace merkin: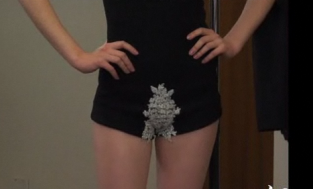 "Is that an albino turtle on your crotch or do you just really like doilies?"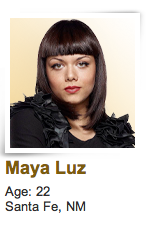 Profession: Freelance designer!
Favorite Designer: Raf Simons for Jil Sander, Alber Elbaz for Lanvin
First impression: She looks like she's getting ready to headline as Velma Kelly in Chicago. Two syllables: DRA-MA.
Smack-O-Meter rating: High. Just out of fashion school, Maya has designed a collection called "Fashism" in which each piece is inspired by a "different tool of manipulation." The collection includes these bags: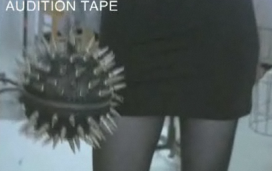 They are meant to represent being a gimp slave to fashion.
Style: Her style is cool. It's kind of a mix of avant garde, S&M and retro.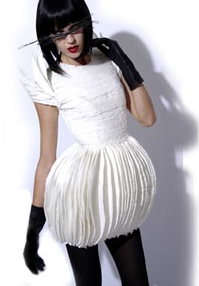 Much like her Check the Pulp Fiction pose in her audition video: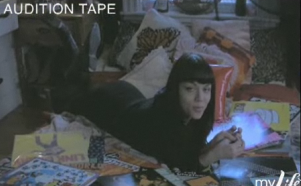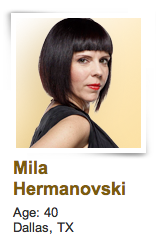 Profession: Costumer, TV/film and personal stylist
Favorite Designer: Helmut Lang, Preen, Courreges, Balenciaga and Ralph Rucci
First impression: Two blunt bobs in a row?! Also, is this Louise Black's mom?
Smack-O-Meter rating: Low/Guarded. Low because she's a thoughtful, articulate person with a cool, polished aesthetic (she favors black, white, and red blocks of color). Guarded because she may lose her cool around the bitchy younger peeps.
Style: Beetlejuice-y, with a 60s mod vibe.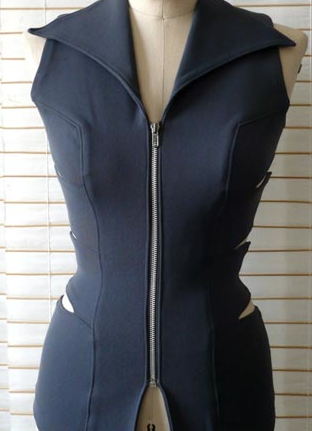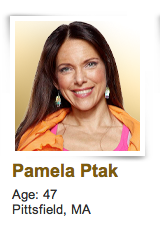 Profession: Full-time fashion designer & part-time college fashion design instructor
Favorite Designer: God. [OMG OMG OMG OMG--Ed note]
First impression: I love me a silent 'T', but the God designer think makes me think of that Silence of the Lambs skin suit, and now all I can think is "It puts the lotion on its skin or else it gets the hose again."
Smack-O-Meter rating: N/A. She needs a Creep-O-Meter. Guys, seriously, she keeps her boyfriend in a basement! And she has freaky oil paintings. She is a serial killer!!!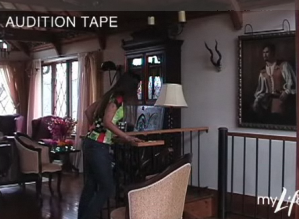 And the 'T' is NOT SILENT. Red fucking flag. #1.
Here's #2: A sword. There are many swords.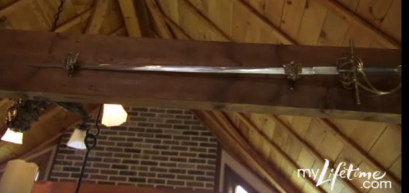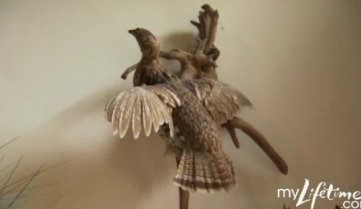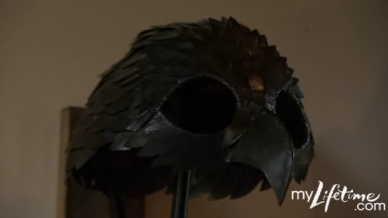 ...which she models for us.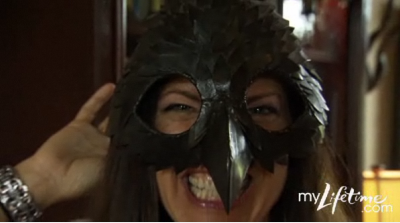 #5 A bed full of stuffed animals. She is 47.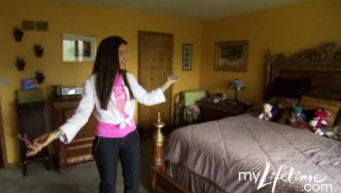 #6 Butterfly wings in a plastic bag.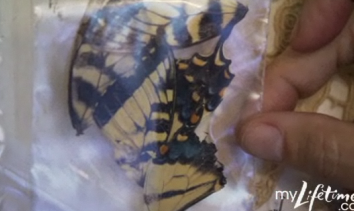 AHHHH! It puts the lotion in the basket!!!!
Style: Well, I guess God gives with at least one hand. Tim says Pamela's samples are among the most beautifully constructed clothes he's EVER seen. There's a mix of soft femininity and hard, almost origami-like architecture.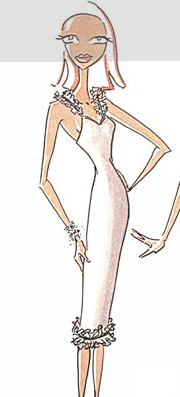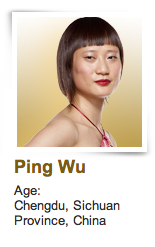 Profession: Design intern, assistant stylist, model, interpreter, reporter and freelance writer
Favorite Designer: Issey Miyake and Hussein Chalayan
First impression: Three blunt bobs! One more and we'd have a bobsled team. Get it? I crack myself up.
Smack-O-Meter rating: Guarded. Ping is quirky in both lovely and bizarre ways. (She describes her name as "Ping like ping-pong, Wu like wooo!")
Style: For example, she makes some things that are really interesting, like super-transformable knitwear and drapey, almost trompe l'oeil pants.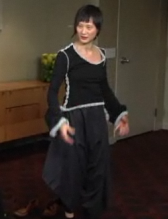 However, she also uses a roll of copper wire as a necklace...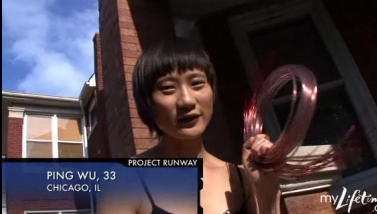 ... and makes slippers in the shape of a footprint that somehow also double as shower loofahs.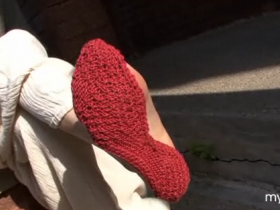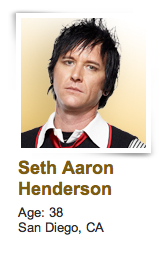 Profession: Fashion stylist and fashion designer
Favorite Designer: Karl Lagerfeld and Christian Dior
First impression: Gossip Girl's Rufus Humphrey... the MTV True Life version
Smack-O-Meter rating: Elevated. Seth Aaron (yes, he is going to make us call him by two first names. Middle names are for tax forms, people!) is in kind of arrested development. He's married with two kids and dresses like a twenty-something, complete with spiked hair, black fingernails, and skinny jeans, and says things like: "I have one goal in life and that is to be an icon." Lincoln Hawk could still make it, Rufus. Don't stop believin'!
Style: All we get to see at casting are two structured jackets, but the photos on Lifetime's site show dresses, some good...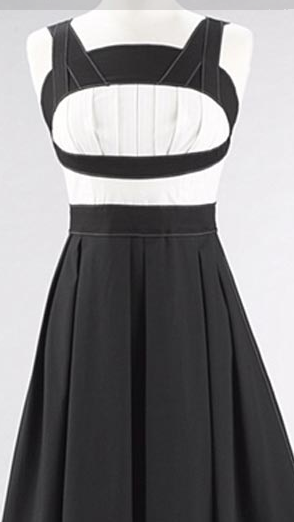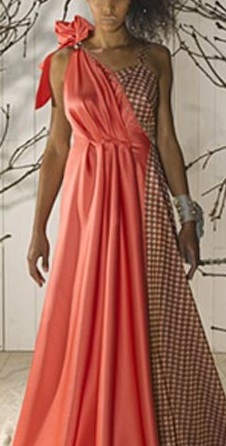 The only excuse for wearing that is if you are in a hilarious silent movie caper in which you have go skinny dipping during a picnic and local ragamuffins steal your clothes, forcing you to fashion something out of your tablecloth.
So there we have it. A pretty exciting group I think, based on the egos, drama, blunt-cut bobs, and just plain crazy. I think my favorites based on the videos are Anna, Ben and Ping. What say you?
Check back for the premiere recap on January 15! And as always, if you like this, check out my blog or become a fan on Facebook.