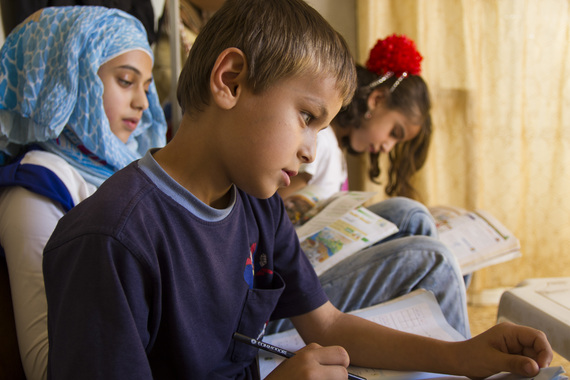 Photo: Tabitha Ross/A World at School
By Annemiek Hoogenboom, UK Country Director for People's Postcode Lottery.
7 million people buy a lottery ticket every month in our lotteries throughout Sweden, the Netherlands and Great Britain. By buying a ticket, they directly raise funds to help make this world a better place for people and planet. Together, our players raised US$8.2 billion dollars, or US$700 million each year, making us the 2nd largest private donor in the world. It's simple, you play with your postal code, win together and pool your support.

This year, we've committed to improving education in conflict zones, especially for girls. We are concerned because 59 million children are still not in school - over half of them live in places affected by war and violence, where military troops and terrorists occupying their schools and make the infrastructure useless to education.

Millions of children are also on the move because of conflict. Four years into the Syrian war and we are seeing staggering numbers. That's where Theirworld comes in. Theirworld supports education for refugee kids by using the existing infrastructure and teachers to implement double shift school systems. In the morning, the classroom is for Lebanese kids, in the afternoon it's for Syrian kids. Last year proved that the double shift model works in Lebanon. More than 100,000 displaced children got a renewed sense of belonging, of being valuable, and got hope for a brighter future by going to school. With enough donor money, we now have the opportunity to expand the programme to 200,000 this term.

Theirworld is appealing to world leaders to back a plan to get 1 million refugee children into school. Their appeal needs a fraction of the money required for catering for refugees in Europe. And as the UN Special Envoy for Global Education Gordon Brown keeps on saying: the total funds needed are small compared to other expenses, and yet they could get millions of school-age children in to school.

Theirworld has prepared a series of detailed reports on how we can provide education for around 300,000 Syrian refugee kids in Lebanon, 200,000 in Jordan and another 500,000 in Turkey. These three neighbouring countries of Syria have taken in the largest share of refugees. They now need our help to provide the children they have taken in with education. Lack of funding will leave displaced children out the classroom - at risk of child labour, early marriage and extremism.

I was recently invited to see Theirworld's work in Lebanon. I witnessed there first-hand the generosity of this tiny country by talking to people who deal day-to-day with the Syrian refugee crisis. I visited schools in Beirut and refugee camps in the Beqaa Valley. I gained a true sense of the both the scale of the crisis and the impact of the response.

While visiting a school in a refugee centre in Beirut, we met 40 Syrian mothers who begged us to create a place at school for their children. Fortunately, we also met strong headmistresses, teachers, and community leaders who are not intimidated in the slightest by the daunting task ahead. Maria Assi is the leader of an NGO in the region who we met while visiting schools in Beqaa Valley. She said of the children who we met there that "we focus on giving them an actual history of Syria, so they always remember it in the hope that they - one day - can return to their country."

I also met Sonia Khoury, leader of the Project Management Unit in the Ministry of Education, who emailed me within 5 minutes after we met. High heeled, her mobile at her ear all day, saying "yes I'll send a car.." or "yes, space is arranged" or "yes you can do this." A busy bee, friendly, extremely helpful, and knowledgeable. An instant problem solver and real doer. Sonia and Maria are the kind of people who will help all of us overcome this crisis.

When children in the region begin to develop a future, their parents will no longer need to consider hiring people-smugglers to bring them to Europe and risk of loosing them altogether - as what happened to 3-year old Aylan Kurdi. Despite the sometimes bitter circumstances, people prefer to stay rather close to home!

We are proud to support the work of Theirworld. And together with our players we will continue helping secure education for children everywhere. Living in conflict zones, descripted against and facing challenges to access, millions of children are missing out on the opportunity to build their future. We must work together for these children who need us so much.
Annemiek Hoogenboom launched People's Postcode Lottery in 2005 in Great Britain. To date, players of the charity lottery have raised over £82.9 million. A political science graduate, she founded her own consultancy company to help develop free media in Eastern Europe and founded the Management & Media Academy. Annemiek played a key role in establishing the Institute of Regional Gender, Peace and Diversity at Ahfad University for Woman in Sudan where she worked from 1985 to 1988.
.