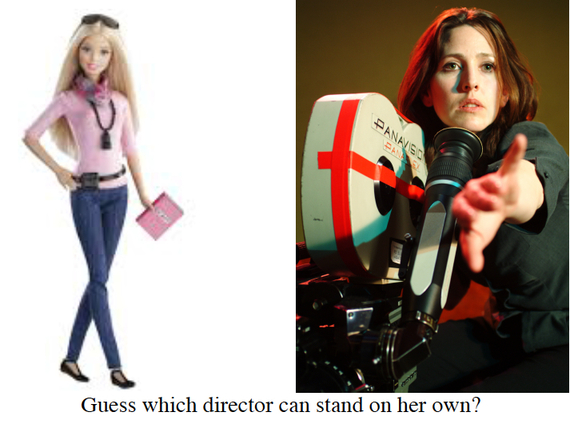 Mattel has released a new "career Barbie" - the film director. She is wearing a "feminine" pink sweater, and her malnourished arms, legs, and waist suggest she needs to take a trip to the set's craft service. Her perfectly coiffed hair is pulled back from her face by sunglasses (no ballcap?), a fashionable scarf tied around her neck. This Barbie may be running a set, but she hasn't lost sight of the importance of being something to look at, too.
The designers have changed something -- film director Barbie has an articulated ankle so she can wear practical shoes on set, but still go to the premiere in four-inch heels.
But whether in flats or crippling footwear, according to the Mattel bullet points describing the doll, she cannot stand on her own.
Wait, let's repeat that: She cannot stand on her own.
Now, I know because of the doll's unnaturally long legs and bizarrely tiny feet, Barbie has never been able to stand on her own, but reading this bullet point struck me as an ironic metaphor.
In truth, most women directors are forced to stand on their own and make their films independently. The statistics for women directors are so dire that articles demanding change are being written quicker than I can read them. Recently, the New York Times' Manohla Dargis, called the abysmal inequity in (or lack of) hiring of women in film by studios "immoral, maybe illegal."
I am a director, and, as it happens, I do not own a pink sweater -- like most of my male counterparts, I am much more likely to wear practical black on set - but the fact is, the clothing we wear is irrelevant, because, as a director, my appearance is simply not as valuable an asset as my competence, leadership skills, and artistic sensibility.
So Barbie has me in a pickle. I am glad that a female doll is being marketed as a director, but Barbie's looks, clothes, and accessories make me uncomfortable. (Does she cover all her scripts in pink so that she is non-threatening? Or is just this one pink because it matches her outfit?) Is this the best we can do in 2015?
We want children to grow up in a world where possibilities are many, where there are more options for them, and certainly playing with Director Barbie is going to give children an expectation that this job is open to both sexes.
But children are sponges who absorb cultural cues. The message from this doll is coming through loud and clear to both girls and boys that, whatever a woman's job, and however good she is at it, what is just as important (if not more) is for her to be a surgically thin, fashionable woman who spends a lot of time grooming herself into visual "perfection."
Parents and children (both girls AND boys) are clamoring for non-gender-stereotyped toys. Note the petitions; the vote drives; the Kickstarters for toys that don't segregate play based on biological sex; the split-second it took for the Lego Scientist set to be sold out.
Childhood imagination should be unfettered, yet toys, costumes, sports attire, and play sets have become increasingly, and rigidly, gendered.
So, do I give this Barbie to my children to show them that women can direct movies? Here's the parent's internal struggle: criticize Barbie for presenting children with damaging, unhealthy images of women, or cheer her step toward breaking a glass ceiling? As recent studies have underscored, women's leadership positions in media have remained stagnant and even decreased in key categories since scientists began compiling the statistics. At least in the Mattel world, it's two steps forward, one back. Though she'd make faster progress if she could stand on her own two feet.