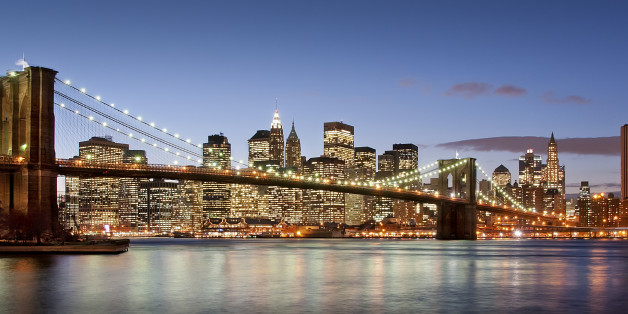 The biggest cities in the United States can often be the most alluring for travelers. These sprawling metropolises offer art, culture, renowned sports teams, trendy restaurants and swanky nightlife venues. Still, even as these cities widen your horizons and expand your worldview, they also have a tendency to drain your bank account. But if you plan your big city trip strategically, you'll find that New York City, Chicago, Los Angeles, San Francisco and Miami are completely affordable. Here are tips on where to eat, what to do and where to stay on a budget in the USA's most happening places.
In Pictures: How to Visit 5 Big Cities on a Budget
New York City
Do visit the Museum of Modern Art when it's free on Friday afternoons from 4 to 8 p.m. Or, visit the Guggenheim and name your own admission price on Saturdays, from 5:45 to 7:45 p.m. During the day, spend time strolling through Central Park: all that green won't cost you any of your own. Buy same-day discount theater tickets through TDF, or book very far in advance for free admittance to a TV show taping.
Eat bagels, pizza and really just about any cuisine imaginable, and you won't break the bank. However, if you're looking to dine in the city's multi-starred establishments, book your trip during one of NYC's twice-annual restaurant weeks when more affordable prix-fixe menus are available. You'll be able to dine at some of the city's top restaurants, such as the East Village's Narcissa or Central Park's Tavern on the Green, for a fraction of the cost.
Stay in outer boroughs like Queens or Brooklyn (instead of Manhattan) to save some cash. You might also consider booking your stay through Airbnb. Rooms or entire apartments can be cheaper than hotels, plus you'll have access to more cost-effective amenities, including a kitchen. Regardless of where you choose to hang your hat, make sure you're within walking distance of a subway station to travel through the city quickly and cheaply.
Absolutely do not take taxis. Discipline yourself to take public transportation and you'll have already saved some serious cash.
Miami
Do spend lots of time basking in the sun. Even if you're not staying at a beachfront hotel with complimentary lounge chairs and towel service, you can still share the sand at Lummus Park in South Beach. You'll just need to tote your own towel. When it comes to nightlife, bypass the city's expensive clubs in favor of its more affordable cultural events. If you plan your trip for the second Saturday of the month, you'll be to take advantage of the free art walk in the Wynwood Arts District. You can also view films outside at New World Center on Wednesdays and Thursdays through May 28, thanks to the Miami Beach SoundScape Cinema Series.
Eat very well during Miami Spice, an event that takes place from Aug. 1 to Sept. 30, where some of Miami's best restaurants offer prix-fixe, three-course menus at lunch and dinner for $23 and $39, respectively. You can also hunt out some affordable mom and pop Cuban eateries in Little Havana.
Stay in one of the city's smaller hotels. Places like Freehand Miami, Sanctuary South Beach, Yve Hotel Miami or The Vagabond Hotel, all of which boast central locations at a fraction of the rates of neighboring resorts.
Absolutely do not stick around the resort for your meals. Some of the city's hotels contain numerous restaurants that offer mediocre food for gut-wrenching prices.
See: Ways to Do Pricey Destinations on a Budget
Chicago
Do view the Windy City from the Navy Pier, the Lincoln Park Zoo and the reflection of "The Bean" in Millennium Park. Each of these vantage points can be enjoyed free of charge. If you want to see several of the city's top attractions, but don't want to shell out the pricey admission fees for each, it would be worth your while to purchase a Chicago CityPASS. The pass grants you entrance to five popular attractions, including the Shedd Aquarium, the Field Museum and the Art Institute of Chicago, for under $100.
Eat some deep dish pizza. Lou Malnati's, Gino's East and Giordano's are all popular places. Consult Chicago Mag for further recommendations on tasty dishes, each less than $10.
Stay in the city. Even if you score a good room rate out by O'Hare Airport, (and there are usually great room rates out that way), you'll be paying the difference in the frustration it takes to commute the hour or so into the city each day.
Absolutely do not rent a car. You can get most places in the city by mass transit, and parking fees can cost you anywhere from $30 to $60 a day.
San Francisco
Do take a cable car ride. For just a handful of dollars, visitors can enjoy the iconic experience of traversing the city's steep hills on a San Fran cable car. Visits to Alcatraz Island and Muir Woods, two of the city's must-dos, will run you a bit more. However, if you book a combined tour through a company like Viator, you can save. Touring the city's colorful neighborhoods on foot is absolutely free; stop by Alamo Square's "Painted Ladies" while on your jaunt. You can also walk across the Golden Gate Bridge for free, and then climb to Battery Spencer on the Marin County side of the bridge for a postcard-worthy photo op. Starting in late spring, a handful of festivals are free to the public, including Shakespeare in the Park and SFJazz Summerfest.
Eat in the Mission District. Experts suggest places like San Jalisco, Taqueria Cancún and Old Jerusalem because they are as delicious as they are cheap. You might also venture to the congregation of food trucks at the SOMA StrEat Food Park.
Stay in small boutique hotels and bed-and-breakfasts rather than brand-backed properties. Try out the Inn on Castro or Nob Hill Inn for decent-priced room rates in interesting neighborhoods.
Absolutely do not rent a car in San Francisco. Parking fees are exorbitant, and the city's efficient public transportation system makes it easy to get around.
Los Angeles
Do tread in the footsteps (and handprints) of the stars for free in front of the TCL Chinese Theatre. If you want to shop, but don't want to max out your credit cards, pick up a souvenir or two in Venice Beach (a great people-watching spot) or check out Santa Monica's Third Street Promenade or Santa Monica Place. For a magnificent view of the Pacific Coast, take a jog or a walk in Palisades Park. You should also plan on stopping by the gorgeous Getty Center and Getty Villa, both of which offer free admission.
Eat tacos, ramen and dumplings in LA. These three staples are quite affordable if you know where to look: West LA's Santouka Ramen, LA proper's Luscious Dumplings and downtown's Mariscos Jalisco.
Stay in a room centralized to the attractions you're interested in seeing. LA is a sprawling beast of a city with terrible traffic, so you'll want to stay as close as possible to the things to do.
Absolutely do not spend all of your time and gas money driving around this enormous city. Plan your itinerary carefully and steer clear of the 405 Freeway to make the most of your time in LA.
In Pictures: How to Visit 5 Big Cities on a Budget

About the author: Emily H. Bratcher is a freelance writer living in Iowa City, Iowa. She has also written for the Washingtonian and Outside Online, among other publications.