For some travelers, a quiet hideaway with a cozy bed and luxurious amenities offers the perfect formula for a relaxing escape. But for those seeking a more unique experience, a bed-and-breakfast may just fit the bill. After all, many of America's standout B&Bs offer personalized service, memorable meals and an inspiring story or setting that charms visitors time and time again.
Spanning across the country, from North Carolina to Hawaii, the 10 establishments featured on this list vary drastically in their locales and offerings. Some draw travelers with their gracious hospitality and thoughtful touches (like homemade biscuits and antique accents) while others are colorful seaside cottages that wow guests with their spectacular views. To help you discover the best of the bunch, U.S. News Travel has rounded up 10 of the nation's superlative B&Bs.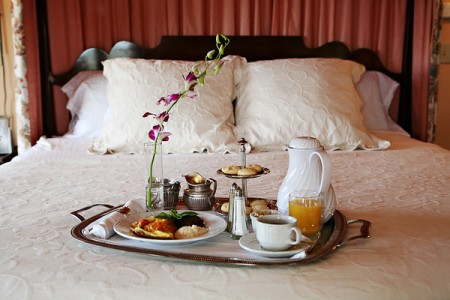 Courtesy The Gastonian
[In Pictures: Unique Bed-and-Breakfasts Across America]
The Gastonian
Savannah, Ga.
The Gastonian -- an elegant bed-and-breakfast perched in Savannah's Historic District -- sets itself apart from its southern peers with graceful architecture and a unique sense of history. From the façade of the Gastonian's two Regency-Italianate inspired mansions, you can still admire small cracks from an earthquake that rocked the area in the 1800s. History also pervades the Gastonian's 17 guestrooms that each pay tribute to a local Savannahian, with names like Mary Telfair and Flannery O'Connor. Accommodations feature a mix of antique pieces and modern amenities, such as flat-screen TVs, thick bathrobes, Gilchrist & Soames bath products and claw-footed tubs (in some rooms). Begin your day with homemade muffins, lemon ricotta pancakes layered with maple syrup and smoked bacon or poached eggs with grilled tomatoes. If you're still hankering for more gourmet goods, take advantage of daily hors d'oeuvres from 4:30 to 6 p.m. and desserts from 8 to 10 p.m.
Fort Hill Bed and Breakfast
Eastham, Mass.
At this three-suite Greek Revival farmhouse in the historic Fort Hill area, you are privy to sweeping views of Nauset Marsh, not to mention Cape Cod's rich array of wildlife. Innkeepers Gordon and Jean Avery ensure a memorable stay with delicious breakfasts prepared with ingredients from the inn's perennial and vegetable garden. After you fill up with tasty menu items like cheesy-chive egg soufflé and buttermilk-currant scones, you can laze along Coast Guard Beach, hike along Fort Hill's scenic trails or check out nearby museums. Later, you'll wind down in one of three cozy suites. The Emma and the Lucille suites are each appointed with modern conveniences like cable TVs and Wi-Fi access. Meanwhile, the more spacious, yet intimate, Nantucket cottage boasts its own fireplace, skylight, wrought iron bed and maple wood flooring.
John Rutledge House Inn
Charleston, S.C.
This beloved bed-and-breakfast situated on Broad Street in downtown Charleston makes an excellent base if you're looking to take in antebellum architecture, Spanish moss-draped streets and a dizzying array of historic sites. History spills over from the city's cobblestone walks into the John Rutledge House Inn; John Rutledge built the home in 1763 as a present for his bride-to-be, Elizabeth Grimke. In 1989, the house was converted into the charming B&B it is today, filled with 19 rooms and two carriage houses interlaced with modern amenities and unique antiques, like marble fireplaces and ornate ironwork. King rooms pay homage to the home's rich heritage, with canopied beds, 12-foot ceilings and original wood floorings. In the morning, you'll wake up to a scrumptious continental breakfast before indulging your inner history buff with a jaunt through Charleston.
[See: Best Weekend Getaways]
Shafer Baillie Mansion Bed & Breakfast
Seattle
Occupying a 1914 Tudor revival home, the Shafer Baillie Mansion exudes a classic 1920s charm with lavish decor and period accents, like mahogany woodwork, oak paneling and oriental rugs. Each of the eight guest rooms and suites comes with a mahogany bed, luxurious linens and a 32-inch LCD TV. The rooms on the third floor offer additional space for larger groups and boast in-floor heating and views overlooking Millionaire's Row or Queen Anne Hill and the Olympic Mountains. Kick off your day with a continental breakfast that offers staples like pastries, yogurt and hard-boiled eggs before exploring the surrounding Capitol Hill area or taking a 15-minute car ride southwest to downtown Seattle. If you would rather linger back at the hotel, you'll find plenty of cozy nooks in the library, sunroom, entry hall and grand salon.
Stone Hill Inn
Stowe, Vt.
This nine-room retreat, surrounded by the gorgeous scenery and verdant gardens of Stowe, Vt., provides an intimate, woodsy ambiance coupled with upscale accommodations. Guest rooms are outfitted with fireplaces, flat-screen TVs, two-person Jacuzzi tubs and sleigh, canopied or four-poster king-sized beds. Should you be tempted to steal away from your comfy digs, you can delight in sumptuous dishes like orange-pecan waffles along with freshly brewed Vermont Green Mountain Coffee. After breakfast, take advantage of the nearby slopes, spas and shops before returning for evening hors d'oeuvres. When nighttime rolls around, curl up in a hammock or Adirondack chair, or cozy up by the fireplace in the Stone Hill's main sitting room.
La Maison Marigny
New Orleans
Tucked away along the Crescent City's legendary Bourbon Street, La Maison Marigny makes a convenient stay for visitors looking to soak up the vibrant French Quarter. Inside the comfortable accommodations, you'll discover reproduction antique beds, luxurious linens, hardwood flooring, complimentary Wi-Fi and high ceilings. But the real showstopper here isn't the 1898-inspired bedrooms; it's the breakfasts. Homemade casseroles, quiches and New Orleans-style coffees are all on the menu. Plus, you can rely on host John Ramsey for a warm welcome as well as helpful recommendations on where to explore during your stay. When you're ready to hit the town, check out the museums surrounding Jackson Square or peruse the eccentric shops lining Bourbon Street.
[See: Best Places to Glamp]
Shinn Estate Farmhouse
Mattituck, N.Y.
Stretching out along Long Island's North Fork, this 1880s estate houses a robust wine collection and four rooms that grant sweeping views of the surrounding vineyard and winery. Rooms are appointed with feather pillows, thick robes and flat-screen TVs. Outside the accommodations, you'll find a tasting room filled with a diverse collection of top notch vino -- including chardonnay, sauvignon blanc and merlot blends -- along with a tranquil outdoor porch and gazebo. If you're craving a little more activity, you can spend your time hiking along the picturesque Oregon Road or enjoying a Vineyard Walk tour (complimentary for guests staying over the weekend). And as far as meals go, expect tantalizing dishes prepared by owners (and previous restaurateurs) Barbara Shinn and David Page. Staples include fresh-griddled sausage, sunny-side up duck eggs and maple-smoked bacon.
Songbird Prairie Bed & Breakfast
Valparaiso, Ind.
This unique B&B caters to nature-seekers with its covetable location, set near the Dunes National Lakeshore in Valparaiso, Ind. Each of the five suites boasts its own color scheme and decor; however, all are equipped with modern touches like flat-screen TVs, whirlpool baths, fireplaces and European linens. Morning breakfasts here include homemade breads and an assortment of specialties like oatmeal soufflé, buttery biscuits and crispy waffles layered in berries. Once you've appeased your taste buds, take to the great outdoors to admire serene meadows and majestic oaks as you listen to the soothing sounds of the melodious songbirds that call this remote retreat home.
Beltane Ranch
Glen Ellen, Calif.
Flanked by picturesque vineyards, orchards and gardens, this ranch built in 1892 offers breathtaking scenery on 30 acres of land in the heart of wine country. In the morning, enjoy a homemade breakfast filled with fresh berries, eggs and locally sourced meats and cheeses before partaking in a wide array of outdoor pursuits, ranging from tennis to bird-watching. Afterward, delight in tastings along the ranch's Beltane loop wine trail or the 17-mile-long Valley of the Moon wine trail. Or savor a glass from Beltane Ranch's collection of crisp sauvignon blancs before snuggling up in your luxurious digs. Accommodations are equipped with elegant wooden furnishings, family antiques and sweeping balconies or porches overlooking Sonoma Valley. If you're willing to splurge, reserve a cottage, which also comes with its own private garden patio and gas fireplace.
Hale Ho'okipa Inn Maui Bed and Breakfast
Makawao, Hawaii
Built in 1924, Hale Ho'okipa Inn Maui Bed and Breakfast, a former Maui plantation, houses only five bedrooms. Accommodations are appointed with local artwork, antique furnishings, sweeping bay windows and claw foot tubs (in some rooms). Outside the serene lodgings, you'll discover tropical flowers, lilikoi vines and a massive Norfolk pine tree. Count on starting your day with an organic breakfast filled with fresh papaya, local breads and cereals that come in varieties such as mango passion and raspberry ginger. Wash down your breakfast with fresh guava, passionfruit or orange juice or a jolt of caffeinated Maui coffee. Once you're well-fed, hike along the scenic Haleakala National Park (approximately 18 miles south), hit the links at Pukalani Country Club (roughly 3 miles southwest) or crush some gnarly waves at Ho'okipa Beach (about 10 miles north).
[In Pictures: Unique Bed-and-Breakfasts Across America]
--Liz Weiss