Social media has created both opportunity and dilemma for owners of brand mascots, those beloved animated personalities that have smiled back at us from print ads, billboards and TV commercials for decades.
Facebook and Twitter have created a new paradigm in which brands are obliged to speak, whether through their mascots or not. There is, however, risk associated with giving voice to a mascot. Those that make public appearances have traditionally been (creepily) mute, presumably for fear that the out of work actor inside the 120F suit might say something "off brand." Fortunately, you've got control over a social media voice, assuming you trust the wool-capped intern charged with bringing daily life to your hallowed icon. And this new "voice" creates an opportunity to build direct relationships with consumers, collectively and individually, interacting as a human would to entertain, inform, connect, console.
But like a movie star who is much shorter when you finally meet him, brands run the risk of disappointing fans and lessening their mascots' mystique by opening their mouths. It's an endeavor I trust brand managers are undertaking very carefully, with much attention paid to a newly elaborate definition of the mascot personality to ensure consistency with the larger brand identity.
So, how're the mascots doing so far?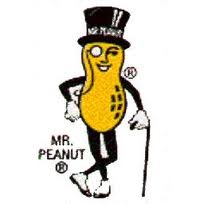 Planters: A brand exemplified by the venerable Mr. Peanut, sophisticated, debonair, and just a little jaunty. Planters has orchestrated a brilliant transition from the can to the status update. Mr. P. has nearly half a millions fans, most of whom seem a little nutty, too. He's witty, irreverent, and I'll bet you didn't know, very athletic for someone who can't jump more than an inch. A pick-up game of b-ball or a (jaunty) jog in the park are among his myriad activities. He was all over March Madness.
Michelin: Just as ocean swimming lost its appeal after I saw Jaws, so too did Ghostbusters damage my relationship with the Michelin Man. His muteness was always a little suspect, too. Happily, he's found his voice on Facebook -- cheerful, friendly, helpful. And he knows more about tires than anyone would care too. Michelin, you could flesh him out a bit more and build those 'likes' beyond 20,000. He's got what it takes.
Green Giant: The Jolly Green Giant hasn't really gotten past "Ho ho ho." Extremely non-threatening as giants go -- though apparently Jolly Green Giant billboards have caused accidents when unsuspecting motorists suddenly came upon a giant peaking through the trees on the highway -- I think there is an opportunity to run with the Giant. I mean, there must be some great vegetable jokes out there, right? And who doesn't need to know 100 things to do with corn?
Tony the Tiger: Well, what I mostly know from your FB page is that he's gggreeeeaaaat! That, really, everything is grrrreeeeaaaaatttt! Cute animal videos are everywhere we look nowadays -- maybe build some of that in. And give Tony a little more to say.
Other opportunities:
KFC, you're missing a trick with the Colonel. Your page has tons of "likes" but why not some Mark Twain style wisdom and wit, updated for an urban crowd? Pillsbury Doughboy, do more than giggle. Aunt Jemima, give me some life lessons in your cozy kitchen. Quaker Oats Pilgrim, give me some health tips and Farmer's Almanac horse sense.
Toucan Sam, Cap'n Crunch, Count Chocula. The possibilities are endless.
Yes, it's just the beginning of a new era for our animated friends. I smell a new cyber category at the advertising industry's prestigious Lions Awards next year. It will be ggrreeeeaaattt! Mr. Peanut would be the perfect MC. Or, Lifetime Achievement Award recipient. What can I say, I'm partial to peanuts.