'Tis the season for thankfulness... and nothing should make us more thankful than the food on the table before us. And yet, so many find fault with our plates; maybe we need to spend a little more time realizing what we are blessed with this Thanksgiving.
In a day and age where we take so much for granted, it's sometimes hard to remember that we truly are a country of excess. Yet, even with that knowledge, we can still get a good deal on too much.
Recently, the American Farm Bureau Federation did an informal survey regarding the typical items found on the average Thanksgiving dinner table. Guess what? In 2014 you can still feed a gathering of 10 people for less than $50... pretty amazing, considering that $50 doesn't get you too far in today's society.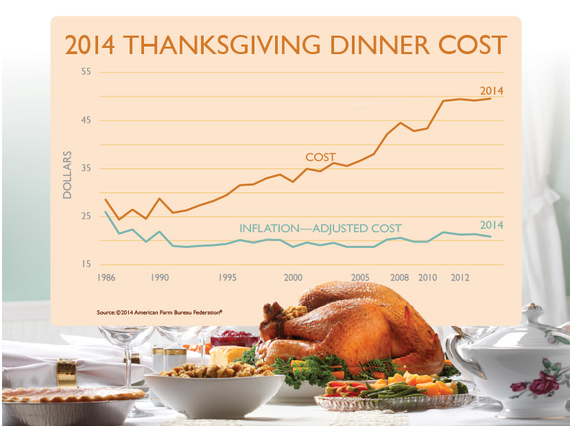 And let's remember -- rarely does a Thanksgiving dinner ever strictly end at Thanksgiving dinner. It usually lives on to Thanksgiving evening, the day after, turkey sandwiches, turkey casseroles, turkey hotdishes (at least in the Midwest), turkey soups... I believe there are times in which I've even attempted to try to sneak turkey into desserts. For about a week and a half straight, turkey becomes a staple for every meal.
And let's not forget the fixings: pumpkin pie, cranberries, sweet potatoes, carrots, celery, stuffing, rolls, milk, etc. Yum!
So how is it that we can buy so much for so little?
Well, some of it has to do with consumer savvy. That's right; the shopper has to pat themselves on the back a bit. We can go out and find the best deals. Save money where we can! Shop around; know where to get the best bang for your buck.
Turkey can be purchased for about $1.35 per pound, and that's if you don't look for somewhere where the turkey may be used as a "loss leader," where the store may use the bird as a method to entice you to buy other items there. The price of turkey is actually down from last year. Overall, there's only roughly a 3 percent increase from the 2013 prices.
So finding good deals wasn't too difficult of a task for the 179 survey shoppers that made up the informal price survey.
But growing safe, affordable food is the specialty of the farms and ranches found throughout this country -- no matter the size of the operation.
So feeding a gathering of 10 at Thanksgiving for less than $5 per serving? Try doing that at a fast food restaurant...
Val and her husband, Mark, farm in rural North Dakota, growing corn, soybeans, wheat and hay as well as raising cattle and four busy boys. Val is passionate about agriculture and enjoys writing, as well as blogging at wagfarms.com.
PHOTO GALLERY
15 Ways To Save On Eating Out