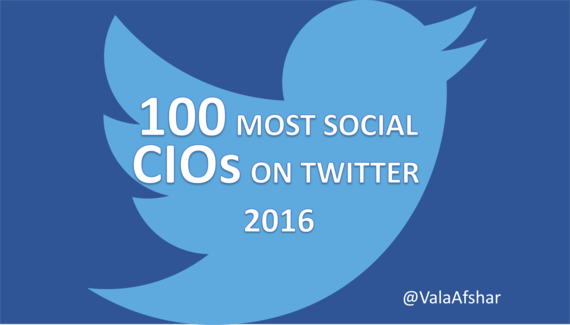 There is no better time than now to be a chief information officer (CIO). 2016 is the year of the connected customer and an opportunity for CIOs to help their companies learn more about and engage with their customers in a whole new way. Every business is a technology business and CIOs are best positioned to leverage innovation to help their companies grow, while delighting customers and employees. The evolving role of information technology (IT) organizations has created an unprecedented opportunity for CIOs to lead digital business transformation initiatives within companies of all sizes, in all industries. I also believe that CIOs who drive successful digital transformation are best suited to win CEO jobs.
In a 2016 State of IT research report, digital trends like mobile customer facing and productivity apps, social networking, cloud computing, data science, cybersecurity were shaking up traditional IT strategy and driving a need for more collaborative and customer-focused leadership roles in IT. In order to successfully drive company-wide transformation, successful CIOs are collaborative, accessible and demonstrate the ability to influence their organizations, customer and business partners by being accessible, informed and role model agents of change.
One common characteristic of extraordinary CIOs is that they are active and passionate social networkers. These CIOs frequently use public social networks like Twitter, LinkedIn and blogging platforms to share their points of view. Many of these CIOs are work behind the scenes to mentor and promote thought leadership and group collaboration. These social CIOs are inspiring technology and business leaders to actively drive digital transformation for the betterment of their employees, customers and business partners.
I have complied a list of 100 social CIOs who consistently demonstrate their willingness to be active on Twitter. I use several factors to develop this list including frequency of use, size of network, quality of content, share of voice data and my own experience with CIOs. In addition, for the first time this year, I consulted with a social influence expert and thought leader Marshall Kirkpatrick, co-founder Little Bird (@GetLittleBird), in order to further validate the CIO list. Marshall is a brilliant researcher and provided fantastic input towards this project.
Please join me by congratulations the 2016 most social CIOs on Twitter. I encourage you to follow each of these wonderful executives on Twitter. I also welcome your suggestions regarding other social CIOs that should be recognized for their willingness to actively engage on Twitter.
Dr. David A. Bray, FCC - @fcc_cio
Kim Stevenson, Intel - @kimsstevenson
Joanna Young, Michigan State University - @jcycio
Oliver Bussmann - @obussmann
Robert Schmidt, California Office of Technology Services - @ambassadorcio
Jonathan Reichental, City of Palo Alto, California - @reichental
Tim Crawford, AVOA - @tcrawford
David Chou, Healthcare CIO - @dchou1107
Jay Ferro, American Cancer Society - @jayferro
Ramon Baez, HPE - @RamonFBaez
Mike D. Kail, Cybric - @mdkail
Steve Groves, GoodLife Fitness - @steveatgoodlife
Adriana Karaboutis, Biogen - @andikaraboutis
Stephen Landry, Seton Hall University - @landryst
Will Lassalle, JLS Tech - @wlassalle
Miguel A. Gamino Jr., City of San Francisco - @sfcitycio
Michelle Mckenna-Doyle, NFL - @nflcio
Ben Haines, Yahoo - @bhaines0
Andrew Wilson, Accenture - @andrewxwilson
Diane Doersch, Green Bay Area Public Schools - @doerdi
Adam L Stanley, Cushman and Wakefield - @ALSWharton
Stephen diFilipo - @S_dF
Jason Smylie, Capriotti's - @capriottisjason
Rachel Wente-Chaney, High Desert Education Service District - @rwentechaney
John L. Shea - @johnlshea
Brenda Cooper - @brendacooper
Steven G. Snyder - @stevengsnyder
Dr. Gaurav Pradhan - @DrGPradhan
William Caraher, von Briesen & Roper - @williamcaraher
Matt Busigin, Hover Networks - @mbusigin
David Thompson, Western Union - @westernunioncio
Gerri M. Fickinger, Starbucks - @GMFlickinger
Isaac Sacolick - @nyike
Steve Downs, RWJF - @stephenjdowns
Melissa Woo, Stony Brook University - @mzyw
Andy Blumenthal, U.S. Department of State - @totalcio
Neil Pearce, Travis Perkins - @neiljpearce
Sabine Everaet, Coca Cola Company - @s_everaet
Jim Fowler, GE - @jimfowler
Michael Berman - @amichaelberman
Victor Fetter - @vpfetter
Scott Fenton, Wind River Systems - @sdfenton
Christian McMhahon - @christianMcM
Kelly Walsh - @emergingedtech
Michael Skaff - @mskaff
Richard Corbridge - @r1chardatron
Will Weider - @candidCIO
Stuart Appley, CBRE GWS - @sappley
Kevin Behr - @kevinbehr
Vince Kellen, University of Kentucky - @vkellen
Theresa Rowe, Oakland University - @oucio
Paul Slot - @tri4ever
Mark W. Carbone, Waterloo Region DSB - @markwcarbone
Susan Kellogg, UNC Chapel Hill - @susankellog
Bruce Maas, University of Wisconsin - @uwmadisoncio
Brett Bobley, NEH - @brettbobley
Dr. Alissa Johnson - @dralissajay
Ferdinand Kobelt, Swiss Federal Department of Defense - @ferdinandkobelt
Bob Egan, @bobegan
Cynthia Stoddard, NetApp - @stoddardCA
Tom Laplante - @tomlap
Paige Francis, Fairfield University - @fairfieldcio
Adam L. Stanley - @alswharton
Dr. Abouelenein - @cio_baz
Nigel Fortlage - @nfortlage
Jonathan Feldman - @_jfeldman
Sheila Jordan, Symantec - @sheilajordan90
Peter Campbell, Legal Services Corp - @peterscampbell
Stephen lamb - @see_eye_oh
Mark Brewer - @brewerma
Eric Egnet, MSI Global Talent Solutions- @intheknowCIO
Giancarlo Gonzalez - @giangonz
Ashwin Ram - @ashwinram
Fernando Thompson - @thompsonfer
Rachel Clemmons, Davidson College - @rclemmons
Steven VanRoekel - @stevenvDC
Paul Coby, John Lewis - @paulcoby
Edgardo Donovan - @eddiedonovan
Lisa Davis, Intel - @LisaM_Davis
John Halamka, BIDMC, Harvard Medical School - @jhalamka
Jesse Lubinsky, NY Tech Ed - @jlubinsky
Lee Congdon - @lcongdon
G. Ravishanker, Wellesley College - @ravishan
Richard Corbridge - @r1chardatron
Alan Stukalsky, Randstad - @stukalsky
Tom Andriola, University of California - @andriola_UC
Chantal Tomlinson, World Vision - @chantal_c
Andrew Abboud - @aabboud
Bryan M. Sastokas, Long Beach, CA - @bsastokas
Mary Sobiechowski - @msobie
Adam Gerrard - @cio_adam
Andre Thomas - @_andrethomas_
Beth Miblock, City of Detroit - @detroitcio
Sue Schade, University Hospitals, Cleveland - @sgschade
Brian Rellinger, Ohio Wesleyan University - @rellinb
Kevin More, May Institute - @kmmore
Brian Miller - @suydam
Ellen Yu Borkowski, Union College NY - @eyb
Thomas Danford - @tdanford
Kevin Mazur, @kevin_m