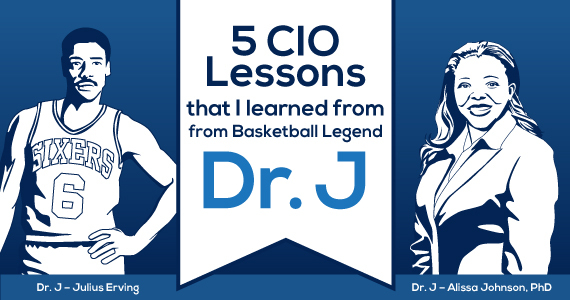 After a brutal winter, spring may finally be here, bringing with it the NCAA and NBA playoffs, when great minds turn to... basketball. Last year, I was fortunate to speak with NBA-legend JoJo White, who advised CIOs and business leaders to become T.E.A.M. players. This year, I have had the privilege of speaking with Dr. J. Not the four-time NBA MVP Julius Erving, but Dr. Alissa Johnson, whose artistry and style with information technology rivals Erving's artistry with the basketball. As Deputy Chief Information Officer (DCIO) for the Executive Office of the President (EOP), this Dr. J has the job of keeping the IT lights on at 1600 Pennsylvania Avenue. Dr. Johnson has also held the position of Associate Vice President for the Enterprise Solutions Division at Catapult Technology, where she was responsible for the management and oversight of major IT contracts within the Department of Homeland Security, Department of Energy, Transportation Security Agency, and the U.S. Commodity Futures Trading Commission. Prior to that position, she worked at Lockheed Martin Corporation as a Deputy Chief Technology Officer & Solutions Architect.
Here are Dr. Alissa Johnson's five Lessons from basketball great Dr. J that apply to technology:
I love basketball season! Nail-biting final shots, in-game slam dunks, amazing three point shots. There is always a buzz of predictions, rallying behind the underdog, watching of the highlights, and even a little trash talking. As we approach the pinnacle of the basketball season, what better time to compare Julius Erving (Dr. J) and his basketball contribution to information technology.
1. Dr. J won by executing the basics. Before you play basketball you have to learn the basics. I don't care if they change the rules, add more penalties, or move the 3-point arc. The foundation of basketball remains the same. Pass, aim, and shoot. Dr. J won four Most Valuable Player Awards by executing the basics. He rebounded, passed, and stole the ball. He created opportunities for others and took shots as others created opportunities for him. Dr. J took that foundation and exceeded expectations. The same holds true with IT. You can move to the cloud, you can bring your own device, you can even build applications galore. No matter what you do, the foundation of IT -availability, integrity, and confidentiality of the data- is what truly remains important and gives it all purpose. Technology organizations must not let their fear of change distract from the organization's purpose -- which is to make the data available in a way where we can trust its pristine state at rest and in transit.
2. Dr. J was a major team contributor. 30,026 total points; 10, 525 rebounds; and 2, 272 steals are proof that he contributed not only to his team, but to his sport. Technology is more than the hardware that runs in the background. It is a major contributor to business success. Technology observations should align with business metrics.
3. Dr. J was an unselfish player. He played with George McGinnis, Henry Bibby, and Doug Collins -all stars in their own right on the Sixers squad at that time. Technology works best when we use it internally, externally, and with cross-collaborative methods to expand its power and to expand business efficiencies.
4. Dr. J elevated. Off the court, Dr. J expanded his versatility and was the first basketball player to endorse products and have his own branded shoe. He elevated from an MVP-level basketball player to a businessman. In the same sense, CIOs must elevate IT from a service provider model to a business partner model. As Dr. J proved his value and influence across products, CIOs must show the technology value and influence across business practices and customer sets.
5. Dr. J had a passion for the game. It was 1980. The Philadelphia 76ers were playing in the NBA finals against the Los Angeles Lakers. Dr. J was in peak form. The Sixers were fighting to split the series to 2-2. It was there that America witnessed the "behind-the-board reverse layup". Though the Sixers lost the finals that year, Dr. J demonstrated a true passion for the game. Technology requires passion and it is that passion that drives creativity. In turn, it is that creativity that allows IT shops to think outside of the box and produce innovative solutions for customers.
Our Office of the Chief Information Officer (OCIO) wraps in these elements. For example, we continuously have an amazing group of software interns that work with the Office of Administration's OCIO and bring a new invigorating sense of passion. They, along with the employees, thrive on making things easier for our customers and ourselves merely by developing or refining applications. They are versatile and unselfish but, most of all, they remind us to stick to the basics. Technology is intended to enhance, enable and more than that --empower.
I have seen numerous highlights of Dr. J's electrifying slam dunk from the free throw line. Arguably, his moves helped propel the sport into a more modern path that included aspects of athletic creativity not previously embraced. Technology is truly the slam dunk! It is the slam dunk to a business solution. It is the game winning shot -that goes in ...with nothing but net!
Dr. J eloquently applies the lessons of the earlier Dr J to IT in the context of Basketball. These lessons relate not only to IT, but more broadly to business and life in general. A new Harvard Business Review study shows that the best way to sustain momentum is to maintain a basic work-life balance. Another basketball great, Bill Bradley, observed that champions value unselfish teamwork above individual achievement. The importance of passion to creativity, inspiration, success, and happiness can never be overstated. Finally, if there is one lesson to be learned from this year's March Madness, it is that you don't have to be seeded at the top to win.
This article was co-authored with Dr. Alissa Johnson, Deputy Chief Information Officer, Executive Office of the President.