In our data-driven culture, organizations run the risk of collecting data for data's sake. Ganesh Bell, Chief Digital Officer and GM of Commercial Software & Analytics at General Electric (GE), says companies need to go from being data obsessed to actually using data to power new solutions and provide new offerings.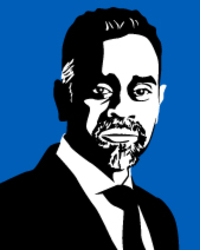 Ganesh Bell (Twitter: @GaneshBell), CDO at General Electric
Working across its largest industrial business, Power & Water and GE Software, Bell is using digital technologies to solve one of most challenging and important problems in the world - providing clean, sustainable and accessible power and water technologies to every person in the world. Composed of six different businesses and the GE software which powers the platform across all of these businesses, Bell's role is to drive the digital transformation of all GE Power & Water, which includes building the digital solution business and driving digital customer engagement to customers.
In talking with Bell, it became clear that the "D" in his title could easily be for "Chief Data Officer", as a large part of his digital transformation strategy is built around using data to create more insight to deliver better outcomes to customers.
7 Ways to Drive Digital Transformation with Data to Deliver Better Customer Outcomes

1. How do you become the most strategic partner to your customers? - Bell defines digitalization as transforming industries and businesses through the use of software. Creating value and revenue from digital assets requires a revamping of the business itself focused on new business models, new revenue streams, creating a new addressable market and providing new customer outcomes. It is an overwhelming task, which is why Bell breaks it into three manageable pieces: digital work, digital solutions and digital customer engagement. Companies have to transform all three in order to truly go through a digital transformation and drive new business models. He says that the way people work has to become digital - a strategy which is driven by IT, companies need to transform products and services to be digital and digitally transform the way they market, sell and engage.
Bell says that most importantly, you need to have a believer ship about how digital can make you a new business. Ask yourself this simple question: "How do you become the most strategic partner to your customers?" In order to drive outcomes for your customers you need to provide a combination of products, hardware, software and services as a complete solution and think about how you use digital and software to do it.
2. Start the journey with customer outcomes - As Bell and his team looked at building a portfolio of digital offerings they wanted to take to market, they started by first responding to customers who wanted outcomes. Customers demanded no unplanned downtime, lower operating costs and major productivity gains. Knowing they would not be able to provide those outcomes without a combination of hardware, services and software, GE responded with a billion dollar investment in GE software, which involved building an industrial internet platform that allows collaboration across various businesses. The result is building out a portfolio of the outcomes that customers are demanding through a suite of software. Bell says that by staying focused on the outcomes, the portfolio of products you need to create will rationalize themselves and they become small, simple and consumable.
3. Create a centralized model for change - The creation of the office of the CDO has enabled a central location from which change is coming and can radiate out to influence culture change on a decentralized basis across the organization to build a digital business. Bell's peers are the CEOs of the different energy businesses and his role is to create new offerings and solutions to help deliver new outcomes and to help them get to better digital customer engagement with their customers.
Bell cuts through the clutter of the whole CIO vs. CDO discussion by explaining that if you have a business that needs to provide a digital solution and offering, you need a CDO because it's more of a GM of the software and systems integration role than a CIO role. It involves building software and bundling it along with hardware and service offerings to customers. "If you want to maintain a physical business and have a digital business, the CDO is the role where you run digital as a business with a new business model and it's actually building a software company," says Bell.
4. Use data to power new solutions and provide new offerings - GE has invested a lot of money in software and data scientists, resulting in a team of 1,000 people that are all focused on creating software. The goal of collecting data is to provide better outcomes - it's not just a matter of data for the sake of data. The data efforts in each of Bell's business divisions are focused on three things: digital effort, how you create products and service and how they arrive through digital engagement. "We all work to create products and services that we market, sell and engage, so all three have to become digital," says Bell.
5. Always view data as a strategic asset - According to Bell, "No one in the enterprise owns the data, we are collecting it on our machines and it is an important asset for driving better outcomes for our customers." Bell is creating the types of roles where people look at data as a strategic asset across all the different use cases. Since data will always be a chaos that someone has to manage, for marketing use cases there is a data scientist center of excellence, and within the business there are people who own the data for the various businesses.
6. Quantify the value of data with real customer value - In order to express the value of data in financial terms, you need a proof point in what you did with data for customers. The only way to get these metrics is through an understanding of the operational data. Bell uses two metrics in valuing data: the first is the potential of what you can do with data in terms of outcomes and value that can be generated for customers, the second is what new solutions can be created using data to achieve an addressable market and increase revenue for the business. "The theme has been data obsessed as a culture for a long time, except it has been focused on machine data and to how build better machines. The last five years have been about driving data to create better customer outcomes and create new opportunities for us," says Bell.
7. Think outside the organization - Bell stresses the importance of working with the market and with customers to build outcomes. Organizations need to think of creating an eco-system of software and hardware vendors, partners and customers to work with to help shape that outcome. From an internal perspective, companies need to create the mandate of moving towards a lean, start up and agile mindset. Bell advises IT leaders to think about the culture of change they want in the business in terms of adopting agile, fast methodologies for creating new outcomes to transform how work is done internally.
Bell's closing advice: "When you think about digital go deeper. Don't stop at digital customer engagement; look for opportunities to create digital solutions, digital software or an app that accompanies your physical product."

You can watch the full interview with Ganesh Bell here. Please join me and Michael Krigsman every Friday at 3PM EST as we host CXOTalk - connecting with thought leaders and innovative executives who are pushing the boundaries within their companies and their fields.