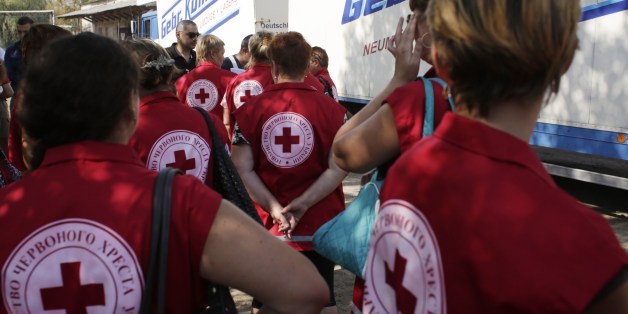 "I became a driver because I like the idea of helping people. I am proud when my fellow citizens, for example those in camps for displaced people, thank us for the food we give them." -- Gervais Beninga, World Food Programme, Central African Republic.
"We're here because we want to alleviate suffering and allow for people to live in peace. This is what motivates me to help every single day, to make a difference." -- Mahmoud Deeb Dahir, World Health Organization, Gaza.
"The impact of our projects on the lives of Somalia's children outweighs the risk to any one person. I feel happiness and contentment when I see children in newly-built schools. I compare it with before when they were learning under trees. These moments are unforgettable." -- Faduma Dahir Dualeh, Care International, Somalia.
Today is World Humanitarian Day. In a calendar full of important days, this one is very close to my heart because it is the one day in the year when we focus our attention on humanitarian workers and the dangerous and difficult work they are often asked to do. It's a day when we remember, commemorate and pay tribute to the unsung heroes of humanitarian work.
On August 19, 2003, the headquarters of the United Nations in Baghdad was bombed, killing 22 people, including the head of our operations in Iraq, Sergio Vieira de Mello. The attack was a senseless waste of human life. We lost colleagues whose families and friends still mourn them. The bombing forced the United Nations to reduce its humanitarian work in Iraq, so it was not only an attack on the UN it was also an attack on the ordinary Iraqis who needed the food, clean water, medicine and shelter that humanitarian workers were providing in Iraq.
Attacks on humanitarian aid workers are attacks on humanitarian aid itself, and indirectly, they are attacks on the ordinary people who bear the brunt of modern warfare: people who are living through crisis, who have lost everything including their homes and friends; people who are struggling for their very survival.
The United Nations was founded from the ashes of war and conventions have been agreed to ensure that when there is war, civilians are protected. But in modern warfare, which is often waged between armed groups civilians are seen as expendable. So often the international community has said 'enough' and 'never again' as we watch the brutality meted out to ordinary people caught in the midst of violent conflict. But this year alone we have seen civilians come under attack or become the casualties of conflict in Syria, South Sudan, Central African Republic and Gaza. And aid workers are also targets. Delivering humanitarian aid is becoming more difficult and dangerous every year.
Attacks on aid workers have increased steadily since 2003 and last year, they reached an all-time high. More than 150 aid workers were killed as they tried to bring help to people in crisis. Some 170 more were seriously injured and more than 140 kidnapped. In the past month alone, thirty humanitarian aid workers were killed in Gaza and six in South Sudan.
The only way we can begin to reverse this trend is by ensuring accountability and pursuing those responsible for these despicable crimes, which are in total violation of the Geneva Conventions and all humanitarian and human rights laws. The international community must find ways to strengthen the implementation and observance of these laws. There must be an end to impunity.
This year on World Humanitarian Day, we are calling on all governments to live up to their commitments to protect humanitarian staff and hold accountable those who attack them. To learn about our community, Messengers for Humanity, and read some of the 300 moving profiles and stories of the work of everyday #humanitarianHeroes, visit our site here.
If you do, you'll find that humanitarian aid workers are a microcosm of the people in a country or community. For example doctors, nurses, teachers, drivers, agriculture specialists, engineers and administrators. Many of them work in their own communities and have lived through crisis. They know exactly what people are going through. For many that's what motivated them to go into humanitarian work. They are committed and they care. They will go the extra mile. Humanitarian aid workers should not have to risk their own lives in order to save the lives of others.
This World Humanitarian Day I encourage you to become a Messenger for Humanity. Together we can make a difference.