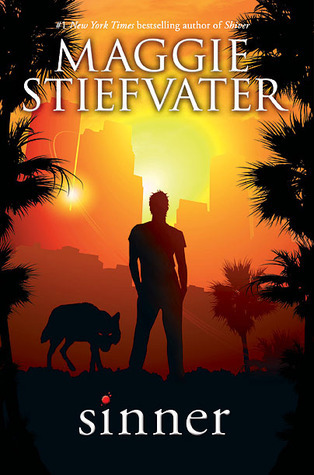 On any given day you can find Maggie Stiefvater doing something different from the day before. "I think a big part of being me is nothing is ever typical," she says. "You can me find working on a hobby, writing, driving my car some place fast or surrounded by my goats... Everyday is different."
If you haven't yet acquainted yourself with Maggie, you need to change that immediately. Hailed as one of the best talents in young adult literature, Maggie Stiefvater is the author of the number one New York Times bestselling Shiver Trilogy. She also wrote The Raven Boys, and the critically acclaimed novel The Scorpio Races. And as if writing books isn't enough, this author is also a musician, an artist, a wife, and a mom.
Basically, Maggie is on her own level of cool, and when I spoke to the author she was gearing up to head into the recording studio to work on the music for her book trailer. "I am currently writing the song for the Sinner trailer and drawing the animation," she says as if it's not impressive in the least. From there, we mused about songwriting, the fact that we are both scorpios, summer plans, and of course, her new book. She's real, raw, and a whole lot of awesome.
Maggie has shot to literary superstar status over the last few years and has built quite the fan-base. Her Twitter followers and blog groupies can't seem to get enough of her humorous tweets and insightful web posts. "It's interesting being a public figure," she admits. "But with me, what you see if what you get."
With her loyal following always itching for more Maggie, it's no surprise that her fans around the world swooned with joy when she announced the release of her latest project Sinner: a stand alone companion book to her bestselling Shiver series. The book follows Cole St. Clair -- a rockstar back in the spotlight who also happens to be a werewolf. But even with his dark secret and addictive past, Cole still can't stop thinking about his past love -- Isabel Culpeper -- who is back in L.A. and back in his life.
Sinner is a bit of a redemption story so to speak, with Cole fighting through some of his demons and longing for a fresh start. Sinner feels painfully realistic, as it's more about the romance between the characters and life's messiness than the paranormal elements.
One thing I loved about the book was the realistic Los Angeles setting. The author spent some time in La-La-Land before writing the book, and to her surprise, fell in love with the City of Angels. "The first time I went to L.A., I hated it," Maggie admits. "Then I came back and I loved it! After that, I had to learn more about the charming city that won me over. L.A. is kind of a mysterious and complicated place. People think they know it, but they don't."
In addition to the book release, Stiefvater is going on a nationwide book tour this summer driving coast-to-coast in her Camaro, which she appropriately named Loki. "I am very thrilled about this tour," she says. "I'm looking forward to visiting all these different places along the way and meeting all the people that come out!"
Maggie Stiefvater's Sinner is available now, and her third book in The Raven Boys Series, Blue Lilly, Lilly Blue, will be hitting stores at the end of October.