Vertical Wine Bistro first came on my radar by way of the owner, Walking Dead's executive producer Gale Anne Hurd. But it's their executive chef that has me the most intrigued, as Laurent Quenioux is a man well-known for his passion for local and sustainably-sourced ingredients.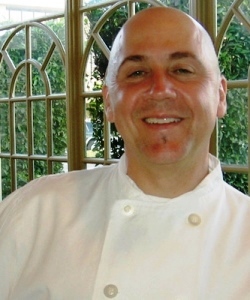 Originally hailing from Sologne, France, Quenioux returned to Pasadena to helm Vertical after over 20 years as a Los Angeles staple, helming several successful restaurants that focused on locally-sourced ingredients obtained directly from farmers markets.
In 2013 he was honored by his peers with a "Best Chefs in America" award, and I'm thrilled at the opportunity to have a real discussion about the importance of learning where and how the food you eat is grown or raised.
VB: What are some of your current favorites from the Vertical menu?
LQ: We change the menus quite often; currently I would say the seasonal dishes. I like the Tuna Ball, with rice and avocado and tomatoes. Although I rarely use tuna because it's not sustainable, I love that specific dish once in a while.
You love to change up events. What was your inspiration for adding home-style occasions like Grilled Cheese Night and Sunday Suppers?
I think people here in Pasadena kind of like to feel, when they go out, like they're still in their home in some ways. So it's more homey, it's more cultured -- but it has a little edge to it. It's very family-oriented, so I think [it] was quite proper to rekindle the feeling of being at home with a simple grilled cheese and some soup the family will share. Those are things I personally like, then the idea of our clientele -- I think a combination of all those factors made it a little more exciting to offer that to our guests.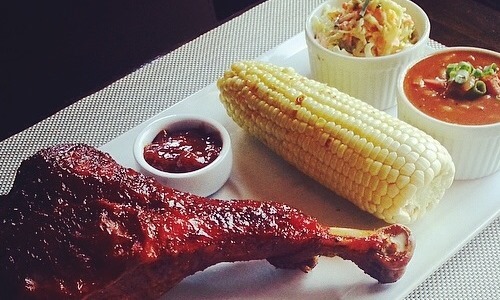 Sunday Supper: BBQ turkey, bourbon baked beans, cole slaw, grilled corn.
You've described your ingredients as your "painter's palette." Is this how you go about creating your six-course Popup menus?
Ingredients are what drive our creativity and the dishes we do -- especially during the popup event. We search for the best ingredients we can find, from the market, from suppliers we have a relationship with, people who know what we want. We have suppliers who actually call or email us and ask, "Hey do you want to try this?" So yeah, the popup is very much ingredient-driven, that's for sure -- with the seasons as well. We use fresh white asparagus, fresh strawberries -- whenever it's available we get those calls... it's the Number One Thing, I would say.
I understand how important fresh, natural ingredients are. Do you have a suggestion for people like me who want to cook with quality ingredients but don't have your connections?
Yeah, that's our big problem -- especially on the protein side of it. It's quite challenging, I find myself in the same situation. However I'm very lucky being the chef of a wonderful restaurant that I can purchase items for myself to take home. When I cook at home I'm blessed to have a beautiful garden with peppers and eggplants and tomatoes and all the herbs. So we go into the garden a lot and do simple things.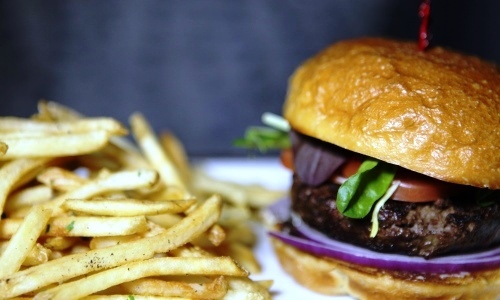 Wagyu Burger: spring mix, tomato, garlic aioli, truffle fries.
I have a garden at home as well and I love it. Being able to grow your own vegetables really frees up your budget so you can search for ethically-sourced proteins.
Absolutely. For our customers as well -- you need to know where [your food] comes from. At the market, double-check everything.
[He stresses the importance of ensuring food has been sourced humanely, including looking for the country of origin. Knowing how food-safety and handling practices differ around the world will better assist anyone with the goal of being a more ethical consumer.]
Do you have any words of wisdom for people who want to professionally explore their passion for food?
I would say that if you like good food and you're creative and know your ingredients... it's a tough job, it's quite challenging these days... you need to do your research and you need to be passionate enough [because] it's going to take up a whole lot of time in your life to actually be cooking these days in a restaurant.
You took a big risk when you left France for the United States. Do you think your career would have been different if you hadn't made such a bold move?
[Laughing] Like everybody else, we make a right when we should have made a left; we make a left when we should have made a right. We never know if what we do will be better or worse. If I would have stayed in Europe I would have continued working on my goal of opening a restaurant over there.
But I would not have changed anything that I've done in my career. I'm very fortunate, to do what I do and what I know. And to cook, to make people happy, I think that's phenomenal.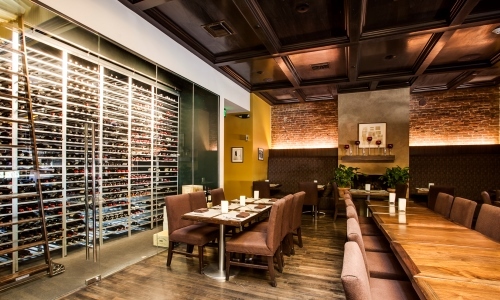 Open Tuesdays through Sundays and featuring home-style meals crafted from meticulously-sourced ingredients, Vertical Wine Bistro is located north of Union Street at 70 North Raymond Avenue.
Wagyu burger photographed by Nico Bellamy. All photos used with express permission.