Pretty Little Liars returns this week with another suspenseful (confusing?) episode and tvtag's pairing up with Jaymie Bailey, founder of All Things PLL to discuss our most burning questions. Caution: "Surfing the Aftershocks" spoilers.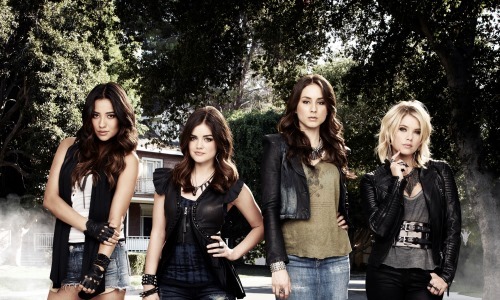 All the girls are metaphorically surfing the aftershocks this week: the original Liars are still coming to grips with what Ali's return means for them. Ali's reeling after the loss of her mother. We finally got our first, real introduction to Emily's rumored new love interest Sydney. Paige is seething with jealousy and the resulting awkward show-boating is painful to watch. After "Paily's" argument in front of Emily's house (Paige is apparently at that whole stalking thing again), it may be over for that relationship.
Paige isn't the only girl this week with her claws out. Melissa's furious that Ali's back in Rosewood. She wants to tell Spencer her secret but Mr. Hastings is so terrifying she can't say what it is. Too bad for Mr. H and Melissa, Spencer doesn't let go once she sinks her teeth into a theory.
VB: Jason has once again popped up during their investigation but I'm not sure that I consider him a viable suspect anymore. Is Mr. Hastings really the one we should be looking out for?
JB: I really enjoyed last night's episode! It was fantastic for character development, so I can't wait to see where the story goes from here. Jason may have more to do with the "A" game than we think or at least he knows more than he's leading on. He's been caught hanging out with the wrong crowd, and his NAT status doesn't help his case very much. However, I don't think I'd consider him a viable suspect.
As Spencer said, a look of pure shock crossed Jason's face when he found his mother's body. He's never been very fond of Alison, but I don't believe sibling rivalry gives him enough motive for her attempted murder. I think all eyes should definitely fall on Peter Hastings at the moment. He's looking guilty, and his older daughter is hiding something very important. Everyone in Rosewood is a suspect, so I wouldn't count Jason or Mr. Hastings out just yet. I don't think they are personally involved, but they hold valuable information.
The seeds of Hanna's rumored identity-crisis have been planted. Did Mona really take a Svengali-like control over her or is Hanna just avoiding an honest look at the roots of her transformation?
I think Mona is the key-player in Hanna's identity crisis. The Hanna/Mona flashback in "Surfing the Aftershocks" tells all. Mona caught Hanna covering her insecurities with cupcakes, and she took advantage of the situation. Mona urged "Hefty Hanna" to disappear so she could become "unforgettable," and she gained an Alison-like friend in the process.
I love that theory -- Mona couldn't be Alison's friend so when she disappeared Mona made herself a 2.0 version. I can't help but kind of love her though.
I've also usually had a soft side for Mona because of what Ali put her through, but that completely changed last night when she told Hanna that no one even remembers the old Hanna. Other than when she hit her best friend with a car, that's the first time I wanted to slap Mona right across her face.
That was such a cheap thing to do to Hanna! Mona and Alison had an incredible scene last week and this time it's Hanna's turn for tense conversation. Another cringe-inducing moment: that super-awkward conversation between Aria and Ezra.
Ezra questions Aria after discussing Alison's kidnapping lie. "And we have to live with it," he asks, "that's the deal?" She replies that it is for now, but why? Why is everyone continuing to let Ali control them with her lies?

Everything on this show comes directly back to Alison DiLaurentis. Every pretty little problem in the Liars' lives started when Alison disappeared, and things may actually be worse now that she's back in town. The girls are protecting themselves and their not-so-dead best friend because that's what they have learned to do.
Controlling people is what Alison does best. Not a moment of hesitation came across her when she told Det. Holbrook her next big lie. Aria is currently suffering from accidentally killing Shana, but Alison controlled that situation with a lie. And in that process, she's protecting her friend, and most importantly, herself. There wouldn't be a story unless Rosewood was wrapped around Alison's finger.
Pretty Little Liars airs Tuesdays at 8 p.m. on ABC Family. Image used with express permission.