Just in time for AMC's The Walking Dead marathon this weekend, executive producer Glen Mazzara and I sat down to talk horror, writing and their highly anticipated appearance at this year's Comic Con in my motherland, San Diego. I'm sitting here thanking the tape recorder gods that I can go back and erase all the times I said "like" and called Glen "Dude."
VB: So let's just get all the big stuff out of the way -- July is going to be huge! There's AMC's Walking Dead Season 3 sneak peek kicking off July 6 and culminating in the premiere of the black and white pilot on Sunday -- what made you decide to give the premiere episode the classic treatment?
GM: There's a black and white version of the pilot on one of the DVD sets, that was something that Frank Darabont was behind as a film maker, and so that's an existing version of the show that's been previously released, it's just never been shown on air.
Then there's this little thing called Comic Con 2012 in San Diego -- your appearance last year was the most talked about event of 2011's convention -- what's some TWD stuff we can look forward to this year? Give me some scoopage!
Yeah, we'll be bringing our entire cast and some new cast members for people and fans to meet. We have a really great trailer that has footage from several episodes -- it's just incredibly exciting. Last year I think we were only able to show footage from the first two episodes, this year we'll be bringing footage from more than that, so we're excited.
Okay, moving on to the real blood and guts stuff. You started out as a writer, working on shows like The Shield and Crash and you were doing Hawthorne right before this. What got you interested in a show like Walking Dead? Have you always been into horror?
Yes, I've always been into horror films, I've always been interested in horror. A couple of years ago I wrote a script for a film that wasn't produced, called Hater, based on a novel by David Moody, and produced by Mark Johnson, who produces Breaking Bad, then Guillermo Del Toro, it was a horror film and I just loved it. I loved working with Guillermo that was really a terrific experience; and I've always been interested in horror films. So when I was first offered a gig on The Walking Dead I was not available because I was tied up on Hawthorne, but I was able to do a freelance episode. So I wrote the Season 1 episode "Wildfire" and I just loved it -- I just really felt like I got the show and the characters and I've always been more of a zombie fan than say vampires or other type of horror -- I really do love the zombie genre -- so this was sort of a perfect storm of a lot of my interests coming together. I was just really, really excited to be a part of it.
"Wildfire" was one of the greatest episodes of Season 1 -- the moment when Andrea has to say goodbye and shoot her now-walker sister, Amy, was incredibly powerful TV -- and you wrote some of the best episodes of Season 2: "18 Miles Out", "Better Angels" and the finale, "Beside the Dying Fire." My readers and I were talking about those for months after the season ended.
Thanks! All of those episodes are co-written and we have a great team of writers. A lot of times Robert [Kirkman] and I get the press but we've got a whole fantastic writing team behind us and fortunately that writing team from Season 2 is back for Season 3, and we've added a few writers, so I really think that the writing staff for Season 3 is without question one of the best writing staffs I've ever been involved with.
I can't wait, the writing last season was incredible. Getting back to zombies, you said something in a recent interview that I thought was totally brilliant. After losing Dale and having to kill Shane, you called Rick "the new horror" -- can you go into that a little more?
That's something that we'll continue to see in Season 3. You know, Rick's central question in Season 2 was about leadership. And I think the larger question being posed in Season 3 is about humanity -- how do you retain your humanity? We see that as a theme as people are reduced to savage acts in this brutal world, and it's very, very interesting to know what we have planned with our new characters, our returning characters, and I think we're really going to have a lot of fun playing with the audience's expectations.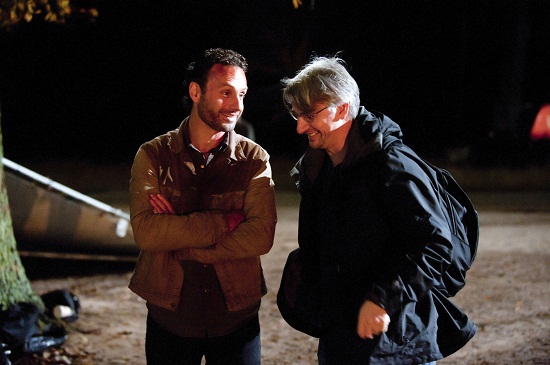 So is there anyone in particular you think will surprise us this coming season? Who's going to get me writing like mad the next day?
Well, we're introducing two characters -- two core characters -- Michonne and The Governor, and they're new and exciting, but what's been a lot of fun is to make sure that those characters are not stealing too much thunder from the characters we know and love. I think people are going to be writing about Rick, they're going to be writing about Daryl, they're going to be writing about Andrea -- those characters that we know and love are living in a world where everything is amped up. I certainly think people are going to be writing about Glen and Maggie, and all of that... so yeah, The Governor and Michonne are going to have to muscle their way onto the stage because we have very strong characters there to begin with.
It's funny you mention Daryl and Andrea, they were so much fun last season.
Without a doubt! Daryl is incredibly fun to write. I love Norman [Reedus] as a person, as an actor, as a friend -- put him in any situation and he's just a lot of fun -- he's perfect for our show, he's perfectly adapted to this world. And the way that Norman brings him to life is fun for us to try to keep up with.
We were talking earlier about your beginnings as a writer. You started out at the bottom and worked your way up the hard way, and now you're running a show that you truly love. What are some tips you can give those of us that are trying to succeed as creative writers?
That's a great question. [Thanks!] I think what we all want to do as writers, and what it's important to remember, is that we all have stories to tell, and we all have a unique voice. And so I would say to young writers: write what you love. And write it in a way that no one else can write it. We're often given the advice, "Write what you know," and I would say write what you love and if you love it, people are free to either accept it or not accept it, but that's okay because you love it. What you do is serious, what you do is a work of art -- and you only want to put that much energy and effort into something that you absolutely love.
Wow. That's good. That's really good.
My rule on the show -- I have a couple rules on the show, one is always keep it scary -- but, I have a lot of great options from the writers here that they pose when they pitch different stories. And at the end of the day I only go with what I absolutely love. If I love it, we'll figure out a way to make it work. That's been working for me, and I hope that advice can work for other people.
I think it's been working for you pretty well!
All this weekend AMC is giving us sneak peeks at Season 3 as they run a series marathon, culminating in Sunday's television premiere of the pilot episode in black and white. Make sure to catch Glen and the entire cast at this year's San Diego Comic Con, this year features an interactive Zombie-apocalypse obstacle course!
All photos courtesy of Glen Mazzara and AMC