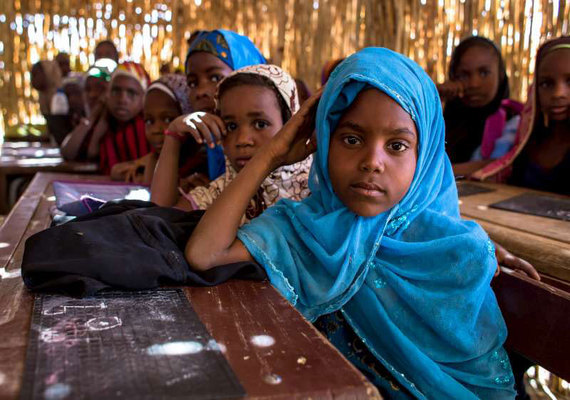 Photo: UNHCR/K. Mahoney
November marks seven months after the abduction of 276 schoolgirls by Boko Haram in Chibok, Nigeria. Despite the widely received global #BringBackOurGirls Twitter campaign, the girls remain under the control of the extremist group. Out of this chaos, insecurity and uncertainty, education must remain a priority in Nigeria, especially for girls. Oando Foundation has been working to fulfil educational commitments and transform the lives of children throughout Nigeria. Despite and because of the events earlier this year, the work of Oando Foundation has highlighted the continuing importance and the necessity for scaling up educational interventions in Nigeria.
The proliferation of violence against children in their pursuit of education has created even greater obstacles to accessing basic human rights for children in Nigeria. This comes at a time when, according to Watchlist of Children in Conflict, near to 100 students, teachers and civilians have been killed in at least six attacks on schools since July 1,2014. The May 2014 abduction of 276 schoolgirls testifies to the magnitude of risks children face in their pursuit of an education. Parents have withdrawn their children from schools to protect them from further kidnappings and violence, causing a drop of female secondary school net attendance to 29 percent in northern Nigeria in comparison to the national average of 53 percent.
Compounding this issue, Nigeria's rapid population growth in the last decade has placed overwhelming pressure on resources, public services and infrastructure. The public school system has struggled to cope, with educational standards and outcomes sliding as a consequence. Therefore, programs and policies must reflect the fact that more than 45 percent of the Nigerian population are children under the age of 15 or younger.
Oando Foundation, established in 2011 by Oando PLC, is an independent charity building greater momentum towards Millennium Development Goal 2 (MDG) on universal primary education in Nigeria. The importance of Oando Foundation's work comes at a critical time with Nigeria demonstrating one of the highest rates of illiteracy in the world. The 2013 UNESCO Education for All Global Monitoring Report indicates that there are now more than 35 million illiterate adults in 2013, an increase of 10 million over the last two decades. Children and young adults, particularly girls, make up a majority, near to 80 percent, who cannot read or write.
Oando Foundation's signature Adopt-A-School programme, a public-private partnership, has so far resulted in 48 adopted schools across 20 states. The aim is to upgrade schools and increase capacity to ensure adequate educational standards and promote school enrolment. There are plans to expand this number through the adoption of 100 schools by 2015, which will enable more than 100,000 pupils access to quality primary education in addition to increasing resources for over 4,000 teachers and scholarships to over 2,560 pupils.
Poor quality education prevents children from graduating from school with essential literacy and numerical skills, vital for securing future employment. Statistics revealed by UNESCO's Making Education a Priority in the Post-2015 Development Agenda indicates that Nigeria lacks the number of teachers needed to meet student demand. This means that there is a severe distortion in teacher-student ratios; where the appropriate ratio is 1:40, in Nigeria it is not uncommon to have more than 200 students for every trained teacher.
Taking action on this widespread problem, Oando Foundation has trained 507 teachers and 11 master trainers from 23 of the Foundation's adopted schools. This has encouraged greater quality teaching in its educational programs. Additionally, the Oando Foundation Book Drive was launched on International Literacy Day 2014 to highlight the importance of literacy for children and communities. Donated books and writing materials for age groups 2-14 years are distributed to pupils attending the Foundation's adopted schools. Tokunboh Durosaro, Executive Director of Oando Foundation, highlights the importance of providing educational resources to combat high illiteracy rates:
"Access to proper reading tools, like books, is one of the greatest contributory factors to low literacy levels in Nigeria. By putting books in the hands of kids who are eager to learn but do not have the means, Oando Foundation will give them the gift of education and learning."
Long before the kidnappings this year, girls' education has had an embattled existence in Nigeria. According to UNESCO's report, 31 million girls are not enrolled in schools due to financial, social and physical constraints. Many girls drop out off school to provide an income for their families, but by becoming street-connected they are vulnerable to exploitation and abuse. Further, girls are pressured into early marriage, leading to higher risks of maternal and child deaths and further isolating them from educational attainment, entrapping them in the cycle of poverty and dependence.
Bridging the gender gap requires sustained funding for girls' education. The evidence indicates that children of educated women are more likely to attend school, reduce dropout rates and have a long-term intergenerational decline in poverty. These benefits generate triple investment for families, communities and the nation, leading to more progressive and transformative change in development.
With this in mind, the new partnership between Oando Foundation and the British Council has established the Reach a Girl, Teach a Girl: Girls' School Enrollment in Nigeria, a $6 million Commitment to Action from the Clinton Global Initiative aimed at enrolling approximately 230,000 Nigerian girls in primary school over the next three years. In particular, the program will deliver significant progress towards MDG 3 in Nigeria: "to eliminate gender disparity in primary and secondary education preferably by 2005 and to all levels of education no later than 2015". By ensuring more girls remain in school, girls are empowered to become sole decision-makers over their life choices to generate the security, livelihood and independence they seek.
Speaking on this initiative to achieve greater momentum on girls' education, Tokunboh Durosaro reinforces the contextual sensitivity of such programs:
"Our track record of success in adopting and transforming schools across the country is directly connected to our familiarity with the social issues Nigerians face. Our partnership with the British Council is an opportunity to utilize our complementary skills to remove the barriers that inhibit Nigerian girls' education."
International Women's Initiative's founder and CEO, Aubrey Shayler, has welcomed and given full support to this new partnership, expressing that:
"As a human right which is often denied to many girls, the importance and significance of Oando Foundation's mission is all the more vital. There are many forces at work, which seek to undermine and intimidate girls who have the fortitude to pursue their dreams of an education. The global community became witness to this seven months ago with the Boko Harem kidnappings. However, with this initiative aimed at providing 230,000 girls with an education in Nigeria, the Oando Foundation is proving that access to an education is indeed a reality."
Taken together, Oando Foundation's programs are filling a crucial gap in demand for access and quality education. Outcomes and sustainability in the Foundation's programs have been assisted by the support and intervention from the private sector, particularly from Oando PLC. The contribution of the private sector in development must be recognised as a major mobiliser towards meeting MDG commitments, especially on universal primary education. Reliance on government funding alone cannot provide long-term development programming and implementation. Coordinated cross-sectional approach, with the inclusion of the private sector, achieves greater dividends for the world's poorest and vulnerable.
The spotlight on and demand for girls' education must continue to address the educational needs of young women throughout Nigeria. There remains a long and challenging road ahead before universal primary education and gender parity in schools can be achieved. Yet, the committed work of Oando Foundation has shown the positive change that can be accomplished in Nigeria. Prioritising investment for girls' education and ensuring their fundamental rights are protected will be essential to allow girls the voice, leadership and representation to transform their lives and their future.
If you would like to know more about Oando Foundation's work in Nigeria, please follow the link.