By Bennett Marcus, Vanity Fair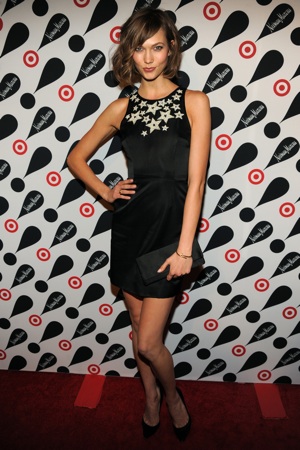 There has been so much buzz about Karlie Kloss's new, shorter hairstyle that people are calling it merely "the Chop" or "the Karlie" -- even "the New Rachel" -- and The New York Times recently dubbed her Jean Shrimpton-y bob the haircut of 2013. Already.
So how does the Vogue stalwart and Victoria's Secret model feel about all the hoopla? "I'm incredibly flattered, and humbled -- and also kind of terrified to have a bad hair day now," she told VF Daily at the Turtle Conservancy ball last Tuesday. (She also adorably admitted to having once attended sea-turtle summer camp.) "I feel like, I don't know -- I have to, I guess, pay attention before I walk out the door."
And Kloss has experienced the hype personally. "I was in a coffee shop the other day, totally bundled up, you know. Nobody knew that I was standing there. And this group of girls starts talking, and one of them was like, 'I think I'm going to cut my hair, and I heard about this new thing, the Chop,'" the towering Kloss told us. "And I'm literally standing there! And they're like, 'Yes, some girl, Karlie.' And they said, 'The Chop. This girl Karlie, she just cut her hair,' and one of them started pulling up a picture on her iPhone! I'm standing there! It was such a surreal, out-of-body experience. I was like, 'This is not happening.'"
"It was very cool, you know," she added. "It's just a huge compliment."
More from Vanity Fair:
25 Years in the Life of Model Kate Moss
Lady Gaga, Angelina Jolie and Jennifer Aniston: Vanity Fair's Classic Nude Portraits
Vanity Fair's Exclusive Freaks and Geeks Reunion Photos
Kissing Celebs: Candid Moments from 2012 Vanity Fair Oscar Party Photo Booth