By Taylor Sundali, Venture for America Class of 2013
"Would you be able to have my website open by September?"
"Won't it cost a lot of money?"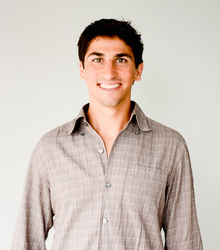 I listen to the questions over my phone hardly able to contain myself. I am excited. I'm excited, not because I could take advantage of an untrained small business owner. I could, you know. I could overcharge Pam, owner and operator of Hosiery with Style in Detroit. I could take my sweet time building a low-quality website that would barely benefit her operation. Though, the act of exploiting someone simply because they lack information takes low integrity. I don't have low integrity.
I'm excited, rather, because I can help Pam. I'm excited because Mike Wilner, my business partner, and I have been incubating an idea for several months now, and it's finally proving to be valuable. At the moment, I am doing everything I can to avoid bursting with excitement. Fortunately, I'm good at skipping while I talk on the phone.
My conversation with Pam, and dozens of others like it, highlighted a problem that hinders small businesses around the globe. Small business owners lack the time and energy required to keep pace with technological advances, and, because of this, they struggle to compete with companies that stay ahead of the curve.
Business owners focus most of their energy on growing their operation. Whether it's making the hottest new sandwich in town, growing a membership subscription base to their gym or creating the sexxiest blue jeans, small businesses owners are engaged in the hustle-bustle of daily operations.
From personal experience watching my dad -- owner of a residential construction company for the past 30 years -- every scrap of energy he had was devoted to sustaining operations. Do you think he was researching pre-fabricated homes in his spare time? What about emerging markets for residential homeowners? Or how about building a website to help showcase his work? Doing so would have been at the cost of his short-term bottom line.
Large companies and organizations, however, devote resources to staying ahead of the curve. Fully-staffed R&D departments devote their existence towards finding useful information and technologies that will help "the mother ship". In aggregate, the United States spent $405 Billion in 2011 on R&D (2.7% of GDP).  I can guarantee that R&D departments were scouring sources for any useful nugget of technology or market research that would benefit their company. I cannot say the same for small businesses.
How, then, can any local cafe compete with a Starbucks? How can Pam sustain her hosiery operation if Victoria's Secret moves into town? There are too many moving parts to say for sure, but I think I have an idea that will help level the playing field. An idea that will help high-quality small businesses survive and compete with the big dogs. An idea that, on this particular day has me skipping with excitement while speaking with Pam.
A quality R&D department is clearly too expensive for any single small business to sustain, but if many small businesses contributed to a single R&D operation it becomes affordable. This same idea applies for many aspects of a large operation. (In fact, if you're interested in seeing how small businesses could compete with regards resources and  economies of scale, a friend of mine is trying to address that now through her project, Assemble).
Another major need is to close the information-gap between small businesses and large corporations-- and that's why we've created Compass. Compass provides small businesses with technology advice and services from a community of tech experts. As of now, our community consists of the high-caliber, value-adding Fellows in Venture for America. We're like a R&D department and a technology-based operations department all rolled into one, and we're here to benefit American small businesses.
How can the small compete with the big? If enough small guys contribute to the same operation, they'll reap similar benefits of "the big".
Compass is a Venture for America Innovation Fund project. The Innovation Fund gives aspiring entrepreneurs the opportunity to launch their business ideas and projects. If you think closing the information-gap between small businesses and large corporations is a valuable cause, visit Compass here.