By Jude Stanion, Venture for America Class of 2012
When I moved to Las Vegas over a year ago, I thought I knew what I was getting myself into. I had expected debt, depravity, and dehydration, but instead I was confronted with a paradox. Las Vegas is like Darwin's peacock: It really shouldn't exist, yet there's no denying its otherworldly beauty. It's a place that can give you everything you want but is also famously unpredictable. The concept of the "gamble" is not limited to the glamorous casino halls, but is the very foundation of this desert paradise. This city was built on dreams, many of them broken, but some few made fantastically real.
If you've been paying attention to Vegas over the past two years, you've heard of the Downtown Project, Zappos.com CEO Tony Hsieh's $350 Million wager on the revitalization of Downtown Las Vegas. With a little help from lady luck and the organization Venture for America, I landed a job with Downtown Project and haven't looked back since.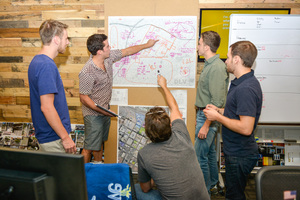 A lot has happened in two years. Downtown Las Vegas has gone from a struggling no-man's-land to a proving ground for the next big ideas. I quickly found myself surrounded by tech entrepreneurs who had relocated their businesses to Downtown Vegas to seek their fortunes through the VegasTechFund, the venture capital arm of Hsieh's Downtown Project. The VegasTechFund invests in companies ripe for growth, and with founders who will themselves have a positive impact on the growing Downtown Community.
But the VegasTechFund noticed it was turning away many inspiring entrepreneurs, not because they lacked credentials or concept, but because their company simply wasn't mature to qualify for a seed-stage investment. So in the true spirit of Las Vegas, the VegasTechFund decided to make a bet. They bet that with the right mentoring by Vegas Tech peers, and the support of the emerging Downtown community, these early companies might just stand a chance.
Although I was engaged primarily with urban planning and transportation initiatives at the Downtown Project, the VegasTechFund asked me, along with a small group of colleagues, to manage their new program. We put our heads and our muscle together to build a three-month residential program investing in early stage companies to turn ideas into viable products. Progression Labs was born.
In its first round of selection this past summer, Progression Labs brought three companies to the Downtown Las Vegas community. Preo, an app that let's you skip the line and order food/drinks from your phone, came from the bright lights of New York City. Travelnuts partners with hotels to connect their guests to local activities and dining, and found their way to Las Vegas fresh from the halls of Stanford University. Roomchamp, Las Vegas's hometown heroes, made their way Downtown to build a product that takes the headache out of booking hotel rooms for large conference planners.
After a summer of breakthroughs, setbacks, and a few 120 degree days, the teams reported their progress back to the VegasTechFund and the community at large. The reaction was electric. The inaugural class of Progression Labs blew past expectations. That night the Progression Labs organizing team all gave each other a pat on the back. We had proven the program could work. We gave the companies what they needed to get on their feet. The rest would be up to them.
We were all somewhat unsure about Progression Labs at first; we invested in three brand-new companies and brought them to Downtown Las Vegas with the promise that the community would act as their accelerator. But despite my doubts, each of the three companies agreed that the greatest value of the Progression Labs program wasn't the mentorship sessions, programmed events, or even the introductions to investors, but the random connections they made in Downtown Las Vegas. As it turned out, it was the very unpredictable nature of the Impossible City that offered the biggest payout in the end.
Jude Stanion works for Project 100, a transportation initiative in Downtown Las Vegas, and is a member of Venture for America's Class of 2012. If you or someone you know is ready to embrace the uncertain paradox of the startup lifestyle in a city you'll never expect, you can apply to Progression Labs at progressionlabs.com. To learn more about Venture for America, visit ventureforamerica.org.