Most New Yorkers treat construction cranes with wariness. Urban survival instincts tell pedestrians to avoid anything that tall and heavy in the midst of the city, which has had its share of crane accidents over the years.
But artist Brandon Vickerd sees cranes differently. The towering structures remind him of graceful dancers whose presence is a sign that the cityscape is about to be transformed. They should be celebrated, not shunned.
To that end, Vickerd, of Toronto, has created a performance art piece,"Dance of the Cranes," in which side-by-side tower cranes turn and swoop their booms in a choreographed routine set to music.
He has staged the performance once before, in Toronto, during the evening with cranes adorned by Christmas lights, and now wants to bring it to New York, the "quintessential North American city."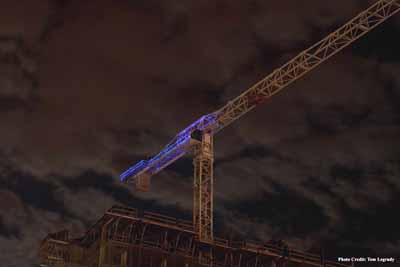 View of a crane during the 2009 'Dance of the Cranes' performance in Toronto. (Photo by Tom Legrady/www.brandonvickerd.com)
"Living in cities, we tend to get caught in our own little bubbles," he said. "With 'Dance of the Cranes' I want to provide people with a spectacle that makes them rethink the act of construction as a celebration. It is essentially changing the landscape and renewing and reconstructing the world around us."
The problem is finding a willing developer. He is about a year into his search for one who will let him stage the work at an existing building site.
"It's taking longer than I would like, but not necessarily longer than I expected," Vickerd said in a telephone interview from Canada. "A lot of projects that depend on other people buying in sometimes take years to execute."
He said he has contacted 10 to 11 developers, primarily through email. Two conversations, but no commitments, followed. "They instantly have a bunch of questions they fire back. They can be abrupt," Vickerd said. "'Why should we be involved? Who covers the cost? Why are you doing this?'"
His most promising lead has been at a site in downtown Brooklyn. Vickerd did not want to identify it to avoid upsetting talks.
"It's such a delicate balance of reminding them and engaging them and not being overly pushy," Vickerd said. "It's more like a PR job than anything."
Helping him is Martha Wilson, founding director of the arts group, Franklin Furnace, which awarded Vickerd a grant to bring the piece to New York. Wilson has been intermittently texting the developer, to whom she was introduced by a contact at the Downtown Brooklyn Partnership, a nonprofit development corporation.
She, too, stressed the need for diplomacy, saying she was sensitive to the fact that the developer was busy running a construction site so might not give priority to an art performance.
Vickerd, 35, an associate professor at Toronto's York University, staged "Dance of the Cranes" in Toronto in October 2009 during the city-sponsored Nuit Blanche art festival. "The event was well known in the city and the developers had an understanding of what it was for. They understood there was going to be an audience as part of an established event," he said.
In New York, he has been operating without that context so the task of communicating his vision has been more difficult.
But if he gets a commitment, Vickerd said the experience of that earlier performance will be helpful. In Toronto, he worked closely with the union representing operators to learn how the crane could and could not move, and to figure out matters such as how close the cranes could stand to each other and still allow the booms to sway and turn.
As in Toronto, he needs to find a building site where two cranes are already situated and where they would be framed by a nice view of the city. He said he would work with the existing operators to direct them through the choreographed movements that make up the performance.
Most of his estimated budget of $7,000 to $8,000 would pay for the wages of the crane operators and riggers, one for each crane, who stand on the ground and radio commands to the crane operators, Vickerd said. He has lined up enough money in grants to stage the performance. All he needs now is the site.
His Toronto performance was well received, he said. Many of the spectators who stopped to watch were passing by on their way home from work or out walking their dogs. The police showed up a couple of times and Vickerd had to explain to the officers that he was staging contemporary art.
An excerpt of the Toronto performance viewed on a YouTube video shows the cranes turning slowly in tandem, their booms swooping sometimes in unison and other times slightly out of sync with one rising while the other lowers. For the Toronto performance, Vickerd set the piece to a song by the Montreal band Godspeed You! Black Emperor, but he said he may change the selection if it is performed again.
He said the spectators seemed drawn to the unusual scene of the huge cranes moving and stopping together. He was not concerned that some might have missed his point, that cranes should be celebrated for the transformation they brought to cities.
"At the bare minimum, they will have a sense of sublime joy of experiencing the space around them in a new way," Vickerd said.