Last year I praised Rebecca Taylor and BCBG for the wearability of their clothes, but this year I'm going to go ahead and throw out a big "F that!" (What can I say? Fashion is fickle and so am I.) Last night, while I lay awake suffering the effects of jet lag and the adult-onset insomnia of my dog who spent most of the pre-dawn hours padding aimlessly across the bed, it occurred to me that calling runway clothing "wearable" is like calling Siegfried and Roy's tigers "tame." Sure, they might look cute and cuddly, but you never know when they'll turn around and bite you in the jugular. In other words, it's a misnomer and a gross exaggeration. (Also, in the pale cockcrow hours of the morning, the image of a snow-white tiger with a blood-splattered coat proved a nice and almost fashionable juxtaposition to paint-splattered stoles and my imagination just started to run with it.)
Here's the thing - Fashion Week, and the fashion industry in general - makes a really big deal about catering to a really small group of people. Sure, we all follow it ("we all" being yet another gross exaggeration, but I'm feeling very grandiose, writerly, and really one-with-the-world right now so you'll just have to bear with me), and there is, of course, the inevitable trickle-down effect made famous by Meryl Streep's beloved (by me) cerulean-blue monologue in The Devil Wears Prada:
But at the end of the day, the people wearing these clothes, even the most "wearable" clothes of them all, are limited to -- in my inexact, though undoubtedly accurate calculations -- about .0000001% of the population.
So, in the interest of not wasting all of our time, and in light of the fact that the fun in fashion is its frivolity - it's "art", if you will (that's why we all watch Project Runway, no?) - can we please just call a spade a spade here and at the very least make the damn show interesting? There's a reason I love Christian Lacroix and there's a reason that Paris' Couture shows are perennially popular - it's the intricacy, the magic, the whimsy, and--dare I say it?--the unattainability of them that make them interesting. They are decidedly not wearable but instead depict the root of fashion, the art of fashion, the - to get all sentimental on you - heart of fashion.
Boring!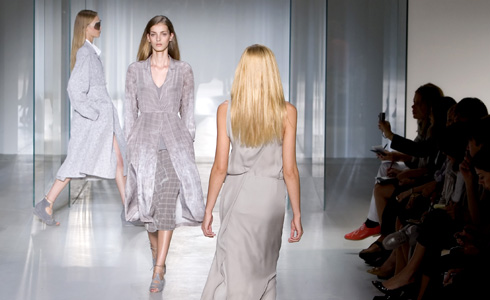 Calvin Klein, Spring 2008
Brilliant!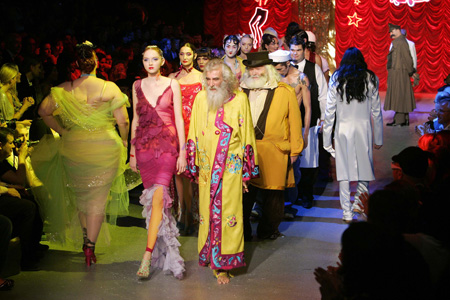 John Galliano, Spring/Summer 2006 collection
Boring!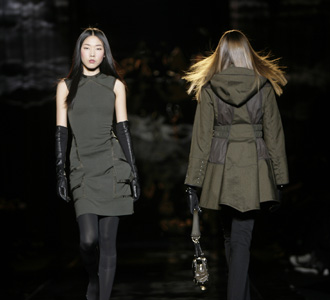 Zac Posen, Fall 2007
Brilliant!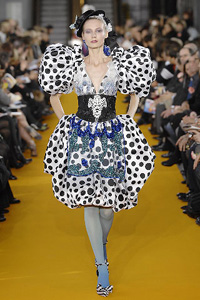 Christian Lacroix, Spring 2008
What I'm proposing is that we (as if I really have a say in the matter) make every show a Couture show - without all the strict hand-sewing requirements, of course. (The definition of couture - haute couture, that is - can be oh-so-ironically found here, which is to say on Polo Ralph Lauren's website, which is to say: the site which is home to the most boringest clothes of them all.) No more collared shirts and pencil skirts and for the love of Chanel: No. More. Ready-To-Wear. Let the buyers see the RTW at their usual showroom appointments and let the rest of us see the fun stuff.
To sum up: If we can't afford to buy the clothes, and if most of us will never, ever fit the clothes, and if even more of us will never have anywhere to wear the clothes, Fashion Industry, then let's please make the process of drooling over them, of ripping them to shreds, of hypocritically mocking them while wearing the Forever 21 knock-offs just that much more bearable by treating these semi-annual displays of over-the-top theater as the exhilarating art its meant to be. You're creative people, Fashion Industry. Start acting like it.
This was originally published on August 20th.