Ruhrtriennale, the International Festival of the Arts in the Ruhr district in Germany, opened with a variety of art events last weekend, including concerts, theater productions, dance performances, and exhibitions. In the visual arts section, the Brazilian collaborative duo cantoni crescenti present Melt, a 70 meter long interactive installation that reacts to the movement of the visitors through its kinetic surface. Melt consists of 55 polished aluminum plates held by nearly 4,000 steel springs. By walking on the plates, the visitors interact with the installation as well as with each other. Each step changes the shape of the surface, and also the surrounding environment, which is reflected in it. In this case the plates mirror the industrial architecture of the former ironworks in Duisburg (Germany), more specifically the abandoned blast furnaces -- hence the title of the work, Melt. In this video we capture the atmosphere at the press preview and the opening of the exhibition at Landschaftspark Duisburg-Nord. As you can see, the guests had a lot of fun despite the rather inclement weather.
Cantoni Crescenti is formed by Rejane Cantoni and Leonardo Crescenti. The duo develops works that explore complex environments and interact with the surrounding space.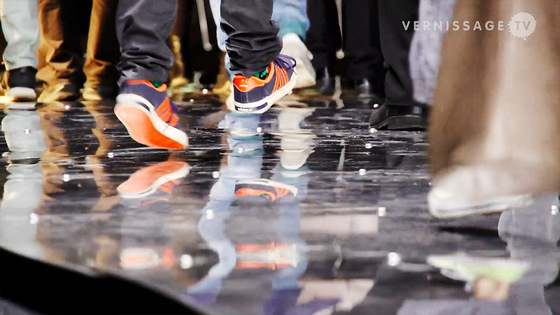 Rejane Cantoni studied Communication, Semiotics, Visualization of Information Systems and Kinematic Interfaces, in São Paulo and in Geneva; since 1987 she has researched and developed immersive installations with devices for the acquisition and manipulation of data in natural and/or sensorized and automated environments.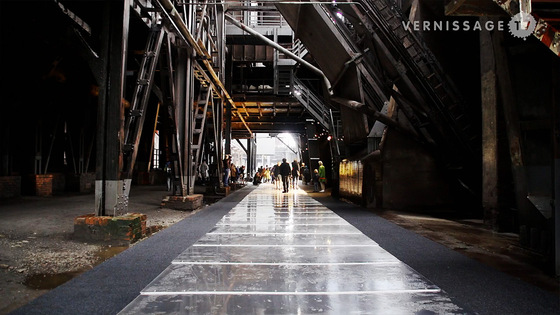 Leonardo Crescenti studied architecture at FAU/USP, in São Paulo; since 1978 he has investigated and developed projects in various media and supports. As director, he has realized 13 short films receiving numerous awards and national and international participation, including participating three times in the Director's Fortnight in the Cannes Film Festival.
For more videos covering contemporary art and architecture go to VernissageTV.