The Alien Within - A Living Laboratory of Western Society at Malmö Konsthall in Malmö (Sweden) is a project around the multi-media installation Animatograph - Icelandic Edition. Destroy Thingvellir, 2005, by the late German theater director, filmmaker, and visual artist Christoph Schlingensief (1960-2010). It's the first exhibition curated by Diana Baldon as new Director of Malmö Konsthall. It has its starting point in the multi-cultural character of Malmö, and the current political climate in and around Europe. Schlingensief's Animatograph installation is framed by documentation material presenting the genesis and development of this installation, and complemented by a think tank that includes talks, screenings, live concerts, and performances by Swedish and international artists such as, among others, Tania Bruguera, The Errorists (Hilary Koob-Sassen and Andreas Köhler), Jeuno JE Kim and Ewa Einhorn, the independent theatre group Institutet, as well as renowned scholars like filmmaker-theorist Trinh T. Minh-ha and sociologist Saskia Sassen. This video provides you with an exhibition walkthrough and an introduction to the project by Diana Baldon.
The exhibition is realized in partnership with the Goethe-Institut, Thyssen-Bornemisza Art Contemporary, Vienna, and the Estate Christoph Schlingensief: Aino Laberenz, with the courtesy of Filmgalerie 451 and Hauser & Wirth, and runs until March 1, 2015.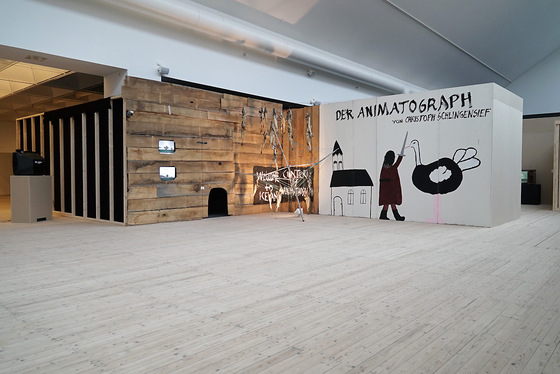 Christoph Schlingensief's multi-media installation Animatograph.