All "progress" brings losses. One great loss, as we move into the digital age and bookstores close, is browsing. Most booksellers depend on customers walking out of their stores with a book they never planned on buying, something they came across accidentally that resonated with them. As independent bookstores are discovering, the key to staying in business is to curate well -- to choose wonderful, quirky, beautifully illustrated, outside-the-box books that are the products of singular, creative minds. Here is a great example: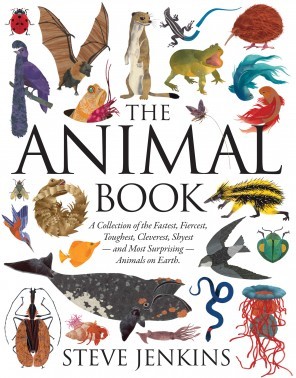 The Animal Book: A collection of the Fastest, Fiercest, Toughest, Cleverest, Shyest -- and most Surprising -- Animals on Earth by the brilliant naturalist and illustrator, Steve Jenkins, is a must-own book for any child's home library. It is a book a child (and parent) will return to again and again -- sometimes to read and discuss a section, sometimes to browse and meet some extraordinary creatures. There is so much here that it must be digested over time.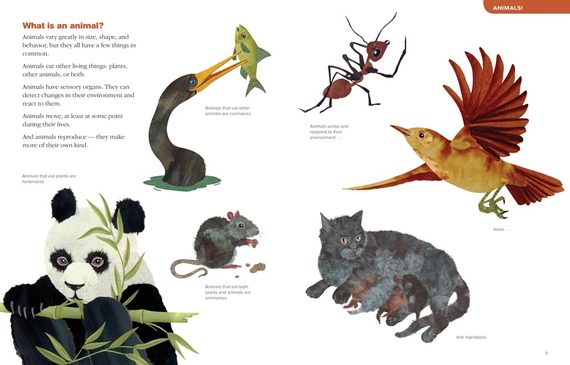 Animals are intrinsically and endlessly fascinating to children. How can anyone make sense of the diversity and variety of animals on Earth? This is exactly what The Animal Book sets out to do in a way that is a narrative, but one that must be savored slowly. It builds and reads like a story, answering questions as scientists have done over the centuries as they made sense of the natural world. "What is an animal?" "Why so many species?" And states some surprising facts: "Most animals are insects." "More animals are extinct." Reproduction -- one key to the survival of a species is handled in delightful and informative ways. Then comes individual survival and adaptations to the environment. Always there are threats -- predators vs. defenses, new and threatening changes to habitats. Since children are always fascinated with extremes, Jenkins introduces us to some of the biggest, smallest, longest and actual sizes of myriad creatures. All of his examples are decorated with fabulous facts and graphic illustrations, made from collages cut from different kinds of paper, which capture the imagination while depicting reality.
He ends the animal part of the book with The Story of Life -- evolution. How did all these different forms of life come to be? The reader is now primed and ready; yes, all living things are related. But Jenkins doesn't end there. He adds hundreds of more eccentric animal facts, each with its own thumbnail illustration and finally, in case a reader wonders how one person could create such a masterwork, Jenkins lets us in on "making books" and shows how many people contribute to his process.
For an author, one key to writing powerful nonfiction for children is to honor the child and do outstanding work. This means that we never overestimate the prior knowledge of the reader or underestimate his/her intelligence. The Animal Book is an opportunity for a reader to make sense of the natural world and to discover, again and again, something new and unexpected. It is also an introduction to Steve Jenkins' formidable mind.
I challenge you to find anything comparable in the digital world.