It is a little known fact, but Paris Ready-to-Wear, as we know it today, was started in the late fifties by a beautiful brunette Balenciaga model named Emmanuelle Khanh. I recently had the pleasure to dine with Emmanuelle in Paris at her home, a double height artists studio in Montparnasse, and discuss the debut of the twice yearly circus, what is known today as Paris Fashion Week.
Emmanuelle said to me, "Today's fashion is is not Pret a Porter but Pret a Montrer (It is all show)."
In 1957 Emmanuelle and Christiane Bailly met as they modeled in the top haute couture houses. Wanting to outdo the other models and wear more nouvelle clothing, Emmanuelle had a dress maker create a low cut cotton culotte dress that caused a stir on the Faubourg St. Honore. With the backing of Boussac, the French cotton fabric king, Emmanuelle and Christiane presented their first collection in 1959. They showed modern sportswear; culottes, long droopy collars on tops; shorter, easy bias skirts; and by using menswear fabrics for women such as Harris tweed, they made fitted soft dresses and jackets with a brand new early sixties look. Fashion in the late fifties had been stiff and boxy. This new look of soft, clingy, easy to sew fashion became big hit among young post-war Parisiennes.
Elle Magazine was the first news, fashion and lifestyle magazine in France for this young hip generation. Started by Helene Lazareff, the wife if the owner of France Soir newspaper, Elle presented Emmaneulle's first creations. Michele Rosier, the daughter of Helene Lazareff, also got in the act and produced a collection of French modern dresses. Michele's first coats, made of black vinyl, preceded today's puffy coat. A new style of ladies clothes was born called "Pret a Porter".
Until the late fifties, clothes in France were produced by small companies for the department stores Prisunic and Galeries Layfayette without designers, often produced near Lyon where the fabrics were made but this was not fashion clothing -- just clothing. Fashion was only presented in the twice-yearly haute couture presentations in the showroom of each house.
Fashion designers were unheard of outside couture, but dressmakers were on every street corner, as French society believed all women should learn to sew, cook and dye their hair. If you read L'Officiel and Jardin des Modes in the late fifties, all the clothes featured  were by the haute couture, except for swimwear and lingerie. Fashion was controlled by twenty couture houses.
When I arrived in Paris with Mia Fonssagrives in 1964, we joined this trio of women and we were all called the "YeYe Girls." We actually went on a design interview at Royaume on Rue de la Paix, the first expensive ready-to-wear house, with Chloe and their following interview was with a young German, Karl Lagerfeld, who was chosen, not us. It was Karl's first job.
Kenzo shortly arrived from Japan, and Sonia Rykiel became a brand new name. She designed sweaters for her husband's shop, Laura. Slowly, a small international group of ready-to-wear designers was formed. Specialty shops such as Dorothee Bis and Madd featured our Youthquake Fashion, as it became known of in America.
The first ready-to-wear fashion shows were silent, somber affairs in art galleries, restaurants, clubs. It would slowly become show biz when my press pal, Yanou Collart, surprised Paris with live music and live tango dancers at my first solo fashion show in the Salle Wagram. Marlon Brando comically danced the tango in the sexy movie classic, The Last Tango in Paris. We served butter on every table and shortly afterwards, Paris loosened up. Others followed until today.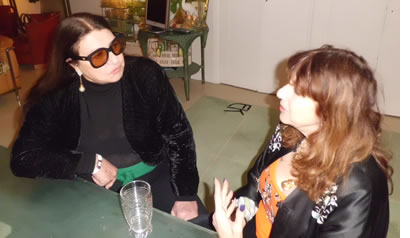 Emmanuelle and her husband, Quasar Khahn, bought a 1930s pink marble palace from an Arab prince in Garches, a posh suburb to the west of Paris. On Saturday nights for much of the late sixties and the seventies, their home became the center of the Paris evening fashion scene. It was a "must-be-invited" to appear in the latest gown and jewels, as we actually wore long gowns in silver lame and drove Maserati convertibles across the Seine and up to her hilltop palace.
Mia and I sold our life story in 1965 at the ripe old age of 23 and 25 and Paramount studios in Hollywood dubbed it the "YeYe Girls," named after the Beatles first song, "She Loves You (yeah, yeah, yeah)," but the movie was never made, as the studio head changed hands. I was to be played by Sandra Dee. Fortunately, we got paid a bundle and we went into our own manufacturing in Paris, combining couture and ready-to-wear, which Bergdorf Goodman later dubbed "Custom Couture."
The "good old days" has been a reoccurring theme for Emmanuelle and myself. We celebrated her retirement from fashion several years ago (she could retire because the whole world owns a pair of her oversized sunglasses with EK on the side) at the Brasserie Lipp, with a dinner that must be shared as the story is so picturesque.
Lipp is famous for its seating policy. Famous people are put on the banquette opposite the entree, politicians sit in the middle of the front room, pretty couples along the wall leading to the back, where the boring, rich people are placed. Upstairs is for "nobodies!" Some "has-beens," once having been humiliated and sent upstairs, never return to Lipp or to Paris.
Emmanuelle and I were put on the famous people banquette where we roared with laughter that we still were "in" over drinks and discussed our lives, loves, ex-husbands, dresses and memories of when we were young. In walks a somber Sonia Rykiel with a very old man and they are seated next to us on the banquette. Neither gives us a hello. Then, in walks a truly miserable Yves St Laurent (who had also just retired) and Pierre Berge, and they were seated next to Sonia.They did not even nod at us or at Sonia. They all ate in silence. We stared at each other four designers in a row...what is this pathetic scene? Emmanuelle and I roar again with laughter, the sadder the others got, the more we laughed at each other, telling more funny stories of our past that all could hear, and the more and more miserable the others became, the more we roared.
A lifetime of competition, of hurt feelings, of tremendous highs and horrible lows, can wipe out a lot of creative people emotionally, as Michael Kors says, "Fashion is not for sissies."