I woke up today to this fabulous Paris Fashion Week street style recap in my inbox from Vicky Tiel, designer extraordinaire (she designed the red gown Julia Roberts wore to the opera in
Pretty Woman
!!), author of
It's All About the Dress: What I Learned in 40 Years About Men, Women, Sex and Fashion
, and friend.
Ed Baynard received it, too, and we both thought that this was too good not to share. I emailed Vicky back to ask if I could and she typed back, "Share away!"
So if you're not in Paris, here are Vicky's observations on what the fashion elite currently are wearing and a few other anecdotes.  And if you haven't read her book yet, you need to! It's better than any reality show on TV!
It's Fashion Week in Paris and there are no cabs... The first day I hired a limo with a handsome young French driver who told me "France is Back! America loves us again. We won the Oscar!"

Today I did the fashion walk, from St. Germain de Pres across Notre Dame and the back garden down the Ile St. Louis across the Pont Sully, (where the king of Saudi Arabia tore down the Hotel Lambert home of the Rothshchild family and the most beautiful home in Paris to put in underground parking on the river), then up into the Marais, and back across the Pont des Arts from The Hotel de Ville. Here is the latest news...
Men are wearing lime green pants. Women have gone from tight red jeans to coral. Jeans all have cuffs. Ultra wide belts are worn over layered clothing. Shorts are back for daywear and they also have cuffs, worn with black tights, high booties, and faux fur vests over soft full sleeved romantic blouses. Chiffon granny print mini dresses are worn under skin tight black leather biker jackets and more black tights. Patchwork floral dresses with ribbons, coat and peasant dresses and floppy hats, with open toe booties or worn with sheer lacy socks. Patchwork lame print tennis shoes with red vinyl heels. Vinyl black tight hooker pants mixed with chic Burberry trench coats shortened into jackets in bright colors with large black Buttonsall cool men only wear brown shoes. It's gone worldwide. (I just passed a hunky Frenchman with his wife wearing deep purple corduroy slacks with a sand suede jacket and the darker brown suede oxford shoe).
 For the ladylike look, the new swing coat in bright solid colored silks, worn over black shifts, very Margaret Thatcher.
I have been wearing my leopard taffeta cocoon puffy coat and suede booties with coral faux fur lining and turning heads. It's a piece unique, the only coat in Paris. It's a thrill to wear a one of a kind item in Paris and see the heads turn.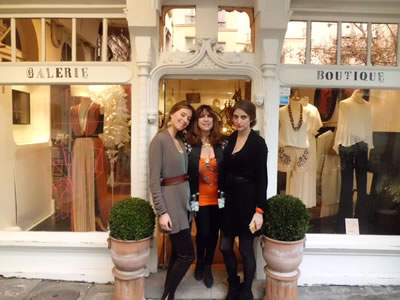 My beautiful sixteenth century courtyard boutique of 44 years at 21 Rue Bonaparte in the 6th arrondissement has reopened under the management of my goddaughter Tullulah Rufus-Issacs and her partner Julia Van Hagan. The two beautiful 24-year-old Brits, much like Mia and Vicky 40 years ago have incorporated fashion and art, into The Space. There are also a bit of current Vicky Tiel, also vintage pieces, my book and fragrances as well as a mix of other artist's pieces you can not live without. The Space is a fresh idea, soon to be franchised in London and Los Angeles.
Everything moves on. As the French say, "plus ca change, plus ca reste le meme." The more it changes, the more it stays the same.
This is true for fashion as the look is the same as in 1968 when Mia-Vicky opened, except for the men in lime green pants. The swinging '60s are back!
For a special  treat I invited myself to an afternoon matinee of Jean Dujardin's next film. After winning the Oscar, he stars in the just released Les Infidels. The waiters at the outdoor cafe next door to the theater on the Blvd. St Germain were complaining to me about the long lines to get in. They are losing their regular seated outdoor customers with the crazy frenzy of the wide long lines to enter the theater.
The movie was a sexy romp. Dujardin was naked and buff for a lot of the movie. The film was a series of vignettes, a study of the unfaithful French male and their picadillos, including bondage, cougars, and you have to see it to believe it sex. Will the film be allowed and acclaimed in conservative America? If so, Dujardin will have a bigger reputation than just being the only Frenchman to win an Oscar. He has managed to combine France's two leading stars of the '60s into one body, half Jean-Paul Belmondo, half Alain Delon. Plus ca change...
Vicky Tiel began designing clothes forty years ago in Paris and still owns a boutique there. Her couture dresses are available in Bergdorf Goodman and Neiman Marcus, and her perfumes are carried in Perfumania. Her memoir, "It's All About the Dress: What I Learned in 40 Years About Men, Women, Sex, and Fashion" was published by St. Martin's Press in August 2011.