Several years ago, driving down Friendly Avenue, in Greensboro, North Carolina, my mother pointed to Guilford College and said, "You will go there." Her words hung in the air like a dense fog. Guilford has been compared to a lot of things, like Hogwarts Academy. It is the kind of place where someone who wants to be challenged and changed would want to go. Its grounds are historic and its ties to the Quaker faith are an important part of its heritage. Even though you might be getting an education from an Ivy League educated Ph.D., it is a Quaker custom to call everyone by his or her first name. At the time my mom, who adopted me as an adult, said that I would attend this enchanted private college, I thought she must be joking. I never thought someone like me was meant for a place like that.

Early in life I realized the world is divided into the haves and the have-nots. In my earlier life I fit in the latter. I never resented those who had things; there was no time to worry about that. Raised in multiple, sometimes abusive foster homes, homeless and in legal trouble as a hopeless, misdirected teenager, I was just focused on finding safety for myself and a way to stay alive. Still, like my dream of finding family and love, education was something I was eager to earn. It would take me many years to realize that I was up to the challenges of higher education. Being adopted offered me access to things, such as a roof over my head, and the time and space to nurture learning that would have otherwise been impossible.
I met and corresponded with Dr. Noam Chomsky after reaching out to him for quotes for an article in Guilford's student newspaper.

Education is a lot like food, clothing and healthcare. Seeing a doctor, eating a meal and having clothing are a given for some and a struggle to obtain for others. I should know, from a past life of loss and need. I was able to flourish at Guilford. Always liking history and stories, I was eager to write news. I am a natural writer; I have wanted to write since I was a child. It wouldn't be until I spent hours in the office of Dr. Jeff Jeske, Dana Professor of English and the advisor for the century-old student newspaper, The Guilfordian, that I started to learn my craft. After a semester or so, editors said they were noticing a marked difference in my writing. My broken childhood and teenage years left me with only having earned my GED. I bore that in mind on my first day of class at Guilford College. Education was once outside of my reach and now I was entering a place of privilege. However, it was in the classrooms of Guilford that I learned why people who'd grown up like me face the challenges they do. And while the sticker price of an education at the college is a bit high, Guilford caters to those most in financial need and therefore not allowing the door to shut for those who want a college education.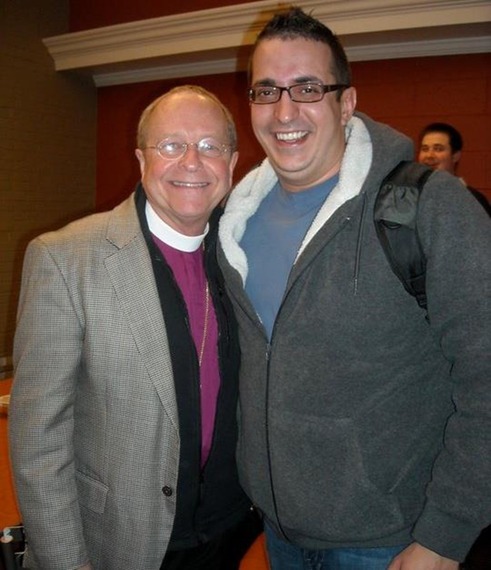 Meeting famed retired Episcopal bishop of New Hampshire, who I later interviewed at Guilford College.
Guilford caused me to grow as a person and an academic. Discussions in close-knit classes and having unchallenged notions met with new ideas was a gift I had only thought possible in an imaginary life. Not only did I have a family, but my college also embraced me. Each professor and class I took touched my life, expanded my mind and made me a better student. Guilford was not the kind of place where you could miss a class and not hear about it. Now excellence was expected of me. Guilford's wooded campus, that was once part of the underground railroad, offers less frills and more academic meat than many other schools. Not only are students, faculty and administration interactive, so are most of the distinguished trustees. On more than one occasion, I have been able to turn to Trustee members for advice, to interview or to share concerns. Unlike other places that are filled with bureaucracy, Guilford is an accessible place from the top down.
As I graduated from the college last year and readied myself for law school, I realized that higher education is in danger everywhere. Not too far away, Sweet Briar College announced it was shutting its doors, before a court ordered, for the time being, that the institution stay open. Faced with lower enrollment and a $3 million deficit, Guilford's new president, Jane Fernandes, has had to make tough decisions about positions within the college. In a recent meeting with Jane, she said that Guilford students make a difference in this world. She is correct. The college also makes a difference in the lives of those who attend. It certainly changed my life for the better, and I will be eternally grateful for all of my experiences there. It turned a once forgotten child into someone educated enough to face the rigors of law school and to face the world in a principled way.