In 2005, my family started a school lunch program in Tanzania, East Africa after my father George Namkung climbed to the top of Mount Kilimanjaro. Upon taking a tour of some local schools, he realized that the students in the region surrounding Africa's highest peak were not given a school lunch. He expected the tin roofs, dirt floors and overcrowding, but to think that these kids were hungry and weak while in school was too much to bear. So, he sprung into action and we officially launched Kids of Kilimanjaro, a 501(c)(3) nonprofit foundation that is run solely by our family of four.
This year, we are celebrating our fifth anniversary and with the support of donors and friends, we are currently providing a warm school lunch to 13,000 Tanzanian students. But I am often asked, "Why Tanzania when we have so many problems right here?" My answer to that question is usually the same. In the U.S., we have over one million charities, but Tanzania only has a handful. I don't believe that any one life is more important than another and education is the primary way out of poverty for these beautiful children. As former Tanzanian Prime Minister Edward G. Lowassa told us, "Education is priority number one, priority number two and priority number three."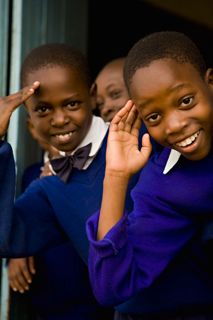 The Tanzanian children in our program are thriving since we started providing lunch and we work closely with a non-governmental organization to avoid corruption. Since our arrival, attendance is now at 100 percent, there is a waiting list to go to school, the dropout rate is a non-issue. Classroom performance and graduation rates have also risen. Lunch is a proven magnet to attract and keep kids in school (and out of the fields or local towns where they would beg for food). Lunch has an added benefit of improving their immune system in fighting off malaria and malnutrition. It costs just $29 to feed one student for an entire school year -- pretty powerful if you think about it.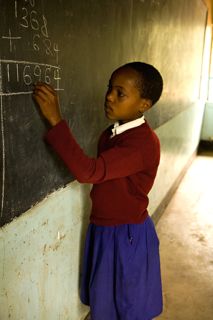 When I visited some of the schools in our program I was taken aback by how happy these children were to be at school. They sing, dance, smile and are actively engaged in the classroom. These kids appeared happier than most American children even though they have very little in terms of material goods. I think of their faces on a daily basis and know that we can never take lunch away from them now that we are providing it. With no staff or grants, we are too small to take on huge causes like HIV, but we are making an impact in one region and that feels really good.
To learn more about Kids of Kilimanjaro just visit www.kidsofkilimanjaro.org.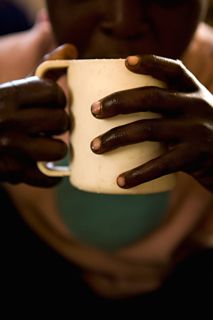 Photos by Karyn R. Millet