For millions of Americans, Big Game Sunday is a time to get together with family and friends, fight over the last chicken wing, root for your favorite team, and of course, shush everybody once the commercials start.
But if you live in the marketing world, the real competition takes place between quarters, after touchdowns, and during timeouts. At least, it used to.
In the past, advertisers' hard work was over before kickoff. But the recent through-the-roof levels of social media engagement proved that those days are over.
Last Sunday, we traded the Big Game in New Jersey for a sunny Los Angeles studio in our first-ever Social Media War Room.
Did you notice the feathery coat that appeared on a certain football legend during the coin toss? Our war room trend spotters certainly did: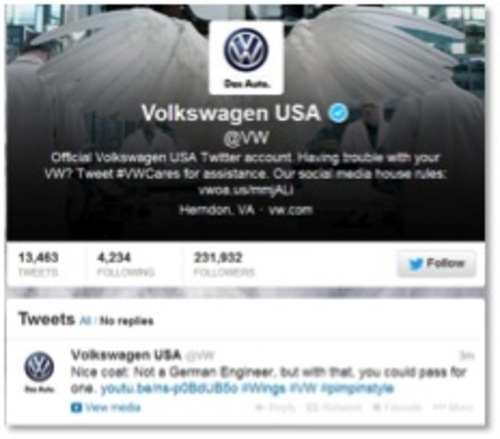 The Tweet, sent out in the first few seconds of the game, even warranted a "very well played" pat on the back from our friendly rivals at a local Toyota dealer in Florida.
Wonderful Pistachios and Victoria's Secret then decided they wanted to play along with us. #WingEnvy #FashionShow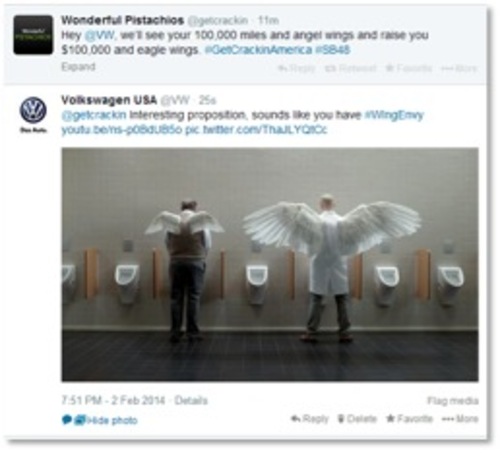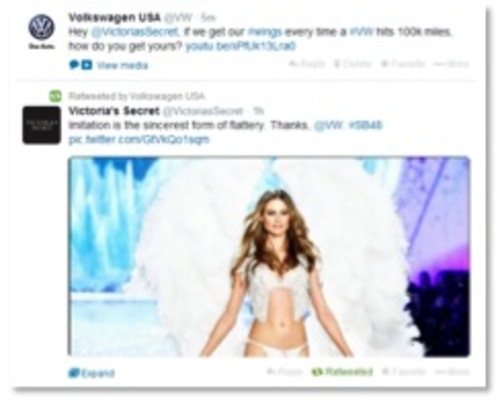 Long considered the biggest night in advertising, brands can no longer sit back and expect their Big Game spots to speak for themselves. Fans expect more now than ever. As well they should.
When the stadium power went out last year, viewers didn't wait for the morning's paper to read commentary; they slid their tablets open, turned on their cell phones and raced to their favorite social media channels. You know, and I know, that Oreo did it best - who doesn't want to dunk in the dark? These kinds of benchmarks made us all work that much harder to rise to the challenge of being this year's best.
Hence, Volkswagen's newly minted Social Media War Room. Our staff of copywriters, creatives, and in-house and agency online community managers gathered around artichoke dip and TV monitors with the end goal of engaging with consumers and online fans.
And, taking a page out of the latest RTM (real-time marketing) playbook that content is key, we also had a production team onsite to create video and images in real-time.
These Game Day players monitored social conversations and trends and created eight real-time, relevant videos featuring the German engineers from this year's teaser "Algorithm." These video shorts continued to play off the "artistic precision" of German engineers who worked tirelessly to create the ultimate Game Day spot.
While many brands chose not to play in this year's RTMbowl, those who did saw great consumer engagement, which is the real benefit and ultimate goal of running this type of campaign.
Operating in relatively unchartered waters -- especially in real time -- always comes with its own set of challenges. If brands want to reach consumers in impactful ways, they need to be ready to meet them on their own digital turf and extend the conversation. Not easy, but well worth the effort to do it right.
RTM-ing aside -- congratulations, Seattle, on your big win! Though unfortunately, we didn't see any funky end zones dances -- maybe next year?