Florida invented spring training and hosted the first integrated baseball game. Here's an introduction to the Florida cities that take you out to the ballgames.
To learn more about baseball in the Sunshine State, visit the Florida Grapefruit League website, where you'll find spring training schedules, a history of the sport in Florida, a guide to teams and venues, and more. The Florida Sports Foundation is another good source for spring training information.
Now, play ball!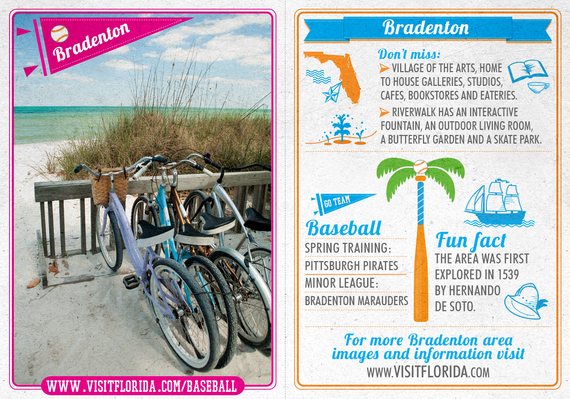 Major League Baseball spring training
POPULATION: 50,672
LAND AREA (SQUARE MILES): 14.18
SEATING CAPACITY: 8,500-plus at McKechnie Field
CITY SLOGAN: "Real. Authentic. Florida."
NAME ORIGIN: Originally called Bradentown, the town was named after a local doctor who gave refuge to early settlers during Seminole Indian attacks.
HISTORY: The area was first explored in 1539 by Hernando de Soto. Centuries later, sugar plantations would dominate the local agricultural industry.
FUN FACTS: The Village of the Arts is home to more than 30 businesses and a community of artists who live and work together. The restored early 20th century cottages in the area house galleries, studios, cafes, bookstores and eateries.
IF YOU GO: The Bradenton Riverwalk includes family-friendly areas such as an interactive fountain, an outdoor living room, a butterfly garden, skate park and sand volleyball courts. The Braden Castle Village includes many craftsmen bungalows and is a pleasant walking tour.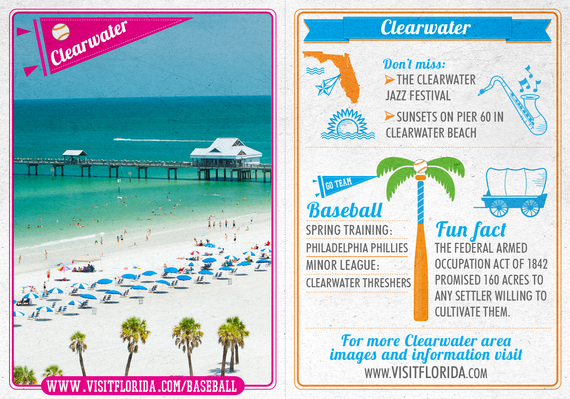 CLEARWATER: Philadelphia Phillies
Major League Baseball spring training
POPULATION: 108,732
LAND AREA (SQUARE MILES): 25.56
SEATING CAPACITY: 8,500 at Bright House Networks Field
NAME ORIGIN: Originally known as Clear Water Harbor, its name changed to Clearwater in 1906.
HISTORY: Settlers arrived in Clearwater after the Federal Armed Occupation Act of 1842 promised 160 acres of land to any settler willing to cultivate it.
BEST FEST: The Clearwater Jazz Holiday began more than three decades ago as a series of impromptu concerts staged on flatbed trucks and has evolved into a festival that draws tens of thousands annually.
IF YOU GO: Come sunset, locals and visitors alike head to Pier 60 in Clearwater Beach for a daily festival that celebrates the end of each day.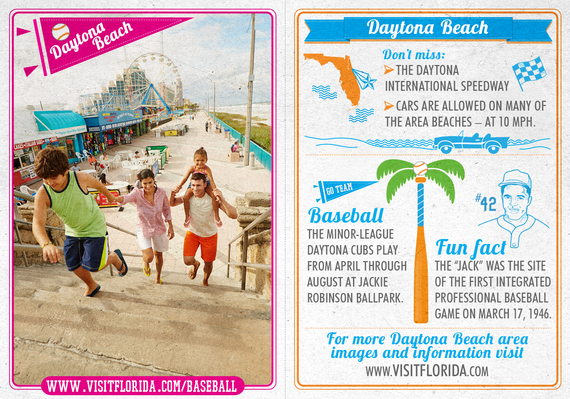 DAYTONA BEACH: Daytona Cubs
(Chicago Cubs affiliate) Minor League Baseball team
POPULATION: 62,035
LAND AREA (SQUARE MILES): 58.41
SEATING CAPACITY: 4,200 at Jackie Robinson Ballpark
CITY SLOGAN: "New Wave of Fun"
HISTORY: Daytona got its start as a destination for motorsports when car enthusiasts at the turn of the 20th century descended on the wide, hard-packed beach to test their automobile innovations. The festivities were moved to the Daytona Beach Road Course in 1936 and later to the Daytona International Speedway.
FAMOUS FIRSTS: Known locally as "the Jack," Jackie Robinson Ballpark first opened in 1914 as the Daytona City Island Ballpark. It was renamed in 1989 after the first African-American baseball player who broke the color line in this park when his Brooklyn Dodgers faced their Triple-A affiliate, the Montreals, in an afternoon spring training exhibition.
FUN FACTS: Cars are still allowed on many of the beaches surrounding Daytona -- as long as they keep their speeds to less than 10 miles per hour.
FAMOUS NATIVES: Duane and Gregg Allman of the Allman Brothers Band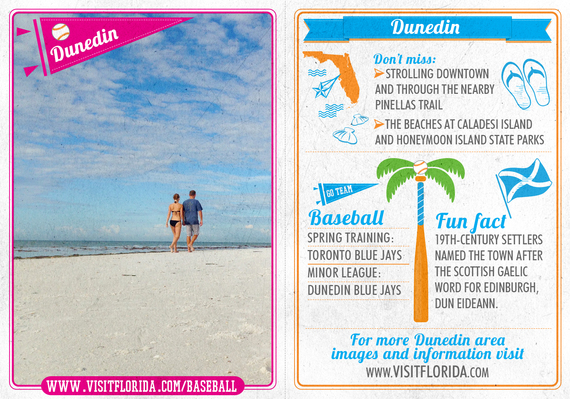 DUNEDIN: Toronto Blue Jays
Major League Baseball spring training
POPULATION: 35,444
LAND AREA (SQUARE MILES): 10.36
SEATING CAPACITY: 5,509 at Auto Exchange Stadium
CITY SLOGAN: "Home of Honeymoon Island"
NAME ORIGIN: In the late 19th century, Dunedin was settled by Scottish families who named the town after the Scottish Gaelic word for Edinburgh, Dun Eideann.
FUN FACTS: Sports Illustrated named Auto Exchange Stadium one of the top five places to see a spring training game. Dunedin's popular Honeymoon Island was known as Hog Island until a developer built 50 honeymoon bungalows there in 1939.
BEST FEST: Dunedin's annual Highland Games honor of the city's Scottish roots.
IF YOU GO: Don't miss Caladesi Island State Park, an undeveloped island that can be accessed only by private boat or a ferry service from nearby Honeymoon Island State Park. And quaint downtown Dunedin is worthy of a stroll and a stop at one of the many eateries.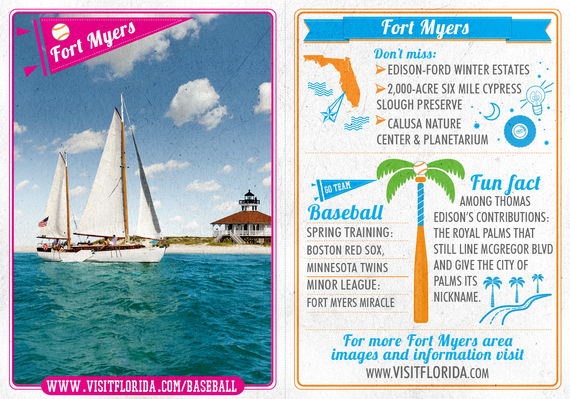 FORT MYERS: Boston Red Sox
Major League Baseball spring training at JetBlue Park at Fenway South
Minnesota Twins Major League Baseball spring training at Bill Hammond Stadium
POPULATION: 65,725
LAND AREA (SQUARE MILES): 39.96
SEATING CAPACITY: 10,823 at JetBlue Park, 7,500 at Hammond Stadium
HISTORY: The "fort" of Fort Myers was originally built along the Caloosahatchee River as a base during the Seminole Indian Wars. Today, the fort is long gone, though some of the wood was used to build a few of the buildings that would make up the original downtown Fort Myers.
FUN FACTS: One of the first to be captivated by Fort Myers' natural charms was Thomas Edison, who happened upon the small village while traveling Florida's Gulf Coast. He soon relocated there and became a major proponent of the area. Among the still-visible contributions he made: the royal palms that line McGregor Boulevard and give the City of Palms its nickname.
BEST FEST: The Edison-inspired Festival of Light is the city's annual celebration of the inventor's Feb. 11 birthday, during which a King and Queen of Light are crowned.
IF YOU GO: Certainly Edison's home is a stop on any visit to Fort Myers, but you should also check out the former home of his neighbor and friend, Henry Ford. Natural history abounds as well, from the 2,000-acre Six Mile Cypress Slough Preserve to the Calusa Nature Center & Planetarium.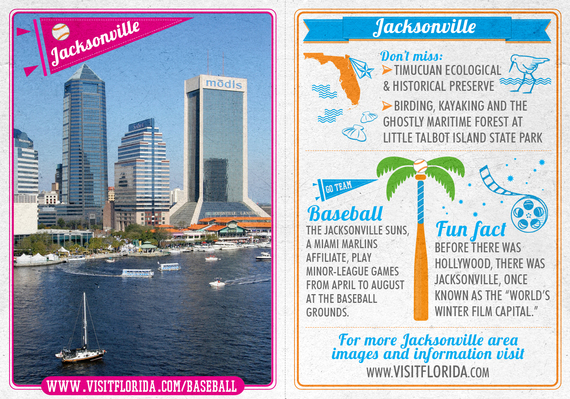 JACKSONVILLE: Jacksonville Suns
(Miami Marlins affiliate) Minor League Baseball team
POPULATION: 836,507
LAND AREA (SQUARE MILES): 747
SEATING CAPACITY: 11,000 at Baseball Grounds of Jacksonville
FUN FACTS: A national park known as the Timucuan Ecological & Historical Preserve is home to the Fort Caroline National Memorial, a replica of a 16th-century French fort that was lost to time and fading memory. The actual location of the fort is a historical mystery, but a smaller replica at this site honors the soldiers who once defended French interests in northeast Florida.
FAMOUS NATIVES: Pat Boone, born in Jacksonville on June 1, 1934
FAMOUS FIRSTS: Before there was Hollywood, there was Jacksonville, once known as the "World's Winter Film Capital." The city launched the careers of such actors as comedian Oliver Hardy, and the first color movie produced in the United States was filmed in Jacksonville in 1917.
IF YOU GO: Don't miss Little Talbot Island State Park, one of northeast Florida's few remaining undeveloped island and a prime destination for birding and kayaking. Among its highlights is a ghostly forest of skeletal trees on the beach.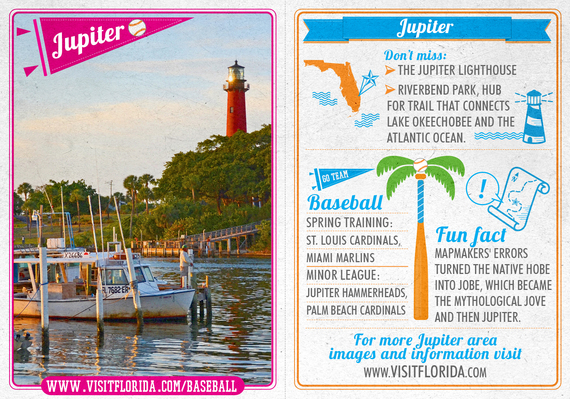 JUPITER: St. Louis Cardinals and Miami Marlins
Major League Baseball spring training
POPULATION: 57,221
LAND AREA (SQUARE MILES): 21.47
SEATING CAPACITY: 6,871 at Roger Dean Stadium
NAME ORIGIN: Jupiter's name came from a long line of misunderstandings. A mapmaker misinterpreted the name of the area natives, the Hobe, as "Jobe," which so closely resembled the mythological figure "Jove" that, by the time subsequent mapmakers took a look at the place name, it was all too easy to assume the name "Jove" referred to the Latin translation of the god Jupiter.
FUN FACTS: The Jupiter Lighthouse is constructed of brick and was first illuminated in 1860. Until the early 1900s, children were commonly transported to school via a boat that would deliver them to the town dock. Lighthouse Park sits on land that was once part of Fort Jupiter, a military outpost during the Seminole Indian Wars.
IF YOU GO: In densely populated South Florida, Jupiter's Riverbend Park -- the site of two Seminole Indian War battles -- is now the connecting hub for several trail systems, including the Florida Trail and the Ocean-to-Lake Trail that connects the Atlantic to Lake Okeechobee. A parkland restoration effort took 32 years and restored 684 acres of historically and environmentally significant land.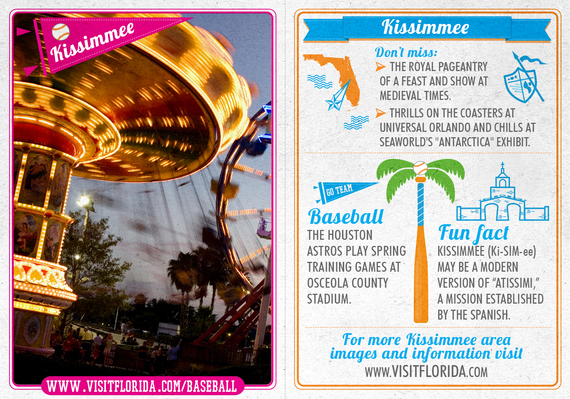 KISSIMMEE: Houston Astros
Major League Baseball spring training
POPULATION: 63,369
LAND AREA (SQUARE MILES): 21.19
SEATING CAPACITY: 5,000-plus at Osceola County Stadium
NAME ORIGIN: Although this place name is fun to say, its origins are hard to pin down. "Kissimmee" may be a modern version of Atissimi, a mission established by the Spanish.
HISTORY: Before Walt Disney World arrived, the cattle industry was the biggest in Osceola County. In Florida, the workers who tend cattle are not called cowboys, but cattlemen.
FAMOUS NATIVE: She is from Floral City, Fla., not Kissimmee. But the parents of Kissy Simmons, who played Nala in the Broadway production of The Lion King, named her after this Orlando suburb.
FUN FACTS: The city is home to a quirky landmark, the Monument of States, comprised of minerals from each state and many nations. The monument began as a symbol of American unity in the days after the attack on Pearl Harbor. The population of Kissimmee doubled in the 1970s after the debut of nearby Walt Disney World in 1971. The population then doubled again in the 1980s.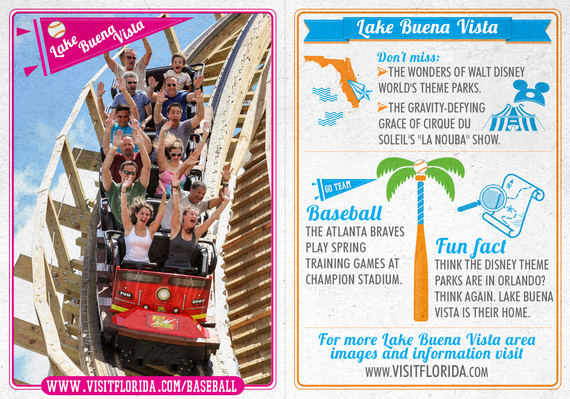 LAKE BUENA VISTA: Atlanta Braves
Major League Baseball spring training
POPULATION: 10
LAND AREA (SQUARE MILES): 3.1
SEATING CAPACITY: 9,500 at Champion Stadium
NAME ORIGIN: Lake Buena Vista is named after a street in Burbank, Calif., where the Walt Disney Company is headquartered.
HISTORY: Lake Buena Vista was the product of a lesson Walt Disney learned after building Disneyland in Anaheim, Calif., in 1955. Developers quickly bought up properties surrounding the park, and Disney had no space for the expansion he had envisioned. "Uncle Walt" purchased 25,000 acres of remote property in Florida's Orange and Osceola counties. Disney's company asked state legislators for help in creating a special taxing district that would allow the company to supply all the services typically controlled by county government -- water, electricity and other power sources, emergency services -- and Lake Buena Vista was born.
FUN FACTS: Think the Disney theme parks are in Orlando? Think again. Lake Buena Vista is their home. Before his death in 1966, Walt Disney had envisioned EPCOT as a futuristic city -- but while EPCOT opened as another Disney theme park in 1982, just a handful of people actually live in Lake Buena Vista.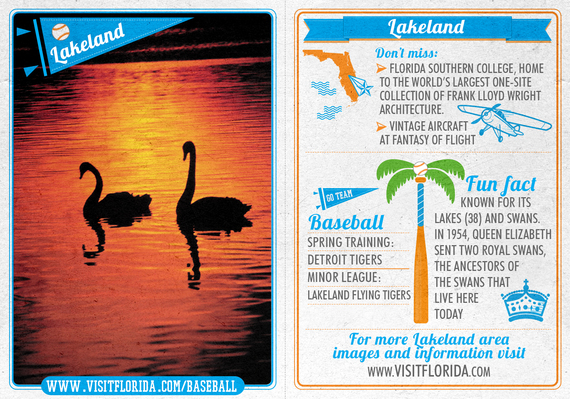 LAKELAND: Detroit Tigers
Major League Baseball spring training
POPULATION: 99,999
LAND AREA (SQUARE MILES): 65.27
SEATING CAPACITY: 8,500 at Joker Marchant Stadium
CITY SLOGAN: "Close to Everything - Away From It All"
HISTORY: As you might guess, Lakeland is known for its lakes and is home to 38 of them. And along with the lakes come the city's famous swans, which first appeared in the area in 1923. By 1954, they had been eradicated by alligators and other animals. Britain's Queen Elizabeth authorized the capture of two royal swans, which were relocated to Lakeland and became the ancestors of the swans that live here today.
FUN FACTS: Also known as "Tiger Town," Joker Marchant Stadium is named after Lakeland's late parks and recreation director and has been the spring home of the Detroit Tigers since 1953. Lakeland is also home to Florida Southern College, which boasts the world's largest one-site collection of Frank Lloyd Wright architecture.
IF YOU GO: Vintage aircraft from a large private collection is on display at Lakeland's Fantasy of Flight, featuring flight simulators and a daily aerial demonstration.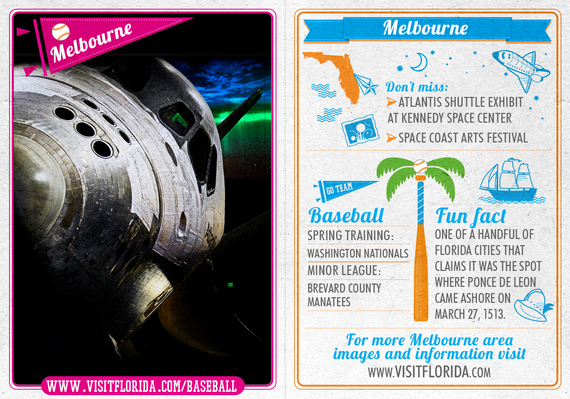 MELBOURNE: Washington Nationals
Major League Baseball spring training
POPULATION: 77,048
LAND AREA (SQUARE MILES): 33.86
SEATING CAPACITY: 8,100 at Space Coast Stadium
CITY SLOGAN: "The Harbor City"
HISTORY: The site of early Spanish and French exploration and home of one of the first Spanish missions founded in the New World, Melbourne is one of a handful of Florida cities that claims it was the spot where Juan Ponce de Leon -- the first European to arrive in what would become the United States and the explorer who named this land La Florida -- first came ashore in 1513.
FUN FACTS: Located in Brevard County, one of many counties formed from a large part of Florida originally known as Mosquito County. Humankind's first trip to the moon started at nearby Kennedy Space Center, which also launched every space shuttle from 1981 until shuttle program's retirement in 2011.
FAMOUS NATIVE: Tim Wakefield
BEST FEST: The Space Coast Arts Festival is 50 years strong, attracting quality artists from throughout the United States.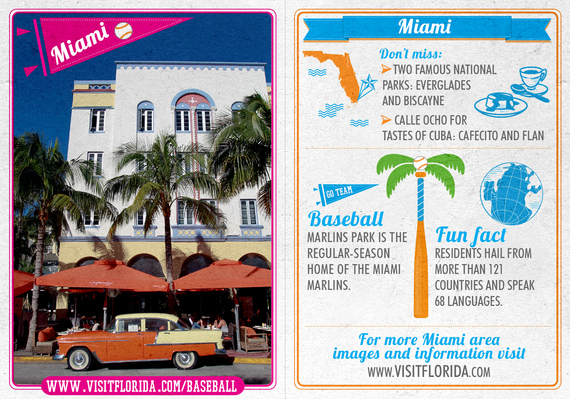 MIAMI: Home of Miami Marlins
Major League Baseball home
POPULATION: 413,892
LAND AREA (SQUARE MILES): 35.87
SEATING CAPACITY: 37,442 at Marlins Park
CITY SLOGAN: "It's So Miami"
FAMOUS NATIVES: Glorida Estefan, Mickey Rourke
FAMOUS FIRSTS: In 1996, a Miami bank installed an automated teller machine specifically for use by inline skaters.
NAME ORIGIN: Named after the Mayaimis, a Native American tribe that inhabited the region. The tribe took its name from the 467,200-acre nearby lake, then called Mayaimis and now known as Lake Okeechobee.
FUN FACTS: Miami doesn't have a founding father, but a founding mother. The city's development was spurred by Julia Tuttle, a widow from Cleveland who bought hundreds of acres in what would become downtown Miami, then convinced a railroad tycoon to extend his line here. Despite Miami's reputation as an urban mecca, this city is bordered two famous national parks: the Everglades National Park and Biscayne National Park, where you can board a glass-bottom boat for a unique view of the Biscayne Bay. Miami is a true international city, with residents hailing from more than 121 countries and speaking 68 languages.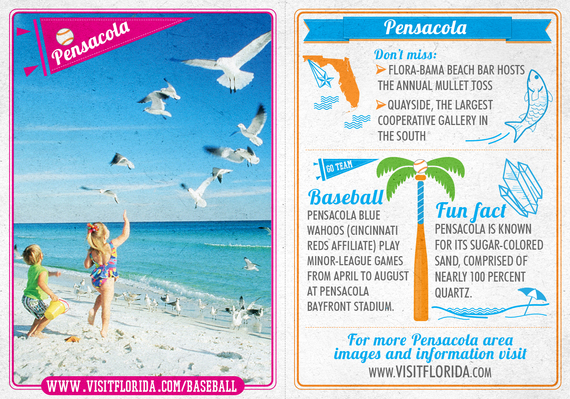 PENSACOLA: Pensacola Blue Wahoos
(Cincinnati Reds affiliate) Minor League Baseball team, Southern League (AA)
POPULATION: 52,340
LAND AREA (SQUARE MILES): 22.54
SEATING CAPACITY: 5,038 at Pensacola Bayfront Stadium
CITY SLOGAN: "The Upside of Florida"
HISTORY: The first European settlement in what would become the United States was founded here in 1559 - and was wiped out by a hurricane one month later.
FUN FACTS: Pensacola is known for its white sugar sand, comprised of nearly 100 percent quartz. The Flora-Bama Lounge & Package on Perdido Key in Pensacola hosts the annual Mullet Toss, where thousands of Floridians stand on the Florida side of the state line and throw dead fish into Alabama.
FAMOUS FIRSTS: Mechanical refrigeration was invented here in 1851, paving the way to cooler days ahead in the Florida sun.
BEST FEST: Pensacola is known for its thriving arts scene, which includes Quayside, the largest cooperative gallery in the South. The city celebrates the arts each year at the Great Gulfcoast Arts Festival.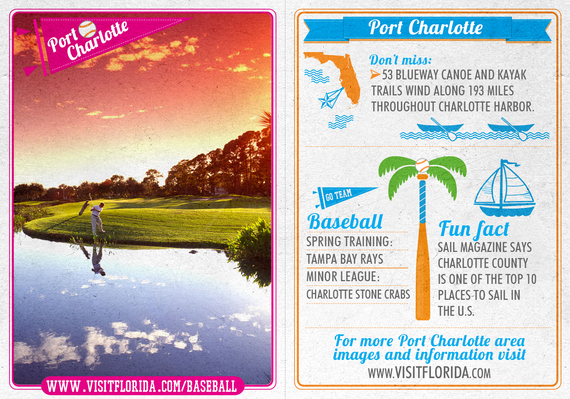 PORT CHARLOTTE: Tampa Bay Rays
Major League Baseball spring training
POPULATION: 54,392
LAND AREA (SQUARE MILES): 28.43
SEATING CAPACITY: 5,424 at Charlotte Sports Park
NAME ORIGIN: Charlotte Harbor was named in 1774 after British Queen Charlotte.
HISTORY: Teddy Roosevelt caught a 16-foot manta ray in Charlotte Harbor in 1917. Flowing into the harbor is the 106-mile-long Peace River, which got its name from early Spanish explorers who called it Rio de la Paz.
FUN FACTS: This area hosts the annual Snowbird Baseball Classic, where more than 20 NCAA Division II and III and several Division I schools come together to play ball each spring. Charlotte County has contended for top placement in many magazine lists, from MONEY magazine's "Best Places to Live in the South" and "Best Places to Retire" to CNN's Best Places to Retire and SAIL magazine's top 10 places to sail in the U.S.
IF YOU GO: About 84 percent of Charlotte Harbor is comprised of preserved land, and 53 blueway canoe and kayak trails wind along 193 miles throughout Charlotte Harbor.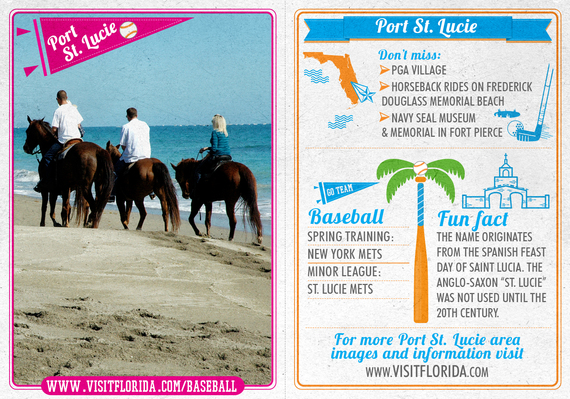 PORT ST. LUCIE: New York Mets
Major League Baseball spring training
POPULATION: 168,716
LAND AREA (SQUARE MILES): 113.95
SEATING CAPACITY: 7,300-plus at Tradition Field
NAME ORIGIN: The Spanish began construction of a fort here on the feast day of Saint Lucia, which is the likely source of St. Lucie County's name. The Anglo-Saxon "St. Lucie" name was not used until the 20th century.
HISTORY: This area experienced a major post-World War II construction boom in 1958, with homes selling for around $9,000.
FUN FACTS: Pineapple farming was once St. Lucie County's largest agricultural industry.
IF YOU GO: Port St. Lucie is home to PGA Village, with three public golf courses, a golf learning center, a golf museum and a library with golf-related materials that date to the 1920s. At Frederick Douglass Memorial Beach, visitors can ride a horse on the beach, making it one of the few places in Florida where beach horseback riding is allowed. The nearby National Navy SEAL Museum & Memorial in Fort Pierce honors the elite Navy unit and is located where the Navy Frogmen trained during World War II.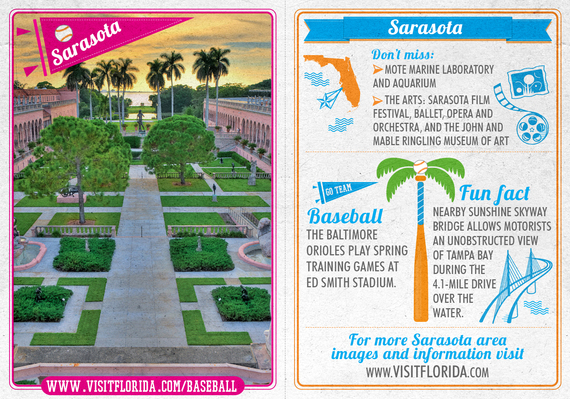 SARASOTA: Baltimore Orioles
Major League Baseball spring training
POPULATION: 52,811
LAND AREA (SQUARE MILES): 14.66
SEATING CAPACITY: 7,500 at Ed Smith Stadium
CITY SLOGAN: "Where Urban Amenities Meet Small-Town Living"
NAME ORIGIN: The earliest known maps called this settlement Zara Zote, perhaps an indigenous name or one given to the area by Spanish explorers.
FUN FACTS: Sarasota's famous Sunshine Skyway Bridge, a cable-stayed concrete bridge with vibrant yellow support cables, allows motorists an unobstructed view of Tampa Bay during the 4.1-mile drive over the water. Sarasota is also home to the Mote Marine Laboratory, a marine rescue and research facility.
BEST FEST: The Sarasota Film Festival has been firing up film auteurs for more than 15 years and has been called the best-kept secret for filmmakers seeking audiences for their works.
IF YOU GO: Sarasota is known as a mecca for culture and the arts and is home to the Sarasota Ballet, Sarasota Opera and Sarasota Orchestra. The John and Mable Ringling Museum of Art is the state art museum of Florida and is named after a former Sarasota resident whose name remains a fixture in the circus industry.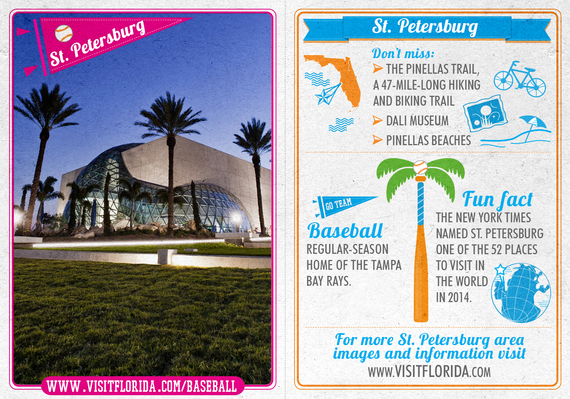 ST. PETERSBURG: Home of Tampa Bay Rays
Major League Baseball home
POPULATION: 246,541
LAND AREA (SQUARE MILES): 61.74
SEATING CAPACITY: 42,735 at Tropicana Field
CITY SLOGAN: "Surprising St. Pete"
NAME ORIGIN: St. Petersburg was founded by two men: one from Detroit and one from Russia. Local lore suggests the two men flipped a coin to determine which one got to name the city after his hometown.
FUN FACTS: Listed in the Guinness Book of World Records for the most consecutive days of sunshine -- 768. Also home to the Pinellas Trail, a 47-mile-long hiking and biking trail.
FAMOUS NATIVE: Angela Bassett
FAMOUS FIRSTS: The city is the birthplace of commercial aviation, thanks to pilot Tony Jannus, who flew paid passengers from nearby Tampa across Tampa Bay and into St. Petersburg in 1914. That same year, the St. Louis Browns trained here during unfavorable weather back home, making St. Pete the original spring training city.
BEST FEST: The city hosts the Honda Grand Prix of St. Petersburg, an IndyCar series race that routes race cars along the waterfront and through downtown.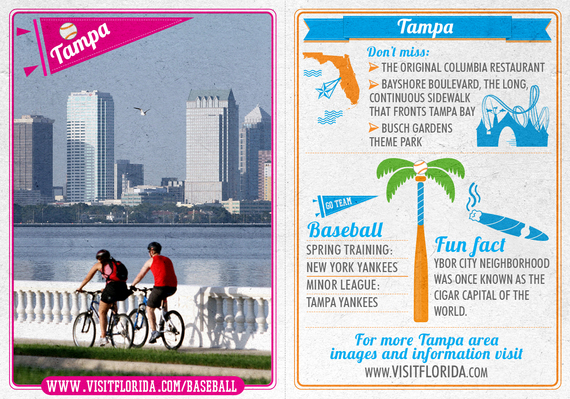 TAMPA: New York Yankees
Major League Baseball spring training
POPULATION: 347,645
LAND AREA (SQUARE MILES): 113.41
SEATING CAPACITY: 11,000-plus at George M. Steinbrenner Field
HISTORY: The city's Ybor City neighborhood was once known as the Cigar Capital of the World, producing an estimated 700 million cigars per year at some 200 factories.
FUN FACTS: Bayshore Boulevard, a long, continuous sidewalk that fronts Tampa Bay and some of the city's most beautiful homes, is a favorite spot for runners, strollers and inline skaters.
FAMOUS NATIVES: Dwight Gooden, Lee Roy Selmon
FAMOUS FIRSTS: Manon Rheaume, a native of Quebec City, Canada, was the starting goalie for the Tampa Bay Lightning at a preseason hockey game in 1992, making her the first woman to play in a men's major sports league in the United States. She deflected seven of nine shots.
IF YOU GO: For thrills, head to Busch Gardens Tampa, where the Kumba roller coaster travels 58 miles an hour and has a 108-foot vertical loop, and the Montu is a 3,983-foot-long inverted coaster.
-- by Amy Wimmer Schwarb for VISIT FLORIDA