It's called the Forgotten Coast, but the 90-mile stretch of Northwest Florida's shoreline from St. Marks west to Cape San Blas once was so dramatically -- if intermittently -- illuminated that it was hard to miss.

Which, really, was the point insofar as this sporadic illumination radiated from four classic and, by now, clearly historic lighthouses. Their purpose, obviously, was to warn that shoals and other danger lurked nearby for timber ships, fishing boats, vessels carrying produce to or from port and other maritime interests in or approaching the upper Gulf of Mexico.

Now, in the age of global positioning systems and other navigational devices, the lighthouses serve primarily as tourist attractions, though some of these flashing beacons still aid boat captains. All four are available to visitors, though to varying degrees, and all are within easy drives of Tallahassee or Panama City.

With a bit of advanced planning and fueled by the fresh oysters, shrimp and fish readily available in the area, tourists can weave a pleasant and informative day or two out of a visit to the four stately structures.

And very many do just that. So, what makes lighthouses this compellingly magnetic?

"It's the romanticism connected to lighthouses, the isolation and all that it entails," said Lonnie Mann, 69, a retiree from Tallahassee who often visits the towers. "It's something people are looking for - maybe some solitude and peacefulness in their lives."

Listen to Tom Aleksandrowicz, 56, a New Jersey native who now lives in Brooksville, Fla., and has visited lighthouses all along the Gulf and Atlantic coasts: "It's the maritime part of it. These people sailed the seas and, if it weren't for the lights, half of them wouldn't have made it. It's the mystique of it."

Yes, the mystique, the romanticism, the (now lost) isolation. Let's try to recover some of that by starting our "Forgotten Coast Lighthouse Tour" on the eastern edge of the region and working our way west.

St. Marks Lighthouse
Located in Wakulla County just 20 miles south of Tallahassee, the St. Marks Lighthouse is a good place to begin, even though only the site of the lighthouse (rather than the increasingly creaky structure itself) is open most days to visitors.

Eighty feet of brilliant whiteness built in 1842, the lighthouse is attached to the keeper's house, both maintaining watch over the nearby harbor entrance. At night, the light still flashes every four seconds.

Like all lighthouses sited along this stretch of the Gulf Coast, the St. Marks tower has been -- and continues to be -- a frequent target of hurricanes. As a consequence, the tower boasts walls four feet thick at the base, tapering to 18 inches at the top. The keeper's house, constructed in 1871, is similarly fortified against nature.

These days, the site is jointly operated by the U.S. Coast Guard and the St. Marks National Wildlife Refuge, though the Coast Guard is in the process of handing it over to the refuge.

If You Go
The St. Marks National Wildlife Refuge is open daily during daylight hours. The lighthouse is located at the gulf-end of County Road 59 (Lighthouse Road), with the visitor parking lot at 1255 Lighthouse Rd. From Tallahassee, head south on Monroe Street and veer left on Woodville Highway (S.R. 363). Make a left on U.S. 98 and a right on C.R. 59. More information.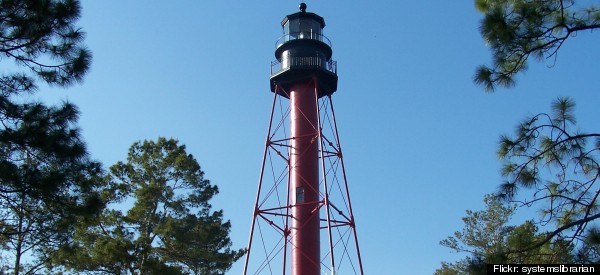 Crooked River Lighthouse

This blink-and-you'll-miss-it lighthouse really does seem to belong in a region known as the Forgotten Coast.

Located a bit inland, on the northern side of U.S. 98 about three miles west of the fishing village of Carrabelle, the red and white, iron and steel Crooked River Lighthouse has stood on this spot since 1895. Its purpose: to help vessels navigate the dangerous pass between St. George and Dog islands.

Listed on the National Registry of Historic Places but decommissioned by the U.S. Coast Guard in 1995, the 103-foot tower was deeded to Carrabelle, thanks to the devoted efforts of a group that became known as the Carrabelle Lighthouse Association.

If You Go
Happily, the lighthouse -- and 138 steps of it -- can be climbed on Saturdays and Sundays from 1 p.m. to 4 p.m., weather permitting. The cost is $5 per person and climbers must be at least 44 inches tall. "Full Moon Tower Tours" are offered for $10 per person on nights of the full moon, weather permitting. The Keeper's House Museum and Gift Shop, a replica of the original keeper's house, is open from noon to 5 p.m. on Thursdays through Sundays. Phone: 850-697-2732.

From Tallahassee, head south on Monroe Street veering right on Crawfordville Highway (U.S. 319). Continue south and west on U.S. 98 through Carrabelle to Crooked River Lighthouse Park, about three miles west of downtown Carrabelle. (Proceed slowly and look for the lighthouse tucked into the northern side of the road.) More information.

Cape St. George Lighthouse
Continuing westward for a mere 20 miles, we encounter not just another stately lighthouse, but also a terrific story about a community that would not let the light perish.

The Cape St. George Lighthouse managed to survive hurricane after hurricane, natural abuse after natural abuse, from the moment it was completed on Little St. George Island in 1852 until Oct. 21, 2005. On that solemn Friday, the fine old lighthouse finally gave way to 153 years of erosion and high surf, crumbling into the Gulf of Mexico.

But the residents of the nearby fishing town of Apalachicola and other parts of Franklin County - devotees who struggled for years to shore up their lighthouse - were not ready to surrender. They salvaged and cleaned the old bricks and arranged for the 74-foot-tall, 92-step lighthouse to be rebuilt on the larger, more populated St. George Island, where it re-opened in 2008 and now stands proudly - easily accessible and ready for your visit.

If You Go
Continue west on U.S. 98 to the truly tiny town of Eastpoint. Follow the signs to St. George Island, turning south on State Road 300, which becomes a causeway. The Cape St. George Light and an accompanying museum and gift shop are located at 2 East Gulf Beach Drive, smack in front of you as the causeway from the mainland dead ends 100 yards or so from the Gulf.

Hours: From March 1 through Oct. 31, open from 10 a.m. to 5 p.m. on Monday, Tuesday, Wednesday, Friday and Saturday, and from noon to 5 p.m. Sunday. Closed Thursday. Hours are abbreviated during the winter season, from Nov. 1 through Feb. 28.

Fees for climbing the lighthouse: Adults - $5. Children under 16 - $3. Under age 6 and U.S. military personnel with ID - no charge. Climber must be at least 40 inches tall.

Full moon climbs also are available here for $15.00 (including light snacks) or $10 per person. Reservations are suggested. Call for dates and other details: 850-927-7744 or toll free 888-927-7744. More information.

Cape San Blas Lighthouse
A sadder fate, at least for now, has been visited upon the Cape San Blas Lighthouse, located about 30 miles farther west.

It and its predecessors near the town of Port St. Joe also struggled for well more than a century against the ravages of nature. Frequently rebuilt and relocated, the lighthouse and two accompanying buildings eventually came under the jurisdiction of the U.S. Air Force, which controls much of Cape San Blas and uses a facility there to track flights from nearby Air Force bases.

Alas, in October 2012, the Air Force ordered the 101-foot-tall, 131-step lighthouse - the source of much local pride in Gulf County and a popular magnet of tourists - closed with just 10 days notice.

"It's sad to see everything go," said Beverly Mount-Douds, the longtime Cape San Blas "Lighthouse Lady," who pretty much ran the place. "Kids today, they're not going to know anything about lighthouses or fire towers or drawbridges. We should be sharing the history of these places with our children. That's what it's all about."

She and her colleagues in some local groups are trying to raise money to acquire the tower and its buildings and move them to a safer location.

Meanwhile, you can still see the top of the tower from Cape San Blas Road (details just below) and inventive visitors who don't mind walking a mile or so along the beach can get pretty close to what, for the moment, is a phantom lighthouse. In addition, the gift shop has been moved to the Old Maddox House in Port St. Joe, right along the coast at 105 Captain Fred Place.
In other words, it's not over yet.

"We're going to keep fighting," Mount-Douds said, looking a recent visitor directly in the eye. "I'm the Lighthouse Lady - and I will continue being it."

If You Go
From either the east or west, take U.S. 98 and turn toward the Gulf on County Road 30A, which hugs the coast as you approach Cape San Blas. Turn onto Cape San Blas Road and follow it toward the lighthouse. As you approach the bend, you can spot the tower soaring above the tree line. More information.
PHOTO GALLERY
Endangered Northwest Florida Lighthouses