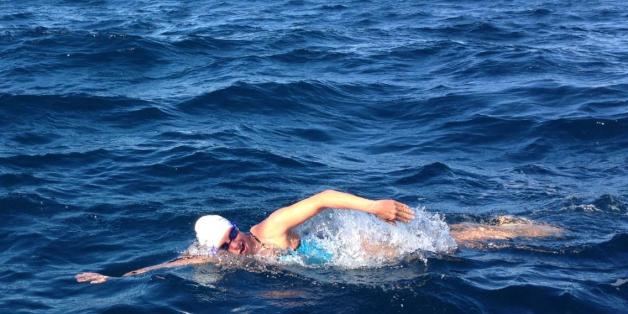 On August 22 at 3 p.m., world class-swimmer Grace van der Byl stood on the shore at Point Conception, Calif. (near Santa Barbara) and launched herself into the choppy, 60-degree water.
And so began a grueling 228-mile journey for our six-person relay team, the Night Train Swimmers, who embarked on an open-water relay effort that would go on to break the world record for longest open water relay swim and raised nearly $228,000 for the Navy SEAL Foundation.
In the 100 hours and 24 minutes it took to swim from just north of Santa Barbara to San Diego, our team battled jellyfish, fatigue and asthma. One swimmer even had to fend off an amorous seal.
As team captain, and one of three skippers who piloted the escort boat alongside these gladiators - Grace, Phil Cutti, David Holscher, Zach Jirkovsky, Luane Rowe and Blair Cannon - I'm in awe of their strength and tenacity. There is simply no whining or quitting on this extraordinary team, which we formed five years ago to raise money and awareness for causes we care about.
One of the things we care about right now is supporting the Navy SEAL Foundation.
There's no question that long-distance, open water swims are physically exhausting and mentally challenging, but it pales in comparison to the challenges faced by the heroes we swim for.
Since 2008, we've raised more than $1.3 million for military and charitable causes - persevering through shark sightings, brutally cold water and fields of stinging jellyfish - truly nasty, disgusting and painful creatures.
(People always ask about the shark issue. I tell them you just have to turn off the fear. As Mike Thornton, the most decorated Navy SEAL of all time, a Vietnam vet and Medal of Honor recipient, says, "If you're worried about something biting you, you can't focus on the mission!")
During the swim, as our team members completed their hour-long shifts in the water, I urged them to embrace mental and physical discipline, with the same audacity as our Navy SEALs.
"Just imagine what it's like to be a SEAL," I told them. "Plus, you're only swimming for an hour, you're not going to Afghanistan in the morning."
Because that's the reality these warriors and their families face every day. We are in awe of their commitment and sacrifice, and it's a privilege to associate with them, and help the Navy SEAL Foundation carry out its mission of support and assistance.
SEALs operate in the world's most dangerous war zones every day. And their deployments and training evolutions have become longer and more frequent. On average, they are gone for up to 270 days every year. At home, their families struggle and worry. Some wives become widows, and some sons and daughters lose their daddies forever.
We honor their sacrifices and recognize that for some, the emotional pain and physical scars inflicted during their operations will last a lifetime.
We share common concerns and goals with the Foundation; that the SEALs and their families must be supported. We want to help the Foundation make their lives easier, whether it's flying a family to the bedside of a wounded SEAL, providing grief counseling for the bereaved, or funding scholarships.
This nonprofit's services are vast and varied, helping widows with home repairs, mortgage assistance, college tuition, job training and childcare. Perhaps most importantly, it provides a real community for SEAL families.
Since many Night Train Swimmers have ties to the U.S. military, we understand firsthand the challenges they face.
Grace's father was a Vietnam veteran. I have many friends in the SEAL community, and I myself served with the Army's 25th Infantry Division in Vietnam.
After emigrating from Europe to America, I joined the military on my 17th birthday in order to gain citizenship. The Army promised to deploy me to Germany, but instead, I was sent to fight in Vietnam.
While in Vietnam, I lost five tanks and was shot in the head. But I survived and I'm still here.
There's no doubt my own experience as a Vietnam vet, including the widespread rejection and hostility faced upon returning, has inspired my passion for supporting our troops and their families.
The mental welfare of returning soldiers is still a major concern for us. It's not easy to recover from war, and many never do. The Veterans Administration can't even locate many vets, because they don't want help.
That's why organizations like the Navy SEAL Foundation are so critical; they support these elite warriors and their families in so many ways, and ensure they remain connected to each other and much-needed services.
The Night Train Swimmers are grateful we can use something we love - swimming together in open water, under the stars - to help those who've sacrificed so much.
Our veterans and their families deserve all the love and support we can give.
Night Train 228 from vito bialla on Vimeo.
Vito Bialla is a partner and founder of Bialla and Associates Inc., a nationally-recognized executive search and management consulting firm based in Sausalito, Calif. He is also a member of the Olympic Club, The San Francisco Yacht Club and a board member of the Night Train Swimmers. He spends his free time completing extreme long distance athletic events and raising money for charity.