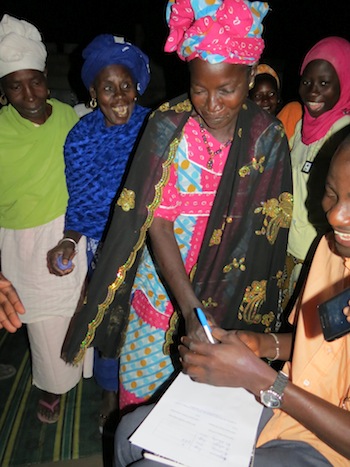 On Monday, January 14th, 2013, Just Like My Child Foundation officially signed a covenant with community members for a sustainable water irrigation project, which aims to generate income within the community of Keur Cheikh in Senegal.
The community of Keur Cheikh has agreed to co-invest by providing labor for building the irrigation system's infrastructure -- valued at 20 percent of the project's total budget -- and has made a commitment to fully participate in the management and care of the project. Once the irrigation system is in place, the community will begin a collaborative gardening project.
Since the signing of the covenant, tools have been purchased and distributed within the community of Keur Chiekh as villagers excitedly make preparations to begin carrying out their community co-investment of trench digging for the irrigation system's infrastructure. This project will bring increased income generation to the entire community, and the garden will provide sustenance to many of those involved.
Here at Just Like My Child, we are delighted to see the project breaking ground after many months of careful assessment and planning. We are proud to be working with this community, and eager to see the benefits of this income-generating irrigation project unfold.
Stay tuned for more updates from the ground in Senegal!