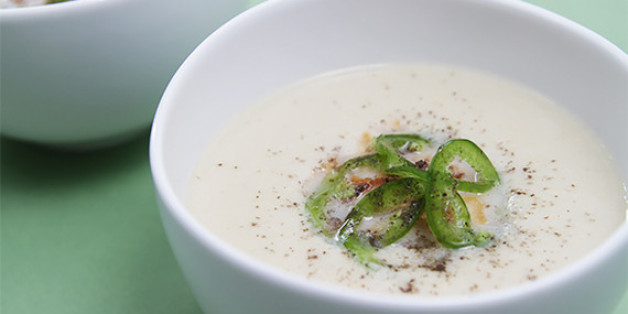 This chilled soup captures the essence of sweet summer corn in the most magnificent way -- it's as pure as can be, and all about the corn. And the coconut milk, which is the base for the soup, accentuates the sweetness of the corn even more and makes the soup smooth and velvety.
But all that sweetness needs to be balanced, and that's where the garnishes come in -- here, they are as important as the soup itself. First large coconut flakes are toasted to add a bit of crunch to the creamy base. Then the soup is adorned with super-thin slices of jalapeño peppers. They bring a spicy bite that's absolutely marvelous with the sweet corn. Last, but not least, the smoked salts bring another important contrast -- think of what salt does to caramel.
The recipe for this chilled soup is quite simple, yet the flavors are both exotic and exciting... Enjoy!
Chilled Sweet Corn Soup with Coconut Milk
serves 4
active time: 40 min
For the toasted coconut
1/3 cup unsweetened large coconut flakes
For the soup
3 tablespoons grapeseed or almond oil
2 large shallots - skinned and cut in 1/4″ pieces
1/8 teaspoon ground cayenne
5 large ears fresh corn - husks removed and kernels shaved off the cob with a sharp knife (4 1/2 cups)
2 cups vegetable stock
2 1/2 cups light unsweetened coconut milk
1 teaspoon sea salt
1 jalapeño pepper
fine smoked salts or fleur de sel as garnish
Preheat oven to 375°F (190°C).
Step 1: Place the coconut flakes on a small baking sheet and bake for 2 to 3 minutes until golden. Remove from oven and set aside.
Step 2: Heat a large heavy-bottomed pot over medium-high heat. Add the oil, shallots and cayenne and sauté for 2 minutes until the shallots have softened, stirring from time to time. Add the corn and continue to sauté for 2 or 3 minutes until the corn is translucent, stirring frequently. Add the stock, coconut milk and salt and bring to a boil. Once boiling, reduce heat to medium/medium-low, cover the pot and simmer for 10 minutes until the corn is tender. Purée the soup with a stick blender or food processor until very smooth -- about 2 to 3 minutes -- then strain in a medium-meshed sieve. Discard the pulp and adjust the seasoning if needed. Cool the soup to room temperature. Once cooled, transfer to a container and refrigerate until well chilled, for a minimum of 4 hours or up to 3 days.
Step 3: Using a mandoline, slice the jalapeño crosswise in paper-thin slices. Spoon the soup in bowls. Garnish with the toasted coconut flakes and the jalapeño slices, sprinkle with the smoked salts and serve.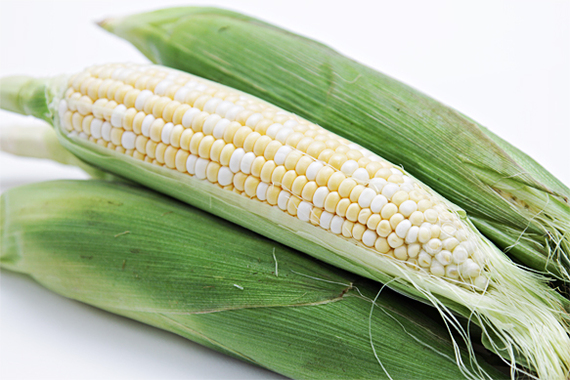 * * *
Here's another scrumptious chilled soup: Chilled tomato soup with Pimentón Dulce and olive oil croutons!