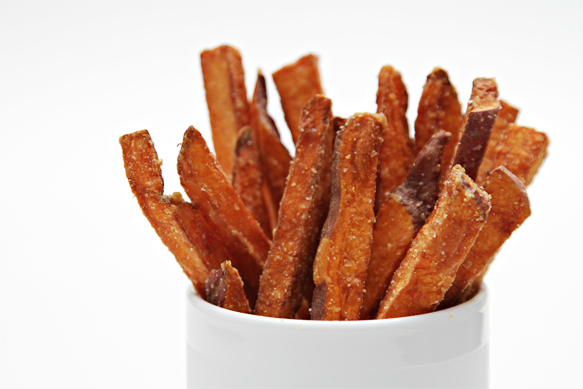 Sweet potato fries are a delicious and healthy alternative to regular fries, but they turn soft and soggy in no time -- something that has always troubled me. So I decided to experiment and see if I could come up with a way for the delicious morsels to retain a crisp edge.
The obvious way to go was to try different kinds of flours to coat the fries. Regular all-purpose flour made the sweet potatoes too dry, and so did semolina. Corn flour made them too heavy. Rice flour yielded better results, but it made the fries brown too fast. I finally turned to chickpea flour... and to my delight, the fries were fabulous! The delicate chickpea flour gave just enough coating to prevent the fries from softening up, but didn't weigh them down or dry them up.
The other factor that needed a bit of experimenting was the size of the fries themselves. Slice them too thin and they end up cooking too fast; cut them too big and they still tend to get soggy. But with a little practice, I got them just right!
Served with a flavorful homemade cilantro-lime Aioli, these sweet potato fries are incredibly delicious and as healthy as anything fried could ever be.
Hand-Cut Sweet Potato Fries with Cilantro-Lime Aioli
Serves 4
Active time: 20 min
For the Aioli
1/2 recipe Homemade Aioli (omit the vinegar)
1 tablespoon lime juice
2 tablespoons finely chopped cilantro
For the fries
2 1/4 lbs (1 kg) sweet potatoes - scrubbed clean, unpeeled and cut in 3/8" sticks
1/2 cup chickpea/garbanzo bean flour
sea salt to taste
peanut, canola or other high-heat vegetable oil for frying
Step 1: Make half a batch of this homemade Aioli, but omit the vinegar. Add the lime juice and cilantro and whisk until well blended. Refrigerate until ready to use.
Step 2: Heat a deep fryer to 375ºF (190ºC). Place the sweet potato slices in a large bowl. Sprinkle with the chickpea flour and toss with your hands until well coated. When the oil is ready, place the sweet potato slices in the basket, being careful not to overcrowd them. Fry for 5 to 8 minutes until golden-brown. Remove from fryer and drain on paper towels. Repeat with the balance of the sweet potato slices. Sprinkle the fries with salt and serve piping hot with the cilantro-lime Aioli on the side.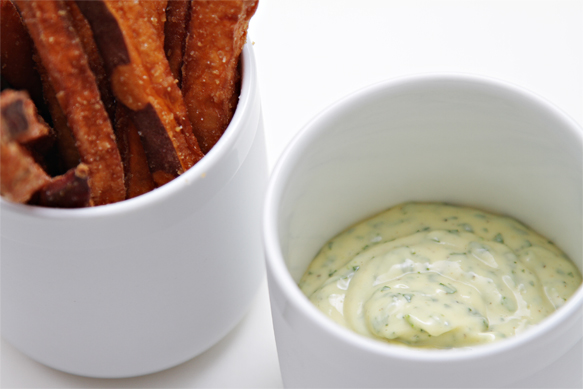 Now... how about these cumin-crusted oven fries?