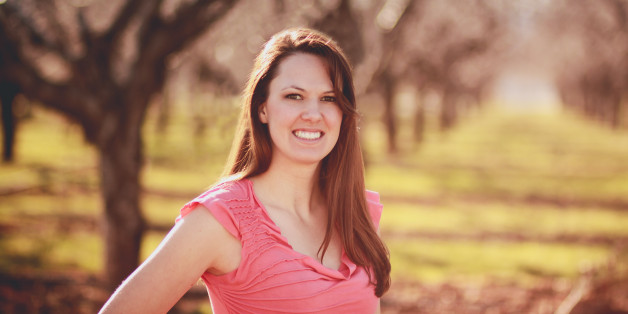 This story was produced in partnership with Facebook Stories. Submit your own Facebook story here.
---
In December of 2009 I became seriously ill with my liver sitting on the verge of failure. My doctors suspected that the treatment I needed would include MRIs and surgery. Unfortunately, those weren't options for me since the doctors had also found out that I was pregnant.
For a month I continued to be very ill and barely able to eat, but finally my liver enzymes started to decrease. What I didn't know was that my body had made a choice: keep my baby alive or me. I was getting better, but my baby was dying. When I realized that something was wrong I went in for an ultrasound. Happily I got to see that my baby was still there and had a beautiful heartbeat! Unfortunately my hopes were quickly diminished when disaster struck the next morning as I began to miscarry my sweet baby. I was devastated and was left with nothing more than a tiny ultrasound picture of a child that I would never get to meet.
I struggled through the following months to stay positive, despite a second miscarriage and continued bad news from my doctors that I would probably never be able to carry more children without risking my own life. During that time I had turned to photography as an outlet from my illness and worries. I took people's portraits and soon grew to love capturing landscapes. I needed photography in my life to help me to continue to see the beauty in the world around me so I shared my photos with friends and on photography pages on Facebook.
For some reason though, just taking pictures didn't feel like enough. I wanted to do something bigger. Something that could be shared across the world. Something that could inspire people. Something that could distract from all of my own pain and heartache. I needed something to help heal my heart.
One night while sitting in bed trying to read, I kept being led back to the thought of, "How can I create something bigger with my photography?" Through asking myself this question over and over again, the idea began to blossom in my mind.
That night, July 18, 2010, the idea finally hit me that I should send out an item that multiple photographers around the world could photograph and then also record a piece of their lives in it forever. I realized that it should be a beautiful journal!
I decided to act on the idea right then so that I wouldn't wake up and brush it off as just a silly late night idea. I immediately opened my laptop and created a Facebook Page for it, knowing that would be the best way for me to reach out to other photographers around the world. That was the night Photography's Traveling Journal was born.
I set up a plan for each photographer to take a picture of the book in a location of their choice and then print the photo to be placed inside of the book. The photographers would write a little bit about themselves, why they chose the location of the photo and an answer to the question, "What is the most important thing that you have learned in life?"
The photographers would also post the photos and journal entry to our Facebook Page so that the world could follow along. The book would then be passed onto the next photographer in line.
Feeling encouraged by friends, I started searching for photographers on Facebook and sent messages to people all over the world asking if they would participate in the project. Within a month I had photographers lined up in Japan, Argentina, India, Turkey, Egypt and more. Each person was excited and willing to pay the cost of shipping the book on to the next person in line.
Rogue Journals agreed to sponsor my project with a custom-made journal. It is a gorgeous handmade leather bound book that has held up through over three and a half years of traveling the world. The book has now been photographed in 18 different locations around the world and still has many more places to visit. Although it has taken longer than we all expected, it has been more than worth the wait. The book has visited Costa Rica, Canada, Brazil, Iceland, France, Turkey and many more beautiful places.
Through this project I have made friendships with many passionate photographers. They each have touched my life through this book that we have all held, photographed and added a piece of our lives to. We are all connected through this amazing and unique journey. To see that everyone has their trials and their struggles has blessed me in a way, too. And seeing their selflessness and willingness to participate in something that a stranger asked them to be a part of has shown me there's still a lot of good people out there.
This project has been more powerful for me than any of my photographers could ever know. I didn't just put a small part of myself into that book, I put my heart and soul into it in hopes that it would help to heal my broken heart. And it did help despite the fact that I still lost another baby during the journal's travels. This project was the distraction I needed and would continue to need. Thankfully, God finally gave me a healthy and beautiful baby boy in 2012. He is my miracle and has completed our family of five.
Once Photography's Traveling Journal makes its way back to my home in Utah, I'd love to see the book published, even if only to give each journal member a copy of this precious journey that we've all embarked on. I will also soon start Photography's Traveling Journal, USA Edition and a third book that will be starting in a surprise location. Get involved and stay updated through our Facebook Page.
Vonda Jensen is a hobbyist photographer who lives in Santaquin, Utah, with her husband and three children. She enjoys sharing hope, encouragement and stories of overcoming through motivational speaking. She is currently searching for professional photographers to join the USA Edition of Photography's Traveling Journal.