Principal Denny Starnes from Mount Pleasant, Michigan's Sacred Heart Academy, spoke today in front of the student body about the controversial decision to disinvite Dominic Sheahan-Stahl as graduation speaker because he is gay. Sheahan-Stahl, a Sacred Heart alumnus and older brother of a current graduate, was asked in the fall to give the keynote address at the May 20 graduation but was subsequently told he was "no longer welcome" to speak when the school and Bishop Joseph R. Cistone of the Diocese of Saginaw learned he was gay after reading on Facebook about his engagement to his partner, Nathan.
Starnes confirmed that the school and diocese were standing by their decision to bar Sheahan-Stahl from giving the keynote, "Putting Faith Over Fear," at his younger brother's graduation.
During the emotional announcement, Starnes expressed personal conflict over the decision to bar Sheahan-Stahl from speaking at graduation, saying, "This is hard for me. Denny Starnes is not the diocese, not the Catholic Church. I'm torn. My family expects me to do the right thing -- God bless this school for having students and parents for standing up and getting behind what they believe. It's not the same as the diocese, which I respect. They don't share the same view on outcome."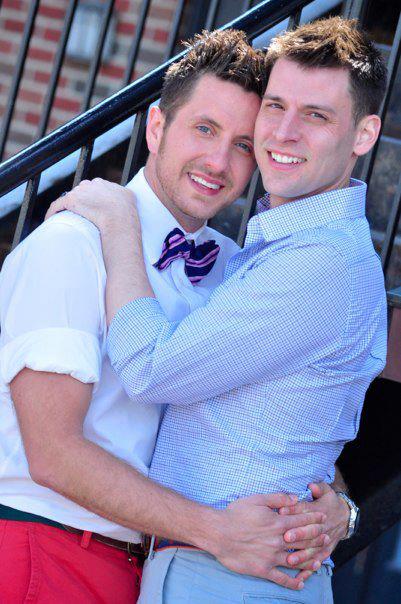 Starnes made it clear that while he did not agree with the decision of the Saginaw Diocese, his feelings were trumped by the church's teachings and the decision of Bishop Cistone, telling attendees to expect a separate announcement from the bishop's office. Along with his emotional speech, Starnes fueled speculation that he had either been fired or would quit over the issue when he told underclassman he would not be there for them in the future, saying, "Remember this message, I will not be here to remind you. If you're willing to cast first stone, think first."
In another surprising move, considering the entire controversy was about allowing an openly gay man to address the students on graduation, Dominic Sheahan-Stearns joined the announcement with Starnes via Skype and got to speak to the assembled students. "This has been hard on me and my family, but we're standing strong together," said Sheahan-Stahl. He also thanked the students and the community of Mount Pleasant for their support, saying, "I was one of you. I went to this school. I am a graduate of Sacred Heart academy. I was an altar boy. I was a Eucharistic minister. I was in the choir. I learned all the lessons that you did. I hope you will continue to stand with me so that future generations will not have to withstand this kind of discrimination."
Sheahan-Stahl said that he will deliver a speech soon at Warriner Hall on the campus of Central Michigan University. Principal Denny Starnes asked if he could join him at that speech. Discussion among students also started about moving graduation to a venue where they could let Sheahan-Stahl speak.
Students have been rallying behind Sheahan-Stahl at school since the announcement to bar him was made, including wearing homemade "Let Dom Speak" shirts and putting up signs protesting the bishop's decision. A groups of current students called "SHAStudents4Change" also created a video in support of Sheahan-Stahl. The video features students wearing their white "Let Dominic Speak" shirts saying they are against discrimination and hate -- and for love and justice. It ends with a plea from William Sheahan-Stahl, Dominic's younger brother and a senior at the school, saying, "Help us stand against homophobia in our schools, and let my brother speak."
Since the decision, social networking and media attention have also kept pressure on the administration at Sacred Heart and the Saginaw diocese to change their minds and let Sheahan-Stahl speak. A Facebook page called Let Dominic Speak has been quickly growing with words of support for Dominic. The Twitter hashtag #LetDominicSpeak has also become a viral movement for expressing both support for Sheahan-Stahl and outrage at the decision of Sacred Heart and Bishop Joseph R. Cistone of the Diocese of Saginaw. A Change.org petition called "Sacred Heart Academy, Mt Pleasant MI: STOP endorsing homophobia" has been circulating online, as well, and already has over 4,000 signature in just a single day.
As pressure continues to mount, both from students and from the general public, one thing is clear: the controversy is far from over. "The issue has not been resolved," says Sheahan-Stahl, summing up where the situation stands. "I am still not allowed to speak at my brother's graduation. In the end, all I am is Willi's brother, and I am going to be at his graduation to support him."