Welcome to Education Unplugged 101.
For the next 12 weeks, you are invited to participate in this major renovation, rewiring, rewriting, and revolutionizing of education. You are participating in the writing of history, as we focus our collaborative spirit towards one of the 21st century's most challenging issues - education.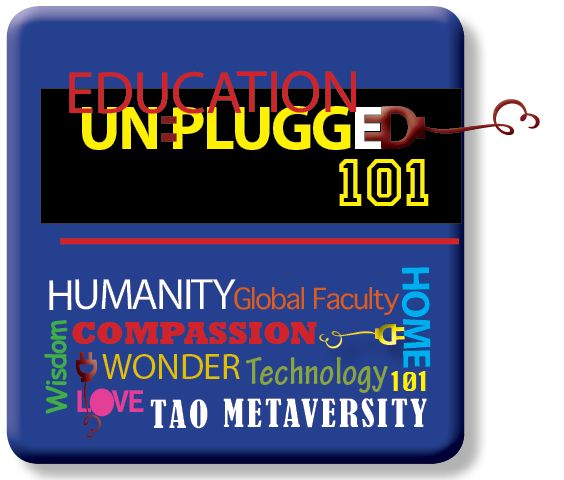 With your choice to participate, you are immersing yourself, for the next 12 blogs, in the roles of students, teachers, authors and architects, to pen and build the scaffolding for an educational framework to support the challenges and advances of humanity. This framework for an experiential education will serve as a starting reference point as we open source the blueprint for education of the future. Many of us are talking about what can be done in education. What can we do with a system that is antiquated and less than its brilliant students and teachers? Join this critical conversation.
If you were home schooled or are home schooling your children, participate in this 12 week conversation. If you have graduated from the numerous public school systems, participate. If you went to private school or are sending your children to private schools, participate by joining in this conversation. In fact, include your children in this 12 week conversation as part of a conversation they can collaborate in, regardless of their age.
Workload: 4-8 hours a week
About the Blog Series
In Education Unplugged 101, we'll all look at the big picture of 21st century education by sifting through the various pieces. Some of the pieces include: longevity, Autism and ADD, augmented realities, neuroplasticity, the internet, online educational options, multi-generational education, social networks, innovative tuition models, educational crowd funding, micro gifting, world campuses and a global faculty. Your participation and collaboration will be a critical piece of the framework for an experiential education in the 21st century.
Recommended Background
These blogs are designed as an introduction to a collaborative conversation about the world we live in, the state of humanity and the path to inclusion for all in educational freedom. If you are a quilter, bring your ability to share, your thread and needles to help connect the pieces of this collaborative educational conversation. If you've been through the educational system, bring your experiences, bring your ideas, bring your vision for the 21st century. If you are a builder of any kind, bring your imagination, strength and courage to forge new designs and aid in the construction of an experiential educational framework. If you're in government, bring your open mind and your willingness to participate in the building of humanity. If you are in media, bring your voice, resources and power to disseminate clear information on what we, as the people, are participating in as we rewrite, renovate, rewire, and revolutionize the experience of education in the 21st century. You are being asked to participate in the reframing of education for today, tomorrow and history. No other particular technical knowledge or prior coursework is required.
Blog Format
This series of blogs will consist of links to lectures from various teachers and sources. Each blog contains questions you will be asked to answer once you register online. Your input each week is extremely important! It is what will help draft, form and build the blueprint for 21st century education. One blog will be posted each week here; you can access them any time after that. There are also standalone multiple-choice and essay questions for most weeks of the blog (5-15 questions per week). The series of blogs will end with an overview containing your input, ideas and innovations for experiential education in the 21st century. From there, we all can participate in the bar(n) raising.
There are no grades given through these blogs. There are no right and wrong answers. In fact, we'll ask you for your ideas and solutions on new ways to test knowledge. We'll ask you for ways education can simply remind you, to see how you are doing and be reminded of things you may have only forgotten.

The Cost: Free
The Investment: Time, thought, participation, imagination, collaboration, expression
Online Venue: Register here
The Internet is successful because it wasn't made to do anything in particular. Therefore, it remains open to all that has happened on it, around it and because of it. Like the Internet, this blog series is offered and open to all who have happened on it, have anything around education and want to participate because of it. It invites you to participate in this global conversation and co-creation of education in the 21st century. These next 12 weeks are about open thought and communication, recognitions and conversations as we all open ourselves up to imagination and wonder about the 21st century's possibilities.
Take a few minutes and invite your team of friends and family to participate in this blog series. Invite your Elders and children to bring their wisdom and join with you in this global conversation and exploration of possibilities. Invite them to participate with you in writing our history rather than reading about it.
An Appetizer: Metaphor for the Education System:
When we have a short in the electrical system, the first thing we do is unplug from that which is causing the short. It stops the flow of electricity and gives us time to decide what is broken, not grounded, outdated, needs to be replaced and then we decide once we know the possible solutions and the costs involved.
Using that metaphor, your answers to the next questions will tell you about your mode of thinking, belief systems and what generation you're from.
Now, go ahead and fill out the online survey
So, what is your mode of thinking and what generation are you from?
How you made decisions from the choices given, tells you about what generation you are from, what mode of thinking you use when it comes to resources available to you, your level of familiarity with the internet, your comfort of doing it yourself, and who you consider to be your "family, friends and teachers".
If you are from the pre-internet days (baby boomer), you probably did the initial check out of possible problems yourself, called a family member if you had any semi qualified family member to help, then went to the phonebook, rolodex, day planner and picked up the land line to dial information to secure a number of an electrician. Next you called an electrician or went to your local home improvement store to quiz an associate about the possible combination of problems and names of qualified electricians. You might have arrived armed with wires and widgets as you and your new found friend (the store associate) examine the treasures you brought and discuss the numerous possible problems associated with the plug, wiring, outlet, etc.
If you're from the next generation, but not quite a member of Generation X (l960's-l980's), you probably did a combination of the above and mixed it up using a very early form of social networking. Calling from a hard copy list of friends and family, they may have verbally liked or disliked the solutions and candidates you shared with them.
If you are from the latter day Generation X, or even part of the millennial generation, a generation spanning from about l982-2004, you almost certainly got online, ordered the part or found where it was in stock around your city, and used the GPS system on your computer, phone, tablet or nav system in your car to get directions. As you drove you called the store via Siri or whatever voice activation system is available to you so that the part would be waiting when you arrive. You probably chose between the swipe or scan payment method and then returned home to do it yourself using the online directions searched for on your mobile device, or you accessed the instructions still on your desktop utilizing voice recognition software, allowing the directions to be read aloud for hands free installation.
What will the next generation do, whatever they are called?
A. They might scan over the outlet and receive a reading on their glasses or virtual keyboard, order the necessary part online and have it sent to their 3D printer to install after it's "printed".
B. They'll scan the problem with their decoder which adjusts the current and fixes the problem immediately, or they may simply look through the wall to see the matrix of codes, scan through their own internal library of knowledge and with their own clear thinking fix the problem
.
C. They might also get online and crowd source the problem by calling their "guild" together to deliver the quest of reconnecting the power source. They'll send in the most reliable and qualified person to locate and mobilize the problem. On screen the Guild members will watch as qualified "characters or classes" do what they do best as they raid the system reconnecting and eliminating the "old bosses" to make way for the "new bosses," and after making the proper connections now have a system considered to be up to code (as my generation would call it).
This is only a fraction or quark of what we need to take into account when we imagine what education might look like in the 21st century. When we look at what has happened in the 20th century we can pull from our learning banks, belief systems, reference points, fears, worries, hopes, and dreams based on history and reflect forward to imagine what might happen. Even with all those factors/elements combined, we could not have imagined what has happened in the last 100 years let alone what will happen in the next 50.
Through the next 12 blogs we'll explore:
Blogs one - four: Pieces and parts we need to consider and include:
Cleaning the Blackboard, What Do We Know? Really?, The World At Our Fingertips or It's Getting Under Our Fingernails, The Visitors of Social Networks -- Media, Mindnets and Gaming -- Oh My!
Blogs five - eight: Building materials of curriculum, faculty, campuses:
Global Faculty, Global Curriculum, Online Education, Clouds and Beyond - The Meta Cloud, Global Campuses
Blogs nine - twelve: The summary and construction of the framework:
Tuition Opts, Certification for Teachers/Students, Education for the Ages -- EFTA,
Ideation Summary: Innovation, Creativity and Imagination
One FAQ being asked -- Do I need to bring anything?
Yes. Bring everything you are. Bring your vulnerability and honesty. Bring an open mind and heart and keep all hands and feet in as we begin this adventure ride.
Next week, we'll start with Cleaning the Blackboard. Sharpen your pencils, ready your note books, lay out your clothes, and join next weeks conversation! Whatever gives/gave you the most joy in preparing for education, do it again and we'll see you next week!
This week, invite friends and family to join you in this global project. Adventures are always better with a friend.