 "But there's a story behind everything. How a picture got on a wall. How a scar got on your face. Sometimes the stories are simple, and sometimes they are hard and heartbreaking. But behind all your stories is always your mother's story, because hers is where yours began." -- Mitch Albom, For One More Day
As an Olympic swimmer, I learned young the value of mentors and coaches. Of all the individuals who have offered me their invaluable insight and guidance, my first mentor was my mother. She was not only my first coach but also my earliest advocate and supporter. With Mother's Day fast approaching, what better time than now to pay tribute to her -- and mothers everywhere -- for their indelible guidance that allows us all to shine.
Sitting at the helm of a very large family ship with seven children in a small northern Wisconsin town, there was never a time when Mom didn't have a lunchbox to pack, a torn pant leg to mend or laundry to hang on the clothesline. Yet my mother's story didn't begin with my siblings and me, of course, and she drew much from her days before us kids to inspire us.
Like many of my fellow Boomers, I've long admired my mother's life before us kids. An avid athlete from a young age, my mother participated and excelled in every sport she took up... and did she ever take them up! Mom told us of her youthful adventures hiking, hunting, running and life-guarding (yes, life-guarding).
But my favorite stories were of her years spent as a professional softball player during WWII. Catching for the Merrill Cardinals, Mom had the rare opportunity to travel all over the country and earn her own keep. She had a passion for the game which was evident to me despite never having the pleasure to watch her behind home plate. She loved the sport, the camaraderie of the team and the fans.
I drew heavily from those stories in my own Olympic pursuit, learning from her to love sport and believe in myself even when others harbored doubt. I also learned what hard work means. Coached by both of my parents for all of my growing up years, Mom was up at the crack of dawn for our 5:30 am workouts despite having seven kids to worry about. She meticulously worked on my stroke while teaching me the mental aspects of competition, building up my arsenal of confidence and helping to develop my own passion for the water that still exists today.
It was Mom who was adamant that I would swim in college and pursue my well-known Olympic dream. Little did it matter that women athletes were not afforded collegiate scholarships in my childhood or that money didn't grow on trees in my family.
"Practice for the unknown, Wendy," she would say to me. "One day, they will give swimming scholarships to women and you'll get one because you're that good and better."
In retrospect, I should have remembered that her own success as a professional ball player was in no small way thanks to a World War that carried the men overseas. Mom knew from that experience that anything can happen but you better be ready when it does.
And so, Mom, Dad and I kept on trucking despite every reason to call it quits. When kids in Southern California and Florida were the talk of the swim world, already trained by world-renown coaches at the tender age of 10 and 12, I was training in a local hotel pool or the chilly Wisconsin lakes near our small home. We were persistent in our belief that something great was just around the corner.
In 1972, Mom's relentless belief that I would go to college proved prescient as Title IX opened the door for women athletes everywhere to attend college on scholarships. Suddenly my future was wide open and everything was on my own shoulders... how sweet that feeling was! I swam for Monmouth University (then Monmouth College) in a state I had only vaguely heard of before then -- New Jersey. There, I trained under the great Bill Palmer, met my future husband and competed against our nation's finest -- earning a spot (at the ripe old age of 21) on the USA Women's Swim Team. The biggest stage of all, the 1976 Olympic Games in Montreal, awaited me.
My parents watched me compete (and win bronze) in the 100m butterfly event from the old TV set in their living room. Unbeknownst to me, my siblings surprised us with one of the greatest gifts by flying my parents to Montreal in time for my second and last event, the 4x100m freestyle relay.
Our team's roster was filled with some of the most impressive swimmers ever to hail from the country, but we were deemed second place finishers at best by much of the international swimming community and the press. There was no way anyone was beating the East German team who was widely rumored to be doping (an allegation later proven true with meticulous, startling details after the fall of the Berlin Wall). They had up to that last relay swept every gold medal save for one.
But a few people in the swimming complex that day knew better. As we took our marks, my mother's voice blended into the loud cheers from the stands though I knew it was there... I could hear it in my head. "Control what you can, Wendy," she would often say, "and let go of the rest."
My team mates and I did just that and, shocking the swimming world, won the gold medal that day with my parents smiling down from the rafters.
Of all her own experiences in competition -- all of those memories that helped me along my own path -- I believe my moment was among those she was most proud... and rightly so. Gazing up at them as we accepted our medals on the podium, I was humbled to share that moment with my mom and dad.
In all my years among fellow Olympians and great athletes, most every one of them speaks to the same tremendous feeling towards their parents. She was at first glance an ordinary, hard working mother from Wisconsin with limited resources and time. But more importantly, she was an extraordinary parent, coach and mentor. Mom didn't have everything to give to us so what she gave was her passion of sport, her love of competition and her determination to succeed. And for that, I am eternally in her debt.
Well into her 90s now, my mother continues to be a source of inspiration for me. She only recently ceased riding her bicycle and swimming laps daily in the same hotel pool where she trained me. Now, she remembers those days fondly -- early morning workouts and all -- as do I.
Great accomplishments everywhere start with the love of a single person. Let me know the mothers in your life who have guided you... I wish you and them a very happy Mother's Day!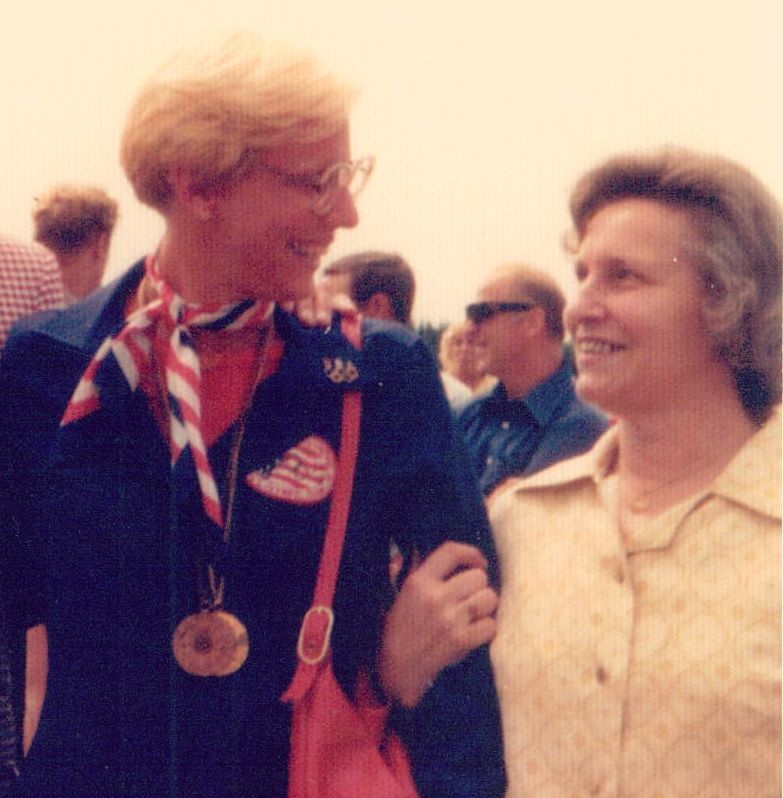 Earlier on Huff/Post50:
PHOTO GALLERY
Olympic Hopefuls Age 44+