The Presidential Citizens Medal, the nation's second-highest civilian honor, recognizes American citizens who have performed exemplary deeds of service for their country or their fellow citizens. Sen. Harris Wofford will be honored along with other recipients at a White House ceremony on Friday, Feb. 15.
We are thrilled that Sen. Wofford will receive this special honor, which is so fitting given his exemplary life of public service. For seven decades, he has served his country. He enlisted in the Army Air Corps in World War II. He marched with Dr. Martin Luther King, advised President Kennedy on civil rights, and helped Sargent Shriver launch the Peace Corps. He represented Pennsylvania in the U.S. Senate from 1991 to 1994 and served as the CEO of the Corporation for National and Community Service (CNCS) from 1995 to 2001.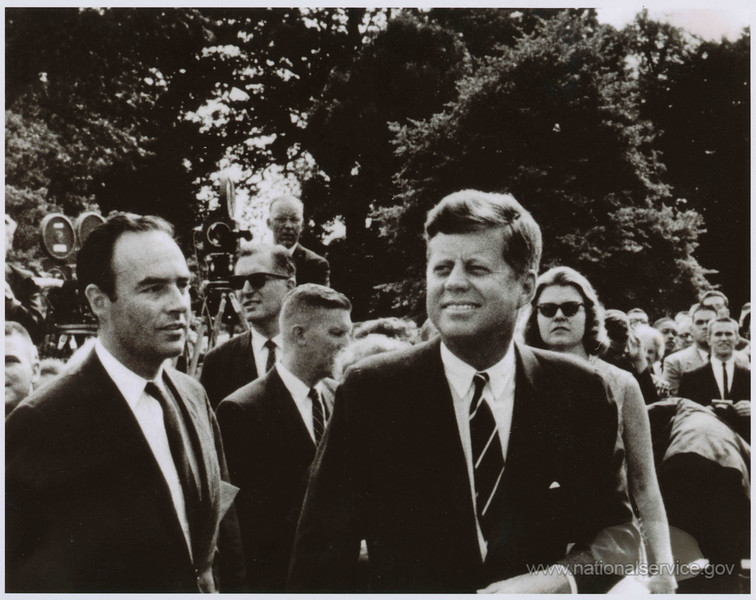 All of us connected to national service are especially grateful for his leadership in service and volunteering. From working to pass the trailblazing legislation creating CNCS to expanding service opportunities in AmeriCorps and Senior Corps and expanding service opportunities and building bipartisan support as CEO, to his leadership on service initiatives outside government, no other American has done more to advance the cause of citizen service. Throughout his career, Wofford has worked across party lines to find common ground. To this day, he continues to bring energy and passion to the cause of national service, and we and the nation are much better off for it.
Like many of you, I feel lucky to count Harris Wofford as my friend. At a time of strong demand and growing momentum for service, I am so pleased that he is right at our side, helping us strengthen service in America.
When he walks across the stage to receive this honor, let us celebrate the extraordinary accomplishments of our dear friend and mentor. But let us also commit to working harder to carry out his vision and life's work. Harris would be the first to say that we have much more to do to make service the common expectation and experience of every American.
Sen. Wofford and the other Citizens Medal recipients represent America's great tradition of citizen service, which we are proud to carry forward through our daily work. I encourage you to watch next Friday's announcement live at 10:45 a.m. EST at WhiteHouse.gov/live.
Those who are inspired by these extraordinary citizens to start their own path of service can visit Serve.gov to find opportunities to match their interests.