America is a nation of volunteers. Results from our annual Volunteering in America survey show how willing our friends and neighbors are to lend a helping hand. More than 64 million Americans volunteer each year, strengthening the nation's safety net and providing vital services to our communities.
With the number of Americans volunteering at a five-year high, many nonprofits could benefit from management practices to handle this influx of talent. Strengthening volunteer management practices will also address the challenge of volunteer retention. More than one-third of the people who volunteer each year drop out, representing a huge loss of valuable human capital.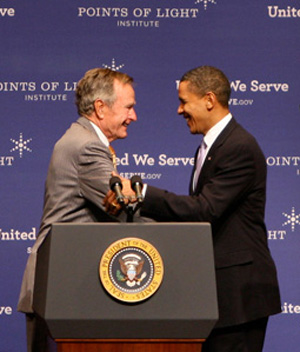 As the federal agency for service and volunteering, the Corporation for National and Community Service works every day to strengthen America's volunteer sector and engage more Americans in high-impact service. We believe volunteering and civic engagement are the cornerstone of a strong nation.
That's why we are excited to announce that President Obama is proposing new investments to strengthen volunteer management practices across the nation in his Fiscal Year 2014 budget.
Specifically, the budget requests $10 million for the Volunteer Generation Fund, a program authorized by the Edward M. Kennedy Serve America Act to support voluntary organizations and state service commissions in boosting the impact of volunteers in addressing critical community needs.
This proposal also pays tribute to a life devoted to public service and leadership in volunteerism by renaming the program the George H.W. Bush Volunteer Generation Fund.
President Bush has led an extraordinary life of public service, having served as a decorated World War II Navy pilot, ambassador to China and the United Nations, CIA director, and vice president before becoming the nation's 41st president.
While in office, he started the Points of Light movement and signed the 1990 National Service Act, which led to the creation of our agency and ushered in a new era of bipartisan presidential leadership for service.
As we move forward with the George H.W. Bush Volunteer Generation Fund, we will focus investments on volunteer management practices that increase both volunteer recruitment and retention. Retention is key to ensuring that volunteers are productively engaged and to bringing stability to nonprofit operations. And we will support efforts that build the career skills of volunteers, expanding opportunity for the unemployed, veterans, and disadvantaged youth.
At a time of social need, when Americans of all ages are looking for ways to give back, we need to be ready to engage all those who answer the call to serve. This program will strengthen the ability of nonprofit organizations across the country to recruit and retain volunteers to meet critical challenges.
President Bush often remarked that, "Any definition of a successful life includes service to others." By strengthening volunteer practices through this fund, we hope to create more opportunities for Americans to live up to this standard of success. We also honor the legacy of an extraordinary public servant who has been such an inspiration to the nation's volunteers, both in and out of office.
Wendy Spencer is CEO of the Corporation for National and Community Service. Visit the CNCS website to learn more about the George H.W. Bush Volunteer Generation Fund and the CNCS 2014 budget request.