By Jessica Hoffman, for Where®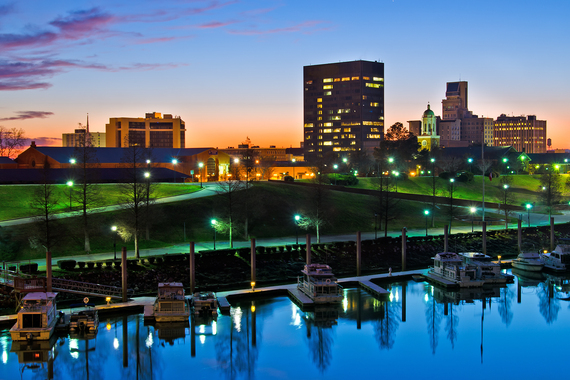 The thing that brings a quarter-million visitors to Augusta every year? Well, that would be the Masters Tournament at the beginning of April, and in truth, it's the perfect reason (and time) to visit this Georgia city. Winter is usually long gone, but the summer heat hasn't arrived. The azaleas are blooming and the city is spruced up to welcome top touring pros and their legions of fans. For the most part, these Masters travelers go directly to the Augusta National Golf Club with their coveted tickets, but when you're ready to explore beyond the greens, you'll find there are a lot more things to do in the city that do not involve watching drives and putts. Start with this list of travel ideas for Augusta, Ga., none of which require a ticket into the Masters.
Local History
Augusta and its surrounding areas are rich with history dating back to pre-Civil War days. Dozens of (1) historic buildings stand downtown, many of which now house local boutiques and restaurants. Inside, you'll find high ceilings that predate air conditioning and traditional architectural elements like tin plating and crown moldings. (2) For more history, visit Magnolia Cemetery, where veterans of the Civil War, the War of 1812 and the Revolutionary War are buried. Located in the downtown area, (3) Springfield Baptist Church was built in 1787 by freed blacks, and is the site where, 150 years later, a group of students started the now-famous Morehouse College. Many of the city's historic buildings no longer serve their original purpose but have been given new lives; the former Enterprise Mill (4) has become an elegant apartment complex, and the breath-taking Sacred Heart Catholic Church (5) is now a cultural center open to admiring visitors.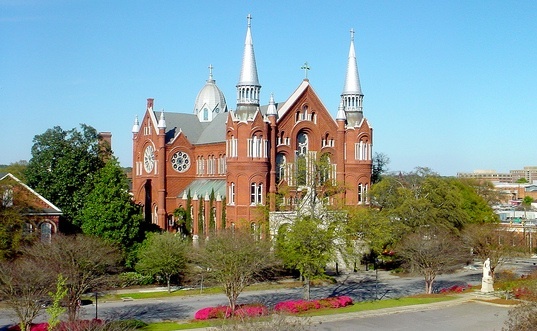 Water Works
The city's waterways are a beautiful site in themselves. Tour the extensive canal system (6) by boat or go for a jog down the tow path that parallels the water (this is the locals' favorite place for a run). Visit Phinizy Swamp Nature Park (7) for group bike rides, tours or hikes along extensive trails. The downtown area also features a beautiful Riverwalk (8) alongside the Savannah River, where you'll find a playground area, views of elegant river homes and power boats, the Jessye Norman Amphitheatre (9), and even a Saturday morning market (10) which features local artisans, food trucks and more--the stuffed hushpuppies are a must.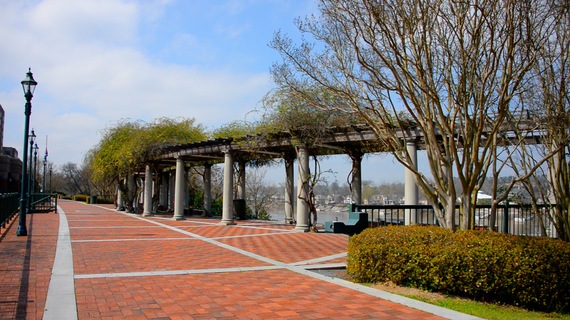 Garden City Golf
Of course the home of the Masters has plenty of opportunity for visitors to get their game on. Play a round at (11) Forest Hills Golf Club, where Bobby Jones himself played, or get in a more affordable round at the (12) Municipal Golf Course. Looking to expand your horizons to a different type of golf? Just across the Savannah River in South Carolina are two notable disc golf courses: a free-to-play course at Riverview Park (13) and another at the affordable Hippodrome Disc Golf Complex (14). Don't worry about not having gear--Hippodrome has an on-site gear shop.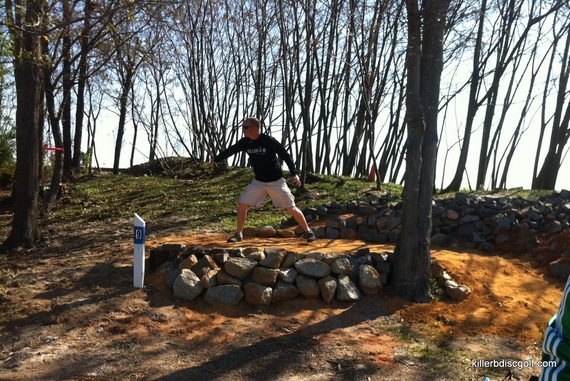 Soul of the City
Augusta was home to James Brown, and he has left his mark on the city. Head downtown to snap a selfie with the memorial statue (15) of the king of soul music (find the statue on Broad Street facing the Augusta Common greenspace), then browse a vast collection of memorabilia from his career at the Augusta Museum of History (16). Don't miss the Imperial Theatre (17), a beautiful building where the Godfather of Soul rehearsed for his world tours; today it hosts national touring acts and theatrical performances.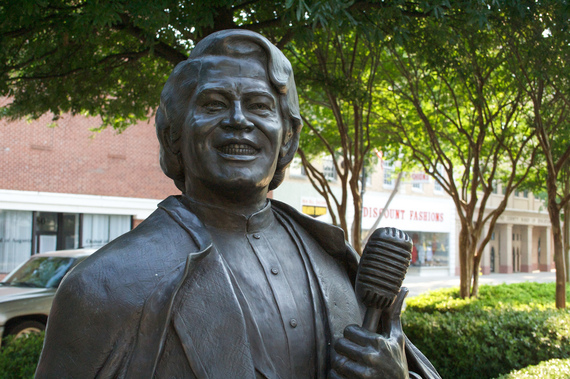 Southern Hospitality
Get a good dose of Southern soul food at the many homestyle restaurants around town. Visit The Partridge Inn (18) for contemporary Southern cuisine and live entertainment on Friday night. Head to Frog Hollow (19) for an upscale, farm-to-table Southern dining experience. Rae's Coastal Café (20) serves up Caribbean favorites a bit off-the-beaten path, while French Market Grille (21) offers irrestible Cajun cuisine. For Southern-style barbecue, skip the chains and head straight to mom-and-pop places like Sconyers (22) and Ray's Smokehouse (23). Cross the river into South Carolina to dine at the low-key BBQ Barn (24), and you won't regret the drive, but calling ahead is strongly advised.
Outdoor Enthusiasts
Work off the Southern food calorie splurge by (25) going mountain biking on the Forks Area Trail System (FATS). Located just 20 minutes from town, the trails are considered an "Epic" route by the International Mountain Bicycling Association, and in 2010 the FATS trails played host to the annual IMBA World Mountain Bike Summit. With few technical features but excellent flow, high speed sections and tons of mileage, FATS has sections for riders of any skill level.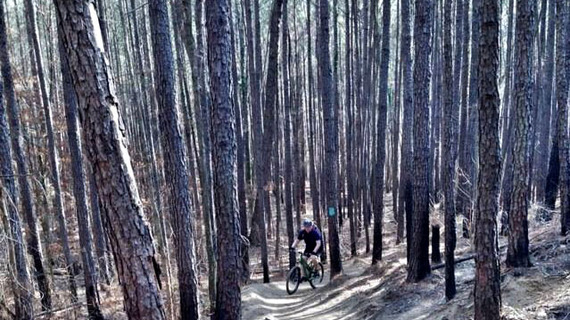 Branch Out
Cross the river--again--and venture a little farther into the horse country of Aiken, S.C. (26). This quintessential Southern town is filled with plantation-style homes, horse farms and side streets. Its downtown is easily walkable and has plenty of free parking, delicious restaurants and swanky boutiques. Catch a show at the (27) Aiken Community Playhouse, grab dinner at Aiken Brewing Company (28) and take home a little bit of the South from Aiken Dry Goods (29). Stop in to the historic--and possibly haunted--Hotel Aiken (30) and sip perfectly crafted cocktails to the tune of a local musician at the in-house Polo Tavern. Ask the receptionist here if you can snap a few pictures of the hotel's interior, and you may hear some ghost stories in return. The town has a historic and artsy vibe, and the historic buildings house quirky shops alongside elegant boutiques and gourmet restaurants, so take time to explore. Don't miss the gourmet olive oil shop, High Country Olive Oil (31), which allows tastings and is housed with selections of artisan chocolates from La Bonbonnière.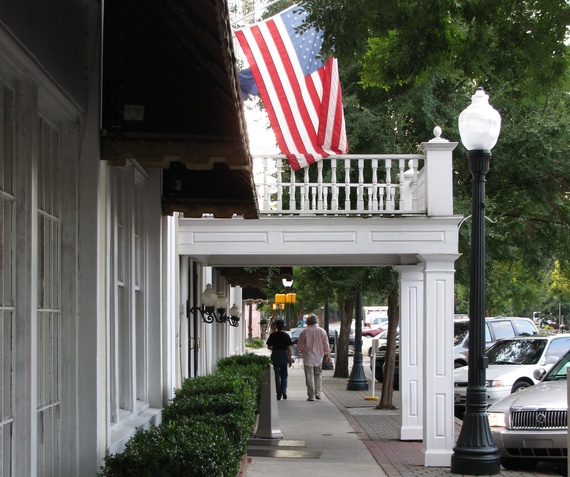 --
Find more tips and travel ideas at www.wheretraveler.com.
More from WhereTraveler.com:
Photo credits: ©Rob Hainer/Shutterstock; ©Sir Mildred Pierce/flickr; ©Zack Daniel/Where; Courtesy Killer B; ©Via Tsuji/flickr; ©Angela Allen; ©Jessica Hoffman