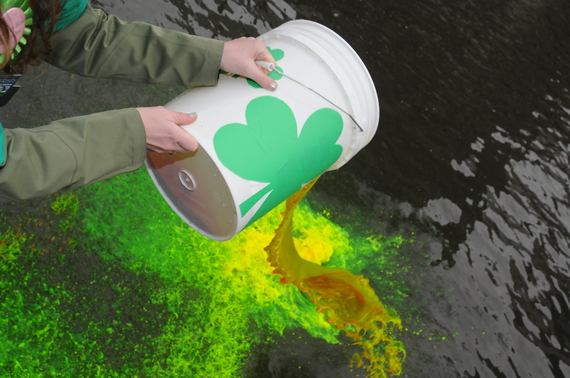 Chicagoans' allegiance to baseball teams will always be split along neighborhood lines, but on this, North and South Siders can agree: The dyeing of the Chicago River is pretty darn cool. Thanks to the Journeymen Plumbers, the annual event--happening Saturday, March 15 at 10 a.m. -- has blossomed into such a spectacle that leprechauns and banshee ballerinas line up in the wee hours for the best spot to watch the process. Now where is that, exactly?
End of the Rainbow
If you've found a spot along Michigan Avenue at Wacker Drive, well then, you've found your pot of gold. This is primo positioning, where the journeymen dump the dye, so be prepared to be standing for a few hours before the waters get "painted" Kelly green. (Hey, you needed a new Instagram image anyway.)
Bridges Over Green Waters
The bridges straddling the river between River North and the Loop (Wabash, Clark Street, Dearborn Street, LaSalle Street and Wells Street) also make for great vantage points, and are within easy stumbling distance to downtown bars.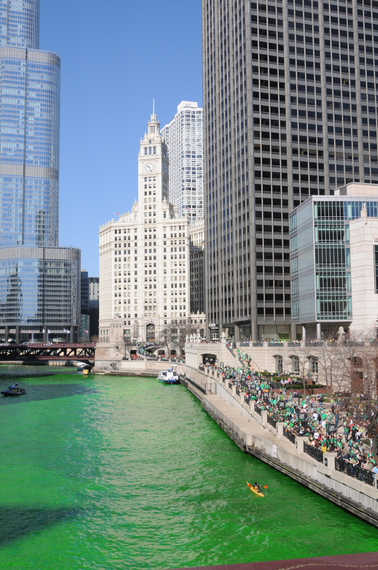 Bridge House Tavern
Who's excited about St Patrick's Day? These guys, whose website has been counting down to the festivities for months. Always a hot spot and boat docking spot in the summer, the riverside gastropub keeps its patrons warm and toasty with heat lamps on the patio and a fireplace indoors. Almost feels like Ireland. 321 N. Clark St., 312.644.0283, www.bridgehousetavern.com

Dick's Last Resort
The self-professed "Shame O'Chicago" harbors about as much pretension as a red solo cup, a trait that the Irish would appreciate. Start at this kitschy, river-facing watering hole inside Marina City (aka "The Corn Cobs") on your Paddy's Day bar crawl, and for jaysus sake, get some grub into you. The buckets o' fish 'n chips and fry'd shrimpies should set your stomach up for success. 315 N. Dearborn St., 312.836.7870, www.dickslastresort.com
Rebar
Some of us are happy as leprechauns with our green Budweiser and Pogues thumping over the speakers, while others prefer a gin martini in a hushed hotel lounge. This is for you, ye subdued scene lover. Soak up the views from floor-to-ceiling windows, and thank your lucky charms for the plush seating, artisanal bar bites and nary a blinking plastic shot glass in sight. 401 N. Wabash Ave., 312.588.8000, www.trumphotelcollection.com
Travelle
Bar hopping? Not your speed. Your style? Long and lingering--and preferably with a view. With floor-to-ceiling windows and a "Mad Men" feel, this mid-century modern-inspired lounge in The Langham, Chicago gets in on the Paddy's Day action with two cocktails: The Brotherhood, based in McFadden's Irish Whiskey, and the Irish Buck, a marriage of Jameson, lime juice and ginger ale. 330 N. Wabash Ave., 312. 923.9988, www.chicago.langhamhotels.com
Wollensky's Grill
The handsome, more casual sibling of the classic steakhouse upstairs is a place to chat over drinks and bites, and feels right at home in the center of Chicago, where power brokers do the deal, then toast to it over premium wine and USDA prime beef dry-aged onsite. Stop here after you've snapped the selfie at the Clark Street Bridge, with emerald green waters sparkling beneath in spite of the grim Chicago weather. 318 N. State St., 312.670.9900, www.smithandwollensky.com
Chicago Cut Steakhouse
Irish native Matt Moore co-owns this luxe chop house with David Flom. While it's not open for lunch, its positioning on the Chicago River, dry-aged cuts and wines orderable via iPad might make you feel that there is indeed a rainbow at the end of this busy Paddy's weekend in Chicago. 300 N La Salle St., 312.329.1800, www.chicagocutsteakhouse.com
Where's Chicago editors Valerie Moloney and Elisa Drake authored this green-eyed guide.
--
Find more tips and travel ideas at www.wheretraveler.com.
More from WhereTraveler.com:
Photo credits: ©Dean Battaglia (2)