I remember the moment exactly when my eyes widened, my mouth went dry and I thought, "OMG this is not what I pictured when I signed us up for a hiking adventure!" Heavy rains of past days had swollen the meandering stream into a chest deep torrent of churning brown water. Slick rocks and a limp rope marked the route across as our intrepid band of hikers grasped hands and timidly squiggled our way across to the steep embankment on the far side. What was our guide thinking? People could be washed away here! Alas, we were all too traumatized and polite to say it out loud.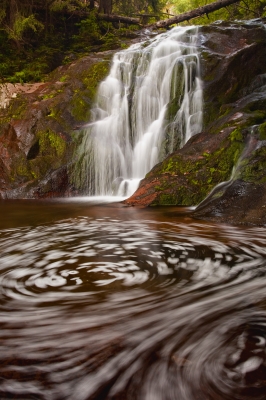 The firm ground of the riverbank offered only temporary comfort. Our leader announced, "You have a choice to make here... either carefully walk along the cliff edge or take the path which has become quite muddy." Well that's easy, how bad could a bit of mud be? I soon found out as I took a tentative step, hit a slippery tree root and sank thigh deep in chocolate brown ooze... my foot wedged nicely between crisscrossed roots. By the time I was hauled out, I looked like I was wearing thigh high brown leggings and had bruises that lasted well past the end of our tropical vacation. Lesson learned -- ask questions of an adventure tour operator before putting your life in their hands.
Glossy brochures and websites are created in perfect weather conditions using smiling models in optimal physical health. Before booking an adventure vacation, remove those rose colored glasses and ask these 10 vital questions to assure your safety and enjoyment.
Can I Speak Directly With a Tour Company Representative? While it has become easy enough to book travel arrangements online, I would suggest that researching an adventure tour takes a more personal approach. A good tour company will make it easy for you to speak with a company representative and ask all the questions you like. Beware of companies that outsource their reservations and information to call centers!
What Physical Strengths and Conditioning Do You Expect of Tour Participants? -- Are There Age or Height Limitations/Recommendations? It's important to understand what physical attributes the tour company expects participants to have. Will you need to walk for several hours, hike on rough terrain, change elevations, swim, paddle, etc. You must decide if you have the physical strengths the tour is designed for.
What Will the Terrain Be Like? It's important to research in advance what the area you will be "adventuring" in will be like. Will it be relatively flat with wide trails, or steep with rocky boulders? Are there waterways involved -- flat water or choppy -- shallow or deep? Will you be changing elevations which could effect your oxygen intake (and perhaps have an adverse effect on prescription medications?)
What Is the Weather Like During the Time I'm Planning to Travel? No one likes to think about days of rain, but it does happen (even in Tahiti & Tuscany), so you'll need to plan accordingly. And they do call it a "rainforest" for a reason. The greener the landscape the more likely you'll encounter precipitation -- just be aware. "What type of layers of clothing do you recommend?" is a great question. It's also a good practice to follow the weather conditions online for several weeks prior to your trip to help with packing choices.
What Native Creatures Do I Need to Be Aware of? Will there be biting insects, malaria mosquitoes, snakes, poisonous spiders, black flies, jelly fish, water parasites, crocks? What precautions should I take to stay safe?
What Tourism and Industry Organizations Does the Company Belong to? Companies with good reputations typically belong to several industry associations who provide certifications to members in good standing. Look for membership in the USTOA (United States Tour Operators Association) for instance, that provides 1 million dollars in coverage to reimburse consumers in the event of company default. The more well-known and responsible a tour company is, the more likely it is that they take a leadership role in their industry.
Tell Me About Your Guides; What Are Their Experience and Qualifications? It is vital to know if the company you are booking with employs and trains their own guides or outsources the tour operation to a local operator. There are pros and cons to each approach, as local guides may in fact know the area the best, but guides employed and trained directly by the company will likely keep closer adherence to company standards. It's important to have a conversation with the tour company about their guides and get a sense about how they are trained, what certifications they have, and what standards are expected of them. Inquire about the language skills of your guide -- do they speak a different language than you and how well do they communicate?
What Procedures and Resources are in Place for Emergency Situations? For me the most important aspect here is, are they in continuous communication with the home base? Is their home base monitored 24 hours a day? Are the guides certified in first aid and what is the availability of emergency medical services? What safety and medical equipment is on hand for injury situations? Do they carry a defibrillator, epi pen, satellite phone, etc.? You should also travel with the address and phone number of your country's closest Embassy, as well as know the three-digit code for emergency phone calls.
Do You Have a List of Former Tour Participants That We Could Call for a Reference? What do others say about this tour company? Pay a visit to review sites like TripAdvisor, IGoUGo, ConsumerAffairs.com, Better Business Bureau etc. to see if you can find candid tour reviews. You might also do an online search for the tour company name plus "complaints".
Do You Recommend Any Advance Preparations, Safety or Medical Precautions? Their recommendations will no doubt include trip insurance, which you should seriously consider. After all, you will be likely be engaging in activities that are outside your normal day to day physical demands. Review the inclusions of the tour company's offered policy, and check comparison travel insurance sites like InsureMyTrip and SquareMouth. Be certain to inquire if any vaccinations are recommended or specific items for your travel kit (bug repellent etc). It's always a good idea to visit a doctor who specializes in travel medicine before venturing off to unfamiliar lands. Make sure you have ample provisions for any prescription medications you require and inquire about what procedures the tour company has for special dietary requirements. If you anticipate needing specific adjustments because of a medical condition, be certain to communicate clearly about it before booking your trip.

By asking these questions and establishing a clear channel of communication with the adventure tour company you are considering, you will be well on your way to a wonderful vacation. Rarely does everything on a trip go perfectly, so anticipating the blips and preparing for challenges in advance will help ensure a wonderful and memorable journey. Happy adventuring!

Photo by: Evgeni Dinev