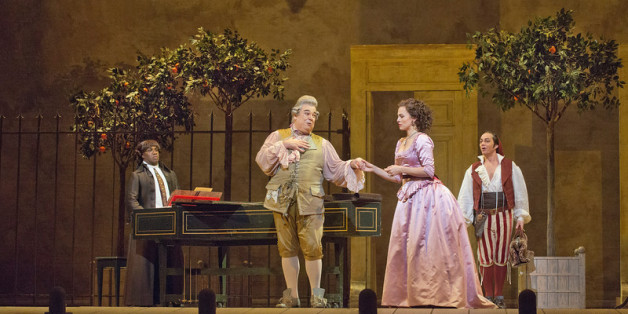 Few operas can provide an evening of such pure delight as Il Barbiere di Siviglia, and few productions of Rossini's comic gem are as much fun as the one now on the boards at the Metropolitan Opera, with a smashing Isabel Leonard as Rosina and a solid Christopher Maltman as Figaro, the titular barber of quality.
For one thing, there is always something going on in Bartlett Sher's three-ring-circus staging of this definitive opera buffa, whether it's an attacking orange tree, an explosion of carrots, or a giant anvil descending from the flies to smash a cartload of pumpkins (any reference to a Chicago rock band is surely coincidental).
In short, it's an action-packed opera that the Met is offering to audiences around the world this Saturday when it simulcasts the matinee performance to over 2,000 theaters in 68 countries as part of its Live in HD series.
The zaniness starts with the opening scene as Figaro's traveling wagon of a barber shop enters being pulled by a bevy of admiring women while a donkey -- and a very handsome donkey it is -- strolls at the side. Sher, one of America's top theater directors, uses pratfalls, a runway circling the orchestra pit, and other stage business -- Figaro pulls a tooth during his opening "Largo al factotum" aria -- to make sure your eyes don't stray from the stage for a moment.
Beyond the theatrics of the Met's production, however, is the genius of Rossini's music and Cesare Sterbini's libretto, based on Beaumarchais's play. The score requires singing long lines and fast runs with nimble dexterity, and a fine all-round cast carries it off expertly. Whether in arias, duets, or ensembles, there is not a sour note to be heard.
Leonard is simply a joy to watch and hear. From her huge success as Cherubino in the new production of Mozart's "Le Nozze di Figaro," which opened the Met season, the hometown New York mezzo is a natural as Rosina. For one thing, she is a splendid actress, always engaged in a scene whether she is singing or listening to someone else sing, and full of small gestures or business that brings her character to life.
Fetching and winsome, Leonard's Rosina also can be mischievous and headstrong, a woman who will get her way no matter what and whom one would not want to cross. She has a lovely and lilting coloratura voice that is as clear as crystal in the upper register, as she demonstrates in her opening cavatina "Un voce poco fa." And her distinctive phrasing compliments the character she creates.
The part of Rosina was originally written for a mezzo, though some of the great sopranos, notably Callas, commandeered the role. Leonard's performance is pitch-perfect, both musically and theatrically, and justly reclaims it for the mezzo voice.
Maltman has a commanding baritone that fits the role of Figaro admirably. He has excellent breath control in the demanding opening act aria and has a confident and strong voice that conveys the cleverness of his character.
As Count Almaviva, the tenor Lawrence Brownlee presents an ardent wooer who will not be denied. He does not have a big voice, but it is a pleasant one and he delivers the Count's final act aria, full of runs, with assured ease. Maurizio Muraro is excellent as Bartolo, especially his phrasing in the fast-paced aria in which he warns Rosina of the consequences of her flirtation.
And with only one spoken word in the entire opera, the dancer Rob Besserer is hilarious as Ambrogio, Don Bartolo's somnambulant butler, and steals his share of scenes.
Michele Mariotti, a native of Rossini's hometown of Pesaro, Italy, leads the Met orchestra through a performance of varied tempos, racing through some passages and slowing other scenes, but all in keeping with Sher's vision.
Rossini wrote Il Barbeiere when he was only 24, and it sealed what was already a promising career as a composer. If the opening night at Rome's Teatro Argentina one February night in 1816 was a disaster -- Rossini fled the theater fearing for his life -- the opera became a mainstay of the repertory within a few performances. It was presented by the Metropolitan Opera in its first season in 1883 and Sher's production assures it a place there for years to come.